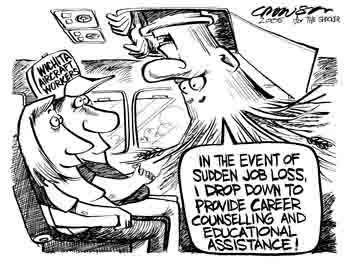 ---
Shockers everywhere, at events long ago to happenings just the other day, always have something interesting to say. Take this sampling as a Shock Talk example:

"If you get a pink slip at your job, don't panic."
Chuck Koeber, Wichita State sociology professor and author of the 99-page manual "I've Been Laid Off — What Should I Do?", as quoted in a WSU News Digest article.

"Although we hate to lose Tim, we also know that opportunities like this become available for coaches who have success."
Jim Schaus, Wichita State director of athletics, as quoted in the June 22 The Sunflower about the resignation of WSU head softball coach Tim Walton to take the same position at the University of Florida.

"American culture and politics are in need of a new conception of life and a new perception of reality. A paradigm shift is needed that emphasizes our limited resources and the responsibility we have to safeguard Mother Earth."
Diane Thomas Lincoln '77, a Wichita-based artist and WSU School of Art and Design educator, in a June 9 opinion letter to The Wichita Eagle.

"Come on, Travis! Just one more and we can put the 'he gone' on him. He gone!"
Shocker baseball superfan known as "Captain Morgan," overheard on Eck Stadium's Coleman Hill during the Shockers' Missouri Valley Conference tournament game against the Southern Illinois Salukis, as pitcher Travis Banwart threw two strikes against a Saluki batter, then a third.
---
John Faust '73/77 of Arkadelphia, Ark., responded with a bit of campus "film history" to a Marginalia entry in the winter 2004-05 issue of The Shocker. The entry featured Glenda Campbell fs '04 — and the hearse she drives every day to work at WSU's NIAR. Faust wrote to let us know that at least one other hearse has rolled over campus roads. Here's part of Faust's letter:
"The first hearse to hit campus," writes Faust, who is the bookstore manager for Follett Stores on the campus of Henderson State University in Arkadelphia, "was a 1960 Cadillac driven by Joe (Joseph '73) Geiss.
He was a resident of Brennan Hall and a friend of mine from Syracuse, N.Y., in the early 1970s. Joe and I made many trips back and forth to New York during the holidays and summers in that hearse. It was a very good road car — and you could sure sleep during the long 20-hour trips of driving straight through."
Thorough journalists that The Shocker staffers are, we contacted Geiss, who teaches high school in Tulsa, Okla., to ask if he had any photographs of his hearse.
Instead, he sent us a reel of silent Super-8 film featuring a short home movie titled "To Fill a Void." In this movie, shot circa 1973, a group of Shocker students stage a mock funeral, in which Geiss' Caddy is prominently featured.
Neither Faust nor Geiss, both of whom are education graduates, are offering up convincing stories as to the artistic purpose behind "Void."