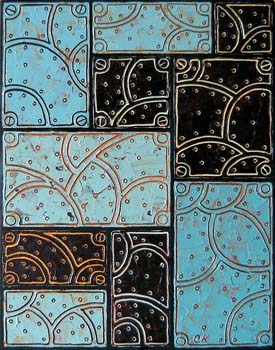 Untitled
Craig Klinedinst '92

"My paintings are about the relationships that exist between contrasting elements — in particular, the relationships between line and color, abstraction and representation, geometric form and organic form and the relationship between the physical object and illusion," Klinedinst relates. "Painting is the perfect medium for exploring and expressing the mysteries inherent in these inseparable opposites." Klinedinst, who owns the Walnut Street Gallery in Wichita, employs a pallette knife and a sharpened brush handle, rather than brushes, to create his works of art, some of which are being shown with Trish Higgins Fine Art at Inn at the Park in Wichita through the end of August.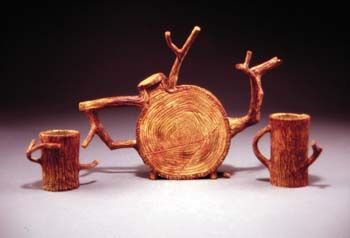 Untitled
Cory Medina
A senior in Wichita State's School of Art and Design, Medina's work is influenced by nature. This high-fire stoneware set, one of a series, features a bark- like texture.
---
Oya

Fists raised high,
one clutches a Chinese cleaver,
the other points at immortality
with a cello bow.
Oya is sautéing concertos
and singing chana masala,
wide, flat feet placed firmly on the Plains,
wild, black eyes flickering,
birdlike,
across the constellations.

Laughing,
fingers grabbing
and mashing the clouds like clay,
the Tornado Goddess
sets the still sky bubbling,
grey and chill as a sliced eel.
Oya shapes whatever she desires,
flinging Buicks and bovines
over helpless, screaming heads.
When the game grows dull,
the symphony is finished.
Dinner is served.
Eat quickly
before she blows it apart
and sends it hurtling into Reno County.

— Teri Mott '99