Creator of "Geech"
Jerry W. Bittle, whose syndicated comic strip "Geech" appears in more than 175 newspapers worldwide, was a confirmed insomniac, his typical "workday" running from 8 p.m. until 4 a.m.
During those dark, quiet hours, he brought to life a host of quirky characters who populate the mythical town of Grimace, Texas: Merle the mechanic, Ruby the waitress and Artie Beemer, who's wont to wear an old, gray WSU sweatshirt. "People think that since you create the characters," Bittle said once, "you know them, but you don't. I've come to know them through the years."
Born in Heber Springs, Ark., in 1949, Bittle came with his parents to Wichita when he was 2 years old. He later attended WSU, where he quickly changed his major from architecture to art because, he once explained, the latter required less math.
After leaving college in 1972 some 20 hours shy of a degree, he worked first as an artist for The Wichita Eagle and then as an editorial cartoonist for The Albuquerque Tribune, before moving to Dallas to do free-lance advertising.
In 1982, he submitted samples for a comic strip to Universal Press Syndicate, which bought the strip the same week. He later wrote the script and the lyrics for his award-winning musical-comedy Geech: The Moosical as well as two books, Sorry We're Open and Let's Burn That Bridge When We Come to It.
Jerry Bittle died April 7 during a vacation in Central America.
— Connie White
---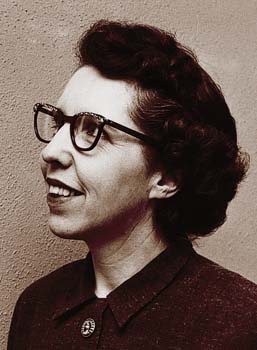 Alumni Secretary
Beulah O. Mullen '35/71 made an impact on the lives of scores of alumni as the executive secretary of the University of Wichita Alumni Association, a post she held from 1948 until 1967. During this period, she also served the university as head of teacher placement.
After receiving her bachelor's degree in history from WU, Mullen taught in Cheney, Kan., and Augusta, Kan., schools. In 1946, she returned to her alma mater as secretary to Dean Leslie B. Dipple.
From that position she moved into her long-term role as executive alumni secretary, remaining in that position until 1967 when she accepted a post as director of the bureau of educational placement at WSU. During her tenure as director, she earned a master's degree in student personnel and guidance. She retired in 1978.
Among the many highlights of her career was being elected president of the Kansas Association of Teacher Placement Officers in 1952. She was the first woman to serve as president of the organization. She also served as district recorder and historian for the American Alumni Council, whose members represented schools in Kansas, Missouri, Oklahoma, North Dakota, South Dakota, Iowa and Nebraska.
An avid reader, fan of the opera and collector of art, she also was active with AAUW, the 20th Century Club and Lands & Peoples Club of Wichita
Beulah O. Mullen died March 28 in Wichita.
— Jeremy Jaso
---
David B. Allen '78, an avid skier, cyclist, sailor and outdoorsman, former technical sales manager for IFR Systems Inc., an avionics test equipment company, and a telecommunications sales executive with Acterna, a leader in integrated products and services that optimize communications systems and networks, Feb. 23, Fort Collins, Colo.
Ruth C. (Eaton) "Cathy" Anderson '68, former dental care provider, Nov. 1, 2002, Enid, Okla.
Jo Ellen Androes '88, homemaker, retired lecturer and Alzheimer's disease consultant, Dec. 22, 2002, Wichita.
Harold W. Arnold '58, retired tax accountant, Nov. 19, 2000, Lewiston, Idaho.
Beverly M. Artman '76, retired Wichita police officer and territory manager for Carlson Systems, Feb. 1, Wichita.
Crayton D. Benton '63, retired engineer with General Service Administration, Nov. 28, 2001, Shawnee, Kan.
William G. Bidwell '61, retired Butler County Community College photography, English and mass communications instructor, Jan. 31, El Dorado, Kan.
Max W. Billinger '37, retired U.S. Army lieutenant colonel and Treasury Department civil service employee, Jan. 29, Wichita.
Cicely A. (Charlton) Blevins '53, retired elementary school teacher, Dec. 10, 2002, Wichita.
Robert G. Brockenfelt '75, mechanical/project engineer for Bernard Johnson Inc., Dec. 3, 2002, Derwood, Md.
Mildred G. "Millie" Bryant '36, retired Eastwood Studio artistic designer, Feb. 20, Wichita.
William J. Busch '49, retired senior partner with Dulaney, Johnston & Priest, Jan. 15, Wichita.
Bobby L. "Bob" Chalender '56, former Manhattan, Kan., USD 383 superintendent and retired department of education chairman at Fort Hays State University, Dec. 28, 2002, Manhattan.
Carl F. Cooper '66, project engineer and program manager for the U.S. Department of Navy and in the private sector, Dec. 3, 2002, Seattle, Wash.
Philip M. Crossfield '63, retired engineer for Boeing in Huntsville, Ala., Oct. 27, 2002, Madison, Ala.
Kathryn A. Davis fs '75, homemaker and businesswoman, Jan. 28, Dallas, Texas.
Zola B. Dean '59, retired elementary and junior high school teacher, Jan. 20, Wichita.
Elisabeth E. "Betty" (Holmes) Dicken '62, retired teacher, Dec. 29, 2002, Wichita.
James C. Eller, retired WSU library associate dean and assistant professor, Dec. 2, 2002, Wichita.
John J. Engstrom fs '40, retired investment banker and friend of the university, Jan. 24, Wichita.
Hazel (Wamsley) Felker '65, retired teacher, Dec. 21, 2002, Grand Junction, Colo.
Mary Matilda Gaume '31, retired West Texas State Teachers College professor of music and piano soloist, Dec. 27, 2002, Canyon, Texas.
Nancy M. Greever '99, director of operations, WSU-Link, March 3, Wichita.
Daniel R. Grubb '51, retired Crystal Oil Co. manager of exploration, Jan. 25, Shreveport, La.
Joan I. Goff '78, retired business teacher, Jan. 28, Mesa, Ariz.
Robert H. "Bob" Gump fs '75, retired veterinarian and friend of the university, Jan. 26, Wichita.
Iva H. (Hull) Hall '66, retired Sedgwick County Social Rehabilitation Service social worker, Nov. 28, 2002, Wichita.
Ruby E. Harness '39, retired Wichita Public Schools teacher, Jan. 28, Newton, Kan.
Andrew Max Hatfield '37, retired area director with the Boy Scouts of America, Jan. 27, Albuquerque, N.M.
Nancy L. (Bass) Hayles '49, retired teacher, Nov. 21, 2002, Colorado Springs, Colo.
Judith A. (Arther) Hazlett '58, former Wichita Beacon and Rocky Mountain News of Denver journalist and Santa Monica, Calif., newspaper employee, Dec. 4, 2002, Irvine, Calif.
Charles C. Healy '43, retired field service manager for Certainteed Corp., Dec. 19, 2002, Baton Rouge, La.
Frances L. (Dodd) High '54, homemaker, Jan. 21, Arkansas City, Kan.
Jack B. Hinkle, owner of Hinkle Oil Co., past chairman of Union National Bank, race car driver and university friend, Jan. 31, Wichita.
Jeffrey M. Houska '80, nurse practitioner, president, CEO and founding medical provider of CliniMed corp., author and music enthusiast, Dec. 10, 2002, Albuquerque, N.M.
John C. Huffman fs '66, trust officer for Kansas State Bank and Trust, Jan. 5, Wichita.
Myron S. Hull '47, retired Mid-States adjuster and leader of the Myron Hull Orchestra, Jan. 24, Topeka, Kan.
Carl A. Hurty '37, retired Petroleum Inc. CFO, Jan. 22, Wichita.
Dale G. Janzen '72, owner, Janzen Olds Cadillac Toyota in Stillwater, Okla., Nov. 29, 2002, Enid, Okla.
Robert M. Johnson '48, retired businessman, former owner of Overseas Automotive, the first imported automobile parts business in Kansas, former owner of Overseas Motorsport, a motorcycle dealership, and a former producer of motocross races in Kansas and Oklahoma, Dec. 23, 2002, Wichita.
Beverly A. (Bernhardt) Kawamura '85/91, McCollom Elementary School librarian, Jan. 15, Wichita.
Russell W. Kice '41, retired president of Kice Ind. Inc., a domestic and international leader in industrial air systems, April 7, Wichita.
Jean (Fowlie) Kinzer '72, retired foreign language coordinator, Goodrich Senior High School, Fond Du Lac, Wis., Aug. 9, 2002, Fond Du Lac.
Rose Mary Linneman fs '99, trauma nurse, physician assistant, emergency medical technician, psychology nurse and attorney specializing in medical cases, Nov. 25, 2002, Yuma, Ariz.
Lester L. "Les" Longhauser fs '83, Boeing Wichita analyst, longtime coach and former junior high school teacher, Dec. 17, 2002, Wichita.
Martha E. (Fink) Low '41, retired bookkeeper and homemaker, Jan. 13, Wichita.
Leola J. Lynskey '78, former oil secretary and accountant for Safelite Industries, March 1, Wichita.
Peter R. Maas '63, retired Department of Assessment and Taxation employee, June 7, 2000, Eugene, Ore.
Harold W. Manning '33, retired Raytheon Aircraft Co. employee, Jan. 26, Wichita.
Virginia A. (Gass) Markwell '49, homemaker, Nov. 14, 2002, San Antonio.
Belva (Webb) McAllister '36/59, retired high school business teacher, Dec. 26, 2002, New Hall, Calif.
James I. McQuilken '63, retired quality control lab supervisor, Boeing Airplane Co., Jan. 5, Wichita.
Miriam (Goodman) Meiches '48, retired IBM employee, Nov. 30, 2002, Dallas.
Jerry A. Mohr '67/73, Wichita North High School science teacher, Dec. 19, 2002, Wichita.
F. Merle Nicholson '49, retired self-employed CPA, Jan. 9, Vista, Calif.
Rex W. Norton '49, retired Boeing Military Airplane Co. technical illustrator, June 16, 2002, Wichita.
Jackie S. (Williams) Peters fs '60, homemaker, Jan. 20, Eastborough, Kan.
Carolyn A. (Zelliot) Piburn fs '89, retired missionary with Board of Global Missions United Methodist Church and friend of the university, Jan. 25, Wichita.
Walter C. Pope III '48, World War II veteran, lifelong rancher and conservationist, Dec. 23, 2002, Sonora, Texas.
Larry A. Popp fs '74, Farm and Home Savings Lending Operations founder, Dec. 16, 2002, Austin, Texas.
Ruth I. (Murray) Porter fs '36, homemaker, a director of the First National Bank of Southern Kansas and friend of the university, Dec. 7, 2002, Mount Hope, Kan.
Claud F. Powell '63, retired State of New York drug and alcohol counselor for the state's prison system, a former professor of choral music at Ohio University, former music instructor at Campbell College in Buies Creek, N.C., member of the National Association of Choral Directors and of the Music Educators' National Conference, Oct. 28, 2002, Columbus, Ohio.
Ernestine E. (Kistler) Rogers '34, retired El Dorado, Kan., and Wichita school districts elementary teacher, Jan. 13, Wichita.
Virginia (Hayes) Rouse '89, retired Kansas Department of Social and Rehabilitation Services social worker, Jan. 20, Derby, Kan.
Tillie D. Salle fs '94, homemaker and friend of the university, Dec. 3, Lady Lake, Fla.
David H. Schroeder '68, vice president, CFO and treasurer at Riverside Health Systems, Kanakee, Ill., July 21, 2002, Kanakee.
Homer Deryl Shreve '46, retired Petroleum Inc. accountant, April 29, 2001, Wichita.
Margaret J. (Fry) Shreve fs '44, homemaker, Dec. 19, 2002, Wichita.
Kathryn Slawson fs '81, homemaker and university friend, Nov. 11, 2002, Wichita.
Jenny Lou Tallman '80/95, Burrton, Kan., schools art teacher, March 31, Hutchinson, Kan.
Kathleen R. (Farmer) Thomas '68/90, June 20, 2002, Wichita.
Monte R. Watts '99, Genesis Health Club aerobics instructor, Nov. 26, 2002, Wichita.
Phyllis L. Whalin '84, Sept. 10, 1991, Champaign, Ill.
Davy Jo (Harvey) Whittaker fs '51, homemaker, June 17, 2002, Wichita.
Mary E. (Thompson) Williams '30/32, retired public health physician for the Santa Clara County Health Department, Santa Clara, Calif., Sept. 9, 2002, San Jose, Calif.
Oliver A. Witterman '33, lawyer who served as general counsel with Koch Industries for 28 years and as secretary of the corporation for eight years, Nov. 11, 2002, Wichita.
M. Charlene (Jackson) Wood '51, homemaker and retired social services worker, Nov. 27, 2002, Tuscon, Ariz.
Dorothy L. (Hudson) Wright '61, retired teacher, Dec. 4, 2002, Sedgwick, Kan.
Clinton Judson York '53, retired manufacturer's representative for tire companies in Portland, Ore., Dec. 8, 2002, Portland.