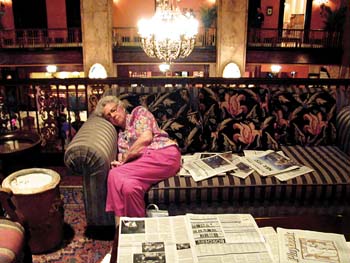 John Freeman '87, an associate professor of journalism and head of the photojournalism program at the University of Florida, has snapped an impressive collection of photographic images over the course of his career. These are a few of his "people and places."
Point & Shoot
John Freeman's photographic images range in subject as widely as location. From Seattle to Memphis to New York City, his camera captures the myriad figures he meets along the way.
Interested in revitalizing his photography, John Freeman, who has worked as a faculty fellow with National Geographic and as a photo faculty intern with the Los Angeles Times/Orange County Edition, began carrying a simple point-and-shoot film camera with him. The images he captured were encouraging, prompting him to continue his experiment and switch from film to digital imaging.
He now operates 100 percent digitally, using amateur-market digital cameras to win intensely competitive photographic competitions. His intention, he says, is to emphasize the importance of the shot over the cost of the equipment.
Most recently, Freeman placed third in the 2003 Photo Imaging Education Association's International Student-Teacher Photo Exhibition and Competition. The contest drew 1,222 entrants with 4,390 photo submissions from 110 schools in seven countries.
Freeman's photos were included in an exhibition of 117 winning images at the association's annual convention in Las Vegas in March. Now, the exhibition will tour the United States, Canada, Africa, the United Kingdom and Australia through 2005.