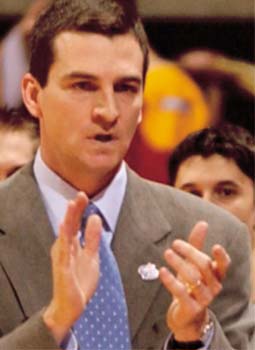 "I was never great at basketball. I was always pretty good, but I was never great. In high school, I wasn't even the best player on my team. I just knew how to play, and I loved it."
"My first year at Wichita State we were picked 10 out of 10, and we finished ninth — and it wasn't a lot of fun."
"As a coaching staff and a basketball team, we're not really concerned about the expectations people are gonna put on us; we're more concerned about the expectations we're gonna put on ourselves."
"I imagine in a lot of preseason polls next year we'll be picked first, second, third in almost all of them. These kids have earned that, but that is not what matters. What matters is what you do in the course of the season. I'd be more happy if we're league champions come March rather than in some magazine that comes out in October."
"It's never easy to recruit. I think this year's recruiting class just kind of came together. It's really a nice class."
"Did it help going to the NIT and winning 18 games and moving into a new building? Yeah, it's definitely helping us recruit."
"I'm competitive, and I've recruited competitive kids. I'm not saying I'm the toughest guy in the world because I'm not, but when I played the game I played it tough. I think that's the way we do things."
"Our personality toward basketball is unselfish, and I think that is starting to show. The one thing that has been the hardest part is playing with intelligence. I like to think I coach an intelligent style of basketball and played that way. But that hasn't hit us yet. We're getting closer, but we are not there yet."
"Randy Burns is a great scorer and a true competitor."
"Jamar Howard is a warrior and a winner, a great kid."
"Aaron Hogg is gifted, athletic and dedicated to getting better."
"Paul Miller is our most improved, a great kid."
"Matt Clark is a dedicated worker, passionate about basketball. He gets more out of his ability than any player."
"Fridge Holman is passionate and has an infectious personality on the court."
"Shoot, a lot of these kids came here when we weren't any good, and they came here because of me and my staff and the dream we were gonna make this place special."
"Everyone sees game day, but they don't see the demands we put on these kids each and every day, both athletically and academically. You know, we're gonna be seven for seven in graduation when Craig (Steven) graduates. I ask a lot of them. I ask them to go to class and graduate and have the grades and be the best basketball players they can be."
"On top of that, we ask them to be the best citizen, the best person, they can be. A lot of coaches say that, but we demand it. It's not a lot of fun for some of these guys. But when they're 25 or 26, they'll look back and say 'Coach knew what he was doing. He was a pretty smart guy, and I appreciate it.' I felt the same way about coach (Larry) Brown when I was going through things with him. I thought he was the meanest guy in the world and unfair at times, but I'd take a bullet for him now."
"Tad Boyle? I've known him since I was 18 when I went to KU. I sort of look at us as co-head coaches on this deal. If I got sick and had to miss a couple of weeks, I don't think our program would miss a beat with coach Boyle."
"I'm expecting a sellout for our first game in Charles Koch Arena no matter who we play because they're there to be a part of Wichita State basketball history. I would imagine it's gonna be an electric crowd. I just hope on that night we play well and give the fans something to always remember."
"When I get home, my whole time is my son until he goes to bed. Period."
"During basketball season, I watch hoops, tapes — I just love basketball. It's what I do. Now it's the NBA, so I'm watching the playoffs."
"Shawshank Redemption, that's a good movie. I watch it over and over. That guy had great perseverance. He had a dream and a goal — and he accomplished it."