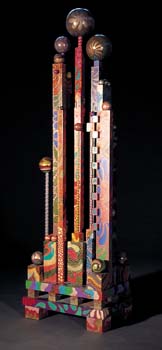 "The Emerald City", Painted wood, 1999, 19" x 12" x 56", Fred Sudermann
After carving back on his full-time duties at Wichita State, this current senior adviser to the president and former vice president for research and governmental affairs is enjoying his "second career" as an artist.
Sudermann's three-dimensional artworks vary widely — from simple, graceful yet forceful geometric shapes sculpted from traditional metals to whimsical, elegantly soaring or intricately meshed structures in wood, painted in dazzling colors.
Many of his works showcase the artist's sense of humor and unique take on art.
---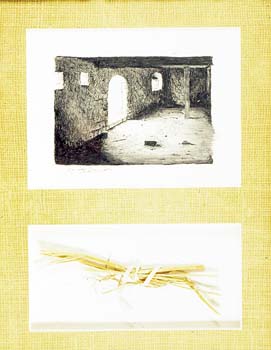 "Cup and Saucer Barn, Interior", Pen and ink, 12" x 12", Gary Gackstatter '90

As a visual artist, Gackstatter works primarily with pen and ink, what he calls "an old-fashioned method."
A performer, composer, conductor and teacher too, he appreciates Kansas and its resources: "Limestone is Kansas to me. It speaks of the land and the people. In the stone bridges and barns I draw, I try to express the hands that 100 years ago carved the stones and moved them into place."
---
The Life of a Saint

When my mother-in-law was single,
she danced the merengue in chili red,
yellow, swirled, for herself, as men
watched, she smiled, as her feet burned.

In early afternoons, she walks
the streets with money. She lays
the gold and silver pesos in palms,
asks the poor how and if they know
God, how He gives. She whispers,
He tells me I should listen to his words
for myself, not for my husband,
that I should judge no one, but myself.

In evenings, she lights a candle
in a dark hall under the picture
of La Virgen, with creamy
hands, hooded head, eyes heavy
with sympathy, she prays
for her daughter to be married,
her steps deliberate as she sets
pan dulce on the table for her husband.

She has learned to know and serve
him, but since it is easier not to notice,
he doesn't notice, except on birthdays,
when they dance, when she laughs,
moves, when he feels her presence
like he feels the sun on his face
after weeks of clouded days,
that she is absent, that la musica

is silent. He watches her put
on her shawl and slippers, notices
how she disappears into the hall.
He hears a match, her whisper,
and chooses to remain to think,
alone, of how it would be easier,
for everyone, if she never returned,
if she completely, invisibly, walked,
prayed, gave, saved, that way.

— Monica (Keeton) Patino '98/02