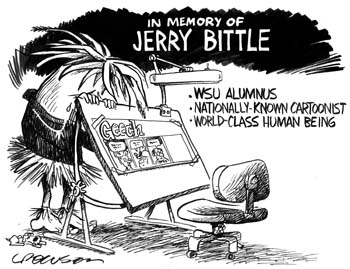 Shockers everywhere, at events long ago to happenings just the other day, always have something interesting to say. Take this sampling as a Shock Talk example:

"This was truly a surprise because of all the difficulties we had to overcome just to get into the championship game."
Bowling coach Gordon Vadakin '82 as quoted in The Sunflower about the Wichita State men's bowling team winning its seventh national collegiate bowling championship April 26 at the IBC National Championships held at Riverlane Lanes in Tulsa, Okla. The championship game will be televised June 6 on ESPN2.

"If Gene called, I'll probably never live that one down."
Shocker first baseman Logan Sorensen after being told Gene Stephenson had called via cell phone during WSU's April 16 game against Oklahoma, as quoted in The Wichita Eagle. Stephenson, who in the aftermath of prostate surgery was missing his first game in 26 years as the Shockers' head coach, was prompted to call his brother and Shocker coach Phil Stephenson from the hospital after Sorensen let a grounder get by him. Sorensen redeemed himself by making the game-ending play, an impressive running catch of a foul ball just as rain began pelting down. The Shockers bested the Sooners, 9-5.

"We thought it was a great idea to welcome potential students to the campus. It will be a wonderful way to promote the university."
Howard Marcus, as quoted in the WSU Foundation's Horizon newsletter about plans for building the Marcus Welcome Center. Howard and Rose Marcus gave a seven-figure gift to the university toward the project.
---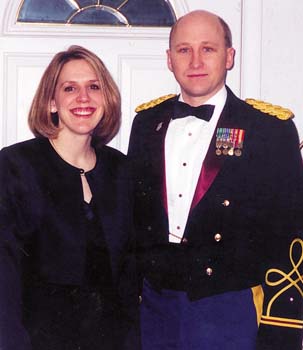 As Operation Iraqi Freedom draws to a close, debate continues to rage among Wichita State students, faculty and alumni who hold sometimes jarringly different views about the war in Iraq. Despite varying opinions, Shockers around the globe wish a safe return home to fellow Shockers serving in the military — including Richard Ranzau '88/97/99.
"He's been gone three weeks," Rachelle (Trudell) Ranzau fs '94 tells The Shocker early in May.
"We haven't heard from him. We're waiting on letters, but we don't know for certain when those will come." Richard, an Army Reservist who has served in the military for 20 years, also fought in the Gulf War.
His three degrees from Wichita State are a Bachelor of Arts in Education (secondary education, mathematics), a Bachelor of Science (physician assistant) and a Bachelor of Arts (Spanish). The Ranzaus, who reside in Wichita, have two children, a 3-year-old son and a 1-year-old daughter.
Greg Meissen, co-director of the Self-Help Network: Center for Community Support and Research at Wichita State, has been working to let people know that support is available for those like the Ranzau family who have loved ones in military service.
National Guard branches throughout the state and country, as well as churches and other nonprofit organizations, sponsor groups that can help. "Having others who really understand is life-giving," Meissen says. "And research shows these groups reduce anxiety, depression and other related health problems."
For information about the Self-Help Network and specifics on how to contact various organizations, call (316) 978-3843.