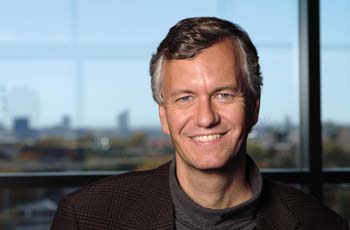 "The media's breaking coverage of the events of Sept. 11 was very solid and very admirable. What happened that day was scary. Unexpected.
"The television was what kept the panic level down, and the reporters handled themselves well. There was a great deal of logistical difficulty. How do you begin to begin to cover something like that?"
The question Alan Schroeder '77 asks sounds simple enough, but the magnitude of its complexity might leave even the most erudite political analyst speechless, if only for a few seconds.
And Schroeder, who has been named WSU's 2001-02 Elliott School of Communication Outstanding Alumnus, isn't a man who likes to remain speechless. It's not in his nature. After graduating from Wichita State, the Valley Center, Kan., native worked as a reporter and TV producer in Wichita and Denver before moving to Boston, where he became a producer for KCNC-TV and earned a master's degree in public administration from Harvard in 1989.
Today, he is acting director and an associate professor at the Northeastern University School of Journalism in Boston.
While few people prove to be insightful critics, with three regional Emmys under his belt for the Boston-based show People Are Talking, Schroeder is more than qualified to scrutinize media coverage, especially since he's a frequent media commentator himself. During his campus visit Oct. 25-27 for ESC's Communication Week, he spoke about "Media in a Time of Terrorism," sharing his observations with students, alumni and faculty members.
He's been scrutinizing from various vantages, looking at not only how the news is being reported but also how Jay Leno, David Letterman and other popular TV hosts are handling terrorism. "Humor is a reflection of the world around us," Schroeder says. "The comedians didn't calculate their breakdowns. The world just happened to be unfunny." He smiles. "I don't think George Bush jokes, when we get back to them, are going to be as vicious. There'll be more Osama jokes. Pop culture has to respond to the world around it."
And, he notes, those in the media must respond carefully to the world around them. "Right now," he says, "we're in a difficult phase. First of all, there are few pictures. A war without pictures is highly unusual. If you're a reporter, how do you get a story when you can't get in? As for bioterrorism, there's very little information about it, yet the media has to be informative while not inducing hysteria. It's a tough job."
While many viewers complain that certain stations are "too conservative" or "too liberal," few were taking pot shots at news stations on Sept. 11. And since then, says Schroeder, the media have proceeded with caution and tact. "Since that first day, we haven't seen coverage of the planes hitting the World Trade Center.
We saw the events replayed on Sept. 11 not to trivialize what happened, but because there were people who hadn't seen it. Then the media backed away from it."
There's both a solemn and a practical tone to his voice when he adds, "Who wants to watch people die?"
Schroeder himself is a man interested in life, in people and places, in history and in history as it unfolds — and the record he's left behind him so far suggests that every moment is an opportunity. "He's a multi-talented guy and very knowledgeable," says friend and Wichita State associate professor of journalism Les Anderson.
"There's nothing artificial about him, and he can deal with people on all levels."
When Schroeder went to his 20th Valley Center High School reunion in 1993, he came with a movie camera and six students who had taken a documentary filmmaking course with him the previous summer to record, as he told The Wichita Eagle, "the age-old tradition of reveling in the absurdity of reunions."
The documentary eventually became "The Class of '72" and was screened at Ithaca College and later broadcast in Wichita.
He already had two documentaries under his belt at the time: "Mi Viahe a Cuba," about a 10-day trip to Cuba, and the successful travelogue "America With the Top Down."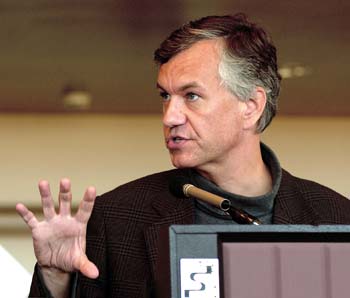 Today, however, documentary-making is not at the top of Schroeder's priority list. Teaching is.
"I love teaching," he stresses, but he's also combined his longstanding interests in journalism and politics in his book, Presidential Debates: Forty Years of High-Risk TV, which was published in fall 2000 by Columbia University Press. Why his interest in debates? He explains, "They're not like the ads. The candidates have to deliver and think on their feet. It's the person himself, and you can't fake that."
Schroeder's take, debate-wise, on the 2000 presidential race leading up to the closest presidential election in U.S. history is less than enthusiastic. "2000 was not a good year," he says with a bit of wince.
"Dick Cheney gave the best performance. Bush couldn't mask some of his intellectual problems. And Gore was all over the map. He fit the Goldilocks analogy: he was either too hot or too cold."
Schroeder doesn't miss a beat when he names the crème de la crèmes of the podium. "Kennedy, Reagan and Clinton," he says. "These three took it seriously. Kennedy was a gifted and articulate speaker and, at the time, a breath of fresh air. Reagan had the training, and he was comfortable. Clinton was a natural, empathetic figure. He worked hard to connect, and he also studied camera angles and practiced his reactions."
But where there's the best of the best, there's also the worst of the worst, and Schroeder doesn't hesitate with those, either. "George H. Bush, Ford and Nixon," he says. "George Herbert didn't like doing it. He hated it. He thought it was both ridiculous and demeaning, and that came through. Ford just had the bad luck of being a 'plodding' speaker, and Nixon was never prepped."
Overall, Schroeder feels that the level of debating during the 2000 presidential race was "lackluster." And the lack of focus on foreign affairs has taken on — in retrospect — a layer of irony. "Little was discussed about foreign policy," he says. "The topics debated were predominantly about domestic issues. There was very little discussion about terrorism." He pauses before adding: "Now, a year later, terrorism is all we care about."