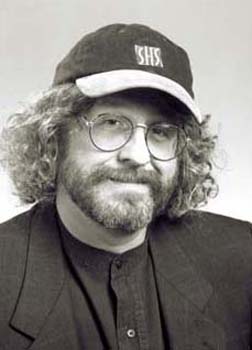 In a house that says mechanic, clothes that say graduate student and a car that says retail-store manager is Greg Hobson '72, vice president and creative director of the Wichita advertising firm Sullivan Higdon & Sink.
While at WSU, Hobson was a member of the advertising club and wrote movie reviews for the Sunflower. After graduating, he started his own ad firm, Hardcore Advertising or ha!
But after a few months, he opted to go to work for Quillen-Elsea, Wichita, as the creative director. He was 23. "If there was going to be someone with the longest hair or the scruffiest jeans, that was me," he recalls. "I've always been kind of the bad boy on the local ad scene."
After eight years and a number of local ADDY awards, he moved to Stephan Advertising and then tried freelancing, but eventually convinced Joe Norris of SHS to take a chance on him. "Even though I had been a wild child, I worked really hard and didn't let people down," Hobson says. "I bought suits and put the sneakers in the closet."
Now at home at SHS, Hobson says one of his goals is to help make the firm the best aviation advertising firm in the industry. To that end, his own creative work on campaigns for Cessna Aircraft have won awards worldwide.
And those suits? They're things of the past. "These days," he says, "there is zero dress code. They figure I can dress myself."