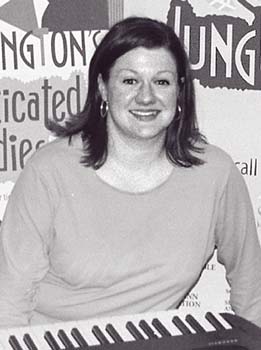 Kathryn Page Hauptman '88 fell in love with theater in high school. Yet she wasn't convinced it would be her best bet as a career. In college, she opted to study speech therapy, then education and then history.
But, she says, her heart wasn't in any of them.
She left school and worked various jobs but returned to WSU at age 35 to complete a theater degree. With her family firmly rooted in Wichita, she knew she'd need to produce her own career options.
She started a children's theater program at the Wichita Center for the Arts, which evolved into a complex endeavor of adult theater and workshops — and ultimately into Stage One, the producing company Hauptman and Laura Bergquist founded in 1996.
"I embarked on trying to do something new and different in theater in Wichita and that's how I got into producing new musicals," says Hauptman, the company's producing director. "We'd like to be involved in some major projects, in pre-Broadway productions — to make that experience as exciting as possible for people."
Still upcoming in Stage One's 2001/02 season are Jungle Man!, through Feb. 17 and Double Trouble, March 28 – April 7.