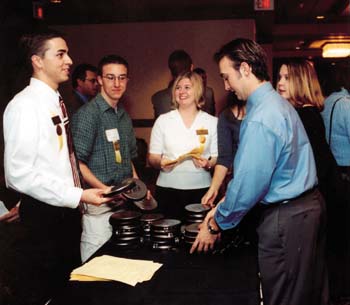 Nearly 400 top high school juniors and members of their families, university administrators, students and alumni volunteer hosts came together this fall to talk about Wichita State.
Hosted by undergraduate admissions and the alumni association, the Shocker Honors Scholars Banquet held Oct. 23 at the Wichita Marriott proved to be a rousing success.
Honored attendees were high school juniors from area schools who are in the top ten percent of their classes.
Among the featured speakers were WSU President Don Beggs, WSU Alumni Association President Chris Shank '69, Undergraduate Admissions Orientation Coordinator Kim Volz '96, Lillian Gattis '84, chair of the event planning committee, and Tyler Heffron, a current Wichita State student.
At least one WSU student and one alumni volunteer host were seated at each table so they could directly share their college experiences with prospective students.
Among those serving as alumni hosts were Buck and Gladys '75 Alley, Jeff DeGraffenreid '88, Thorton Anderson '47, E. Jean Curry '48/76 and Kevin Clark '84. Phil Farha '41, Grant Thornton & Co. and Allen Gibbs & Houlik LC were among the event's underwriters.
To further celebrate the academic successes of the high school students in attendance, each of them was presented a gift: a WSU informational CD and CD holder.