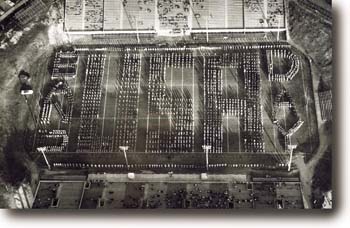 The roots of WSU Bands go back to 1902 when the university was Fairmount College. As the 1904 Parnassus reports, "The newly organized School of Music has already proven itself to be of the greatest value to the college and community, from every point of view."
This academic year, WSU Bands is celebrating a century of music. Faculty members — including Victor Markovich, WSU director of bands, Larry Blocher, associate director of bands, and Tom Fowler '68/79, associate professor of music — plus band alumni and students have organized a full year of performances.
In March the city of Wichita, WSU's School of Music and WSU Bands will host the National Convention of the American Bandmasters Association.
The WSU Symphonic Wind Ensemble will perform for the prestigious ABA membership that includes the world's most outstanding band directors and composers. Featured performances, Markovich reports, "will be the world premier of Illuminations by WSU composer Dean Roush, the Kansas premier of First Light by WSU composer Walter Mays and a performance of Herman Bellstept's Napol for Cornet and Band by Judith Saxton, WSU professor of trumpet.
We'll also have a very special performance by J.J. Richards of the Wichita Beacon march, which hasn't been performed in 50 years."
Slated for 8 p.m., March 6, in Miller Concert Hall, the concert is dedicated to the memory of ABA member James Kerr, who served as director of WSU Bands from 1946-1970.
At 3 p.m., May 12, WSU Bands will throw a birthday party that features the premier of a commissioned work by Gary Gackstatter '90, based on themes from WSU songs. And the WSU Chapter of Tau Beta Sigma will celebrate its 50th year of service to WSU Bands with the premier of Into the Solitude, by WSU composer Katherine Murdock.
To commemorate its centennial year, WSU Bands has established the WSU Bands Centennial Honor Roll. A permanent plaque will carry the names of all persons making a tax-deductible donation of at least $25.
Happy birthday, WSU Bands!