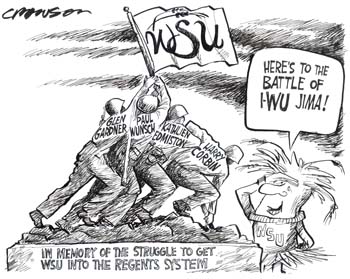 WSU Turns 40
Forty years ago, the University of Wichita became Wichita State. It was not an easy transformation. "The controversy over admission to the state system ended successfully in 1963 after a fractious fight."
---
Shockers everywhere, at events long ago to happenings just the other day, always have something interesting to say. Take this sampling as a Shock Talk example:

"I've never been prouder to wear a Wichita State jersey."
WSU senior forward Bret Wise to reporters after the Shockers' heartbreaking 91-84 double-overtime loss March 17 to the Florida State Seminoles in opening-round National Invitation Tournament play at Koch Arena.

"We're all very right-wing, all three of us."
WSU Student Government Association Vice President Sarah Smith about herself, SGA President Chad Mullet and treasurer Nick Weidner, as quoted by Katherine Leal Unmuth in a January Wichita Eagle report that included this description: "President Bush stares out at the 30 WSU students seated before him. Beside the president, SGA president Chad Mullet sits holding a pipe. Bush's life-sized cardboard figure has become a regular at Wednesday night SGA meetings at the Rhatigan Student Center. Bush's presence is testament to the fact that the executive leadership of the university's student government — officially nonpartisan — is far from that."

"It's great orange juice — it's fresh-squeezed. I got up this morning and squeezed it myself."
Nikki Epley '93/97, former alumni association director of events, now staff liaison for special events for the Jacksonville, Fla., Super Bowl XXXIX 2005 Host Committee, joking to Andy Rooney during pre-Super Bowl XXXVIII festivities at a Jacksonville Host Committee booth where she was serving not-fresh-squeezed orange juice. Rooney, Epley reports, did not like the orange juice.
---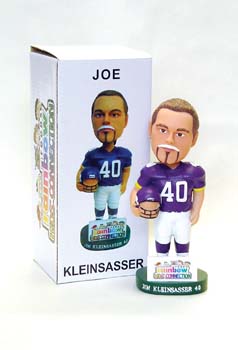 From the realm of the unlikely, The Shocker has this to report: Not only do pro wrestling's Paul "Big Show" Wight fs '92 and future pro baseball Hall of Famer Joe Carter fs '81 have their own action figures, but so does WSU's director of news and media relations.
That is, if you count bobblehead dolls as action figures and if you mistake — as the packagers did — Joe for Jim Kleinsasser.
Joe would be WSU's news and media pro; Jim would be the Minnesota Vikings tight end tapped for a Got Milk? campaign. (Milk, that's what that stuff is on Joe/Jim's upper lip, not some strange new experiment in frosted facial hair.)
This rare but precious flub prompted us to pose this question to you: What is the strangest piece of Shocker memorabilia you or someone you know owns?
A WU toothbrush? A black and gold spatula? A Go Shocks! wristwatch? Send us your information, and we'll send you something Shockerish in return.