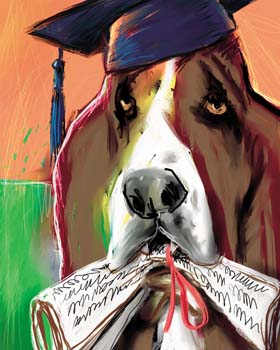 Magna Cum Rover
We've all heard the excuse about the dog eating someone's homework — but a diploma? Believe it or not, Thomas Holstad's '72 diploma met such a fate at the fangs of his roommate's basset Bernie. Today, Holstad is a husband, father and realtor living in California. He says that he's certainly been happy, but life without a diploma is for the dogs. So he called his alma mater to request a replacement, and with assistance from the alumni association and the registrar's office, Holstad now has a complete document at hand. "It's great to have it," he says. "Thanks to all who helped — and hello to Dean Rhatigan." Holstad, we hear, keeps his diploma in a dog-safe environment.


---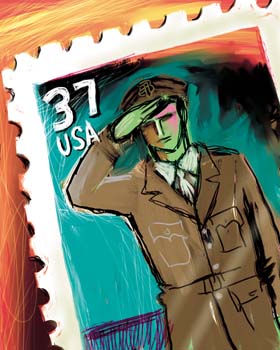 Above and Beyond
Standing in line for stamps, you may have wondered, "Hey, what do I gotta do to get a post office named after me?" The answer? Start with serving in World War II, help draft the Civil Rights Act of 1964 and act as a representative for Kansas' 4th district for nearly two decades. That's how the late U.S. representative Garner E. Shriver '34 (who died in 1998) earned the honor of having Wichita's Corporate Hills Post Office bear his name. What are you doing to get yours?




---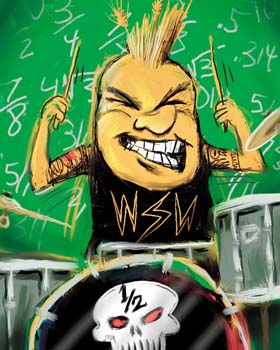 Fraction Rock
Most people understand the close relationship between math and music. There's even a particularly complex subgenre of heavy metal dubbed "math rock." But Rhea Sewell, a research assistant for the WSU Foundation and a student in LAS, has taken that relationship to a whole new level: To date, she's drummed in not one but two bands with fractions in their names. First, she was a founding member of 1/2 Mad Poet and now plays drums in 7/8 Quick, which recently released its second CD, Rebuilder, a disc that fans say is just fine, especially when taken as a whole.



---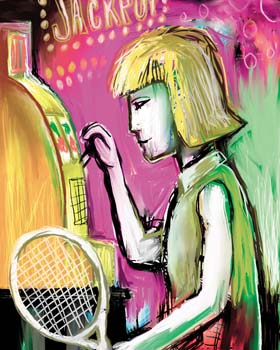 Big Screen Gamble
As students in Wichita State's creative writing program, Bryan Flores '96/99 and Kevin Colgan '98 became good friends and office mates. Later, both relocated to Prague, Czech Republic to teach English. Tired of shortened workweeks, the pair set about writing a screenplay that involves gambling and women's professional tennis. While the subject matter may seem a bit of a mismatch, skeptics are pointed in the direction of Caddyshack, a 1980 film that made golf accessible (and funny) to the masses. Whether the Flores/Colgan project makes it is, of course, up to chance.



---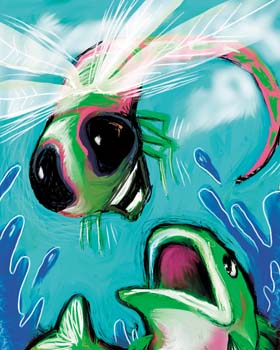 Enter the Dragonfly
Roy Beckemeyer '69/74 has been interested in flight for most of his life, be it airplanes (he retired from Boeing in 1997 and holds a doctorate from WSU in aeronautical engineering) — or insects. A fishing enthusiast, Beckemeyer discovered that dragonflies and damselflies make the best lures. That led to an investigation of what made dragonflies so agile in the air. The answer? Four wings that operate out of phase with one another to create an unbelievably dexterous insect. Learn more at www.windsofkansas.com.




---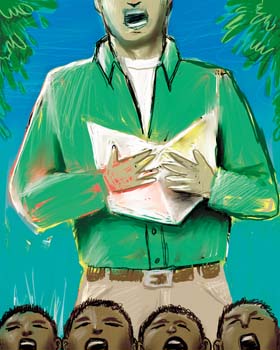 Amazing "Grace"
Musicians dream of reaching new listeners all the time, but Bryan Masters '83 reached an audience he never imagined: pygmies. The story goes that an American missionary received a tape from his sister that featured Masters' song "Grace." The missionary, who made his way to Papua, New Guinea, liked it so much that he taught his new students the song during worship sessions. Masters insists that it was love of a more earthly kind that inspired "Grace," but, hey, you can't argue with a missionary and a group of singing pygmies, can you?



---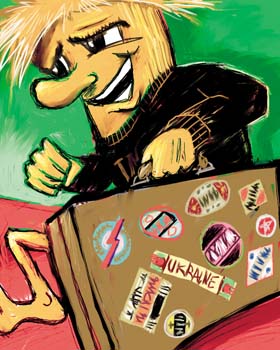 Yakety-Yaks
Bill Tucker '67/69, president of Global Regulatory Consultancy, gets around. He spent more than four years in Indonesia, Ukraine, Kyrgyzstan and Kazakhstan working on projects involving energy and utility regulation. That over, he found time to take a short trip to Mongolia (no word if it was outer) where, he reports, they have plenty of yaks and camels. His overall impression: It's a remote but starkly beautiful place. Sound familiar?





---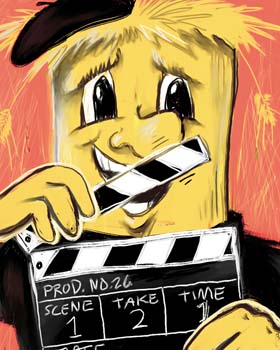 Hollywood Connections
Dean Cleverdon '73/73/76 and Nancy Nyberg '76/92 may not be the kind of Hollywood couple whose weekend escapades make for front-page tabloid news. Nonetheless, the couple has some high-profile connections. Nancy, a writer and producer, worked as an assistant on the blockbuster Titanic, while Dean has served as a consultant for such hip films as Monster's Ball and The Cooler. Still, rubbing elbows with Hollywood types hasn't swelled their heads too much: Dean recently directed a theatrical reading of Road to Rouen by an old Shocker friend — Anne Welsbacher '79.