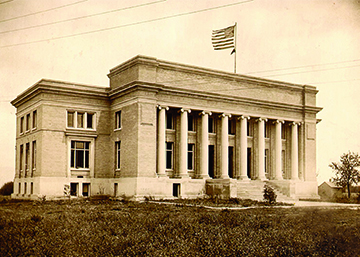 One hundred years ago, in April 1907, the leading lights and top supporters of Fairmount College gathered at a spot on campus just to the north and west of Fiske Hall; they came to ceremonially break ground for a new stone building, intended to serve as the young school's library.
Among those present were the college's first dean, William Isely; professors Andrew Solandt and Arthur Hoare; Lucetta Carter, a businesswoman and philanthropist; Howard Darling, a lumberman and longtime member of the school's board of trustees; architect Albert Ross; and a very ill President Nathan Morrison.
Mere hours later, Morrison would succumb to pneumonia, dying just after midnight the next day. Though the man who had led the college through its tumultuous first decade was gone, his legacy was affirmed when the library was named in his honor. "The library was President Morrison's fundamental dream," explains George Platt, associate professor emeritus of the WSU Hugo Wall School of Urban and Public Affairs.
"Of all the things he hoped to accomplish in terms of starting the college, very high on his list was a library. He worked hard at it, at an age when most people nowadays are retired. And he accomplished it — he got the grant from Mr. Carnegie, raised the matching funds locally, came back here to kick it off with the architect; they had the ground breaking, and then of course, he died only hours later."
Morrison indeed worked hard to establish a library at Fairmount. It was he who approached Andrew Carnegie, famous for providing funds for establishing community libraries, about funding one on campus; and when Carnegie agreed to give Fairmount $40,000 on the condition that the school raise the same amount, it was Morrison who tirelessly sought out the necessary donations, locally and on trips to the East Coast.
"Morrison spent a good third of his time back East raising money to keep the college going," says Platt. "When he visited people he would always ask them for money, and if they would say, well, no, they couldn't right now support him, he would ask, 'Well, do you have any books you could give us?'"
An earlier collection of books, predating the college's opening, had been collected and donated by local supporter George Strong, but was stolen in the summer of 1895, just before Fairmount's first semester of classes. The library's first official collection of books was assembled by the Fairmount Library Club, still in existence today.
After the theft of the books, says Platt, "a group of college supporters who lived down Fairmount Hill, just south of campus — a group of ladies — started talking over backyard fences. They decided something had to be done to get some books, because the college couldn't start without any books. And so the story is they went around with baskets, door-to-door, collecting books, then presented them in a basket to Dean Isely. And that's how the current library was started, then, was with this basket of books."
The stone-and-brick Morrison Library building was completed and officially opened in 1909; it served as the library for Fairmount College — and then the Municipal University of Wichita — until 1939, when library services were moved to the second Morrison Library, the structure now known as Morrison Hall.
The empty Carnegie-funded building became home to art and journalism classes, and was known simply as "the art building" for the next 25 years. In 1964 the old library was destroyed in a fire, most likely caused by a malfunctioning kiln.
The building's signature columns remained untouched for much of a decade, until plans for the Ulrich Museum dictated that the site be cleared for new construction. When plans to raze the columns were announced, Kathlien Edmiston '33, a university regent/trustee, sprang into action. Edmiston launched a campaign to save three of the columns, the building's cornerstone and two inscribed foundation stones as a memorial to the old library — and to the origins of the university.
At 2:30 p.m. on April 12, WSU will celebrate the centennial of the original library's ground breaking with a ceremony set to take place at 17th Street and Fairmount, where the columns stand today. Descendents of President Morrison, Dean Isely and Edmiston are expected to attend, as is former alumni association president Chris Shank '69, who is the great-great-grandson of Howard Darling.
"Everybody's invited," says Platt. "Ted Ayres (WSU vice president and general counsel) will talk a little about the history of the building. There will be a souvenir program, we'll have some music, the president of SGA will speak, President Beggs will make some remarks. We'll unveil a plaque that will be added to the monument."
An additional event marking the centennial, sponsored by WSU Library Associates, is set for 2 p.m., Sun., March 25, in the lower level of Ablah Library. The display cases outside the Special Collections department will also feature a selection of photographs and documents related to the history of WSU libraries.
---
Universities Libraries: A Timeline

1880s — During planning for Fairmount College, books are collected by local businessman George Strong and friends. A national economic downturn delays the building of the school for several years, and the books are targeted for the short-lived Fairmount Institute.

1895 — As the first semester of Fairmount College approaches, the existing collection of books is stolen. The Fairmount Library Club is formed by neighborhood women, and a fresh batch of books is gathered and donated to the new university in a basket.

1904 — Fairmount's board of trustees votes to apply for a Carnegie library grant of $50,000.

1905 — Carnegie's secretary sends a telegraph granting $40,000 toward building a campus library, contingent on the school's raising a matching amount.

1906 — More than $40,000 is raised for the Fairmount library fund. The Wichita Eagle, in an unintended foreshadowing of the university's future municipal status, reports that "the purpose of this undertaking is not only to accommodate the students of the college but to make this library an intellectual source for all people dwelling in the Great Arkansas Valley."

1907 — Morrison returns from his last East Coast trip with architect Albert Ross in tow. After attending the library ground-breaking ceremony, Morrison succumbs to pneumonia and dies.

1909 — Morrison Library opens.

1939 — The new red-brick Morrison Library is opened; the original building is used for art and journalism classes.

1962 — Ablah Library, named for benefactors Frank and Harvey Ablah, opens on the east side of campus, reflecting the university's expansion. The 1939 building is renamed Morrison Hall and repurposed as administrative office space.

1964 — The original Morrison Library building burns down.

1972 — Ablah is expanded with a basement level.

1973 — Three of the remaining columns from the original Morrison Library are moved to the university entrance at 17th and Fairmount streets and dedicated as a memorial to the school's origins.

1988 — Ablah Library is extensively remodeled, with large additions housing the Media Resource Center, TV-13, a two-story library entrance and a light-well to provide daylight for the lower level.

1999 — A 24-hour study room outfitted with computers is opened in Ablah Library and named after benefactors E.K. '36 and Kathlien '33 Edmiston; it was Kathlien whose initiative saved the old Morrison Library's columns.

2007 — The university community organizes an April 12 centennial celebration of President Morrison's "fundamental dream."