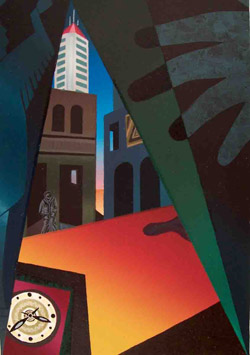 Wichita Melodrama
hand-pulled stone lithograph
Doug Billings '82
"My decision to become a printmaker," the artist says, "began by my falling in love with the hands-on processes inherent in the making of a print. It is artmaking which revolves around intense and sometimes complicated methods that are almost impossible to control completely. This unpredictability gives printmaking an element of intrigue, which often creates unexpected results." After earning a printmaking degree from Mankato State, Billings was accepted into WSU's printmaking program by the prominent printmaker David Bernard. A member of a number of professional guilds, Billings also serves as president of Gallery XII, a Wichita artist's cooperative gallery. An exhibition of his work is slated for April 3-May 27 at the Birger Sandzen Memorial Gallery in Lindsborg, Kan.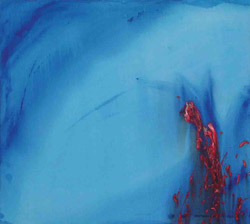 Variation Blood and Water
acrylic on canvas
Jodi Drinkwater '96/00
A poet and self-taught painter, Drinkwater is drawn to the primitive aesthetic in visual arts. The Wichita-based artist practices a balance between a conscious awareness of aesthetic technique and an innocent or raw quality in her work. A 2000 graduate of WSU's creative writing program, she has had her poems and paintings published in various journals, including American Literary Review, Chiron Review, The Project for a New Mythology and WSU's literary publication Mikrokosmos. An exhibition of her acrylic paintings is ongoing through March 27 at Wichita's Watermark Books & Café.
---
No One

It might be nice to be a cow,
grazing across fields,
the sun setting — and not
to be alone. To gather together
beside the water, to chew
our cuds, our tails wagging
away flies.

But the sun's gone down now.
Hasn't it?
So the flies have gone
to where flies go in the darkness.

But we're together. My brain
humming so slightly in harmony
with the rest. My brain,
no brain of its own; my thoughts
only a blip in the collective.

There is no more
no one.
I do not peer into the vacant,
vast surroundings.
I do not carry my fear and blood
alone — even as I go to slaughter.

— Jodi Drinkwater '96/00