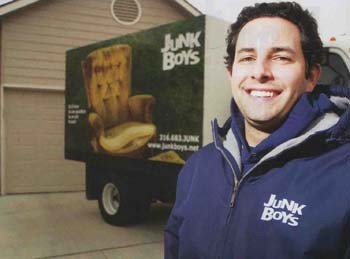 For as long as there has been junk, there have been shrewd and resourceful men willing to get their hands dirty if there is profit to be made in hauling it away.
These men can sometimes be found in the Yellow Pages, but most rely on word of mouth, or hope that potential customers will note their numbers from the hand-painted signs on the sides of their pickup trucks.
Then there is Nick Naparstek '03.
Naparstek owns Junk Boys, a Wichita-based junk removal service that he began in the summer of 2006 with one truck and a single employee. He has since added two more employees, a second truck and is considering a move into an office space.
The 26-year-old is not the sort of guy you would expect to arrive at your door to haul your old sofa to the dump. He is small and trim, with a haircut that keeps his springy curls conservatively compact, and his fingernails look well tended.
In fact, he looks every bit the business major he was in college. "They don't expect us," Naparstek says of his crew, which arrives on the job wearing uniforms and smiling faces. "So many people tell us that we look too clean to do this."
Naparstek has built the Junk Boys brand by providing fully insured, prompt, and what he calls "expert" junk removal service. His business plan, which he labored over for months before buying a truck, is to bring a level of customer service and professionalism to the junk game that sets him apart from competitors. He got the idea for the business while looking for just such a service in Cincinnati, where he was helping family clear out a home in preparation for an estate sale. He could not find one.
"I followed the adage, 'Start a business doing a job that nobody else wants to do,'" he says.
Naparstek targets a specific market, concentrating most of his business on Wichita's east side, where well-established residents are statistically more likely to pay a bit more for professional service (Visa and MasterCard accepted).
There is a company website, junkboys.net, where customers can make online reservations, peruse the Frequently Asked Questions page, or click a link for a coupon. The last four digits of the company's telephone number spell out junk, naturally. And Naparstek's large box trucks do double duty as billboards. Between jobs and on weekends, the trucks, emblazoned on the sides with Junk Boys advertising, are often parked in lots near high-traffic intersections.
"They are phenomenal advertising vehicles, so to speak," he says.
Slick as the operation looks, it remains the junk business.
"We've been to some really dreadful, just nasty places," relates Naparstek, who recalls with a shudder the time he was hired by a landlord to clear out an entire garage full of garbage. It seems the former tenant had refused to pay for trash service.
Most jobs he gets, though, are to haul away what he calls "perfectly good stuff," such as pianos, computers, appliances and old eight-track tapes.
"Yesterday, we removed a hot tub," he reports. "One of my guys kept it."
Naparstek was in retail management before "taking a leap of faith" and launching his own business. It is a move he does not regret and says he will make again should inspiration strike twice.
It would be difficult to top the name Junk Boys, though.
"What else was I going to call it?" says Naparstek. "Nick's Hauling?"