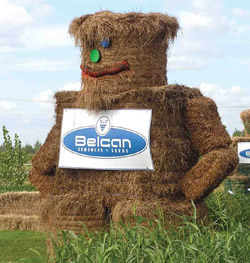 WuShock in Canada
Dear Editor:
I wanted to provide some additional information about the snapshot of "WuShock" that ran in the last issue of The Shocker (Shock Talk, fall 2006). The photo was taken by Ray Garvey, a 1983 French and journalism graduate of WSU who works as a marketing coordinator with me at The Grasshopper Co. in Moundridge, Kan. Ray was attending a trade show in Canada when he snapped the image of that eye-catching Wu-like image! As lifelong Kansans and Shocker fans, we were both amazed by the similarities.
Trent Guyer
Moundridge, Kan.

---
Calling All WU Grads

Dear Editor:
I have been surprised by the small number of reports (Class Notes) from the old grads from Wichita University days. In the last magazine (fall 2006), there was only one report from graduates of the 1940s — and only four from the 1950s. Do the WU grads not relate to the state university, or do we just live longer in California?
Marvin Loney '49
Lompoc, Calif.

Editor's Note: Echoing Mr. Loney's comments, we staffers at The Shocker would love to feature more Class Notes from earlier graduates. So the gauntlet is thrown. No matter when you attended WSU or WU (or even Fairmount College), we are always interested in your achievements. So send them in!
As for Marvin Loney himself, our records indicate that he is more than overdue for some recognition in these pages. A lifelong public servant, he put his economics degree to good use as a director of finance, then budget officer, for the city of Lompoc, Calif., and from 1986 to 1990 served a term as mayor of that city. He has also served as president, treasurer and trustee of the Lompoc Museum; sat on the Chancellor's Council of Pepperdine University; and held the position of treasurer of Lompoc's centennial committee. Though retired, he remains active in the civic arena today and was nominated in December 2006 by current Lompoc mayor Dick DeWees to take a seat on the city's utility commission.