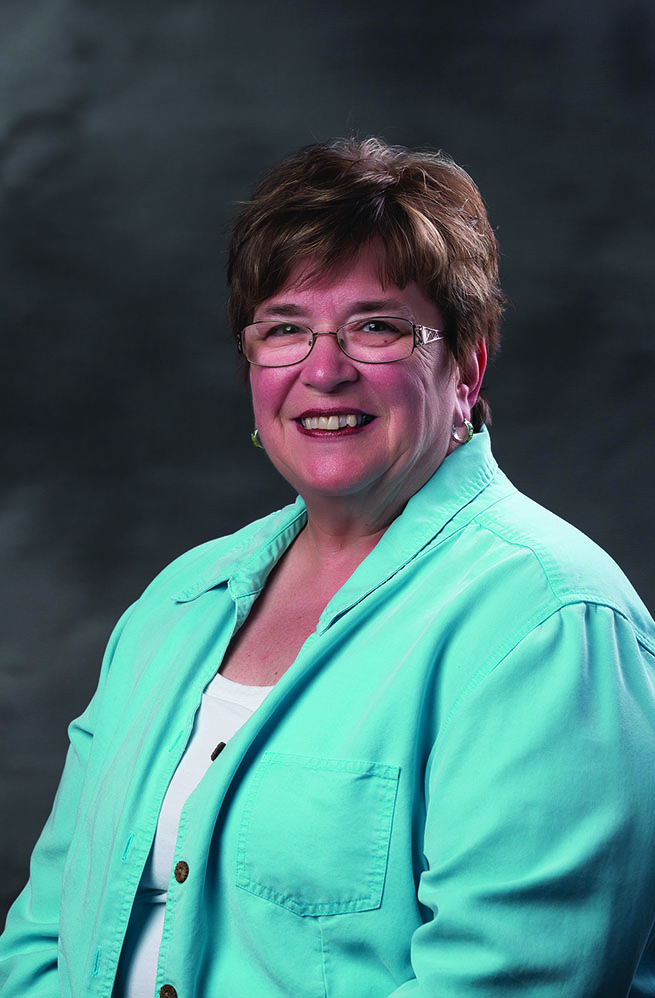 Having a background in sports isn't a requirement for serving as Wichita State's faculty representative to Shocker athletics.
And for that, Julie Scherz '69/71/89, associate professor of communication disorders and sciences, is thankful.
"Klutz is my middle name," she says. "I took downhill skiing lessons when I lived in Minnesota, and I was so bad they never cashed my check. But I love watching sports."
What the position does require is the willingness to step up and work to ensure that WSU's student-athletes have the right tools to have the best college experience possible.
It helps to have a deep love and sense of pride for Wichita State, which Scherz does — so much so that she has repeatedly returned to WSU to earn three degrees and to work over the past five decades.
Three years ago, she took on an important new role when WSU President John Bardo appointed her as liaison between academics and athletics. Initially, she agreed to a three-year term, because she had plans of retiring this year.
Those plans changed when she agreed to a three-year term as chair of the communication disorders and sciences department — second largest in the College of Health Professions — in 2015.
Now, she plans to continue as both the faculty representative and department chair until her new retirement date in 2018.
For Scherz, being a faculty member means far more than teaching, conducting research and advising students. It means serving on committees and endeavors that help shape an academic institution and contribute to one's profession.
Even now while juggling her full-time department leadership and athletics faculty representative duties, she serves as an accreditation team site visitor for the American Speech-Language-Hearing Association, something she has done for the past decade.
She also sees patients with Huntington's disease once a month at a Wichita specialty clinic and is overseeing two student research projects based at the clinic, which also conducts national clinical trials.
Before joining the WSU faculty in 1998, Scherz was a speech pathologist in Minnesota and Indiana, and had been a clinical teaching assistant and clinical supervisor at WSU from 1984-89.
Over the years, she's done in-service training for area professionals, was department graduate coordinator, helped write curriculum, judged WSU scholarship competitions and more.
While serving on the Faculty Senate, she was the senate's representative to the InterCollegiate Athletic Association Board, an experience that led to her appointment as WSU's faculty representative to Shocker athletics.
In this position, Scherz signs off on eligibility requirements of the 300 or so Shocker student-athletes, verifies grade point averages, approves medical hardship requests and investigates alleged violations and grievances.
Twice a year, she meets with faculty representatives from schools in the Missouri Valley Conference.
"I'm an outside set of eyes looking at the process and following through on student-athlete welfare issues," she explains.
Her tenure has come with many ups and a few downs, Sherz reports.
On the down side, she was called to help look into two controversies; one involved NCAA violations of allowing baseball players to receive discounts for Under Armour apparel, and the other was an investigation into complaints from women's basketball players against the coaching staff about their treatment.
"By and large, we have a good athletics program here," she emphasizes. "Our Shocker student-athletes work very hard to represent us well."
She likes to focus on the positive experiences. She has gained a deeper understanding and appreciation of NCAA regulations — and of how hard the athletics staff works to ensure it runs a quality program.
The best part of her role as a liaison, she says, is getting to know the student-athletes.
"Most of them are really good students, doing well in the classroom and doing lots of community outreach," she says. "I don't think people appreciate the pressure on these kids to represent the university, and they do it with such grace."
As a WSU alumna, she's proud to see her college teams doing well, winning conference titles and getting national recognition. She's also proud to have a role in looking out for WSU's student-athletes.
"I feel so privileged to have gotten my education and to finish my career at this university," she says. "I'm blessed to have a meaningful career, and I'm grateful for my education and the opportunity to give back."