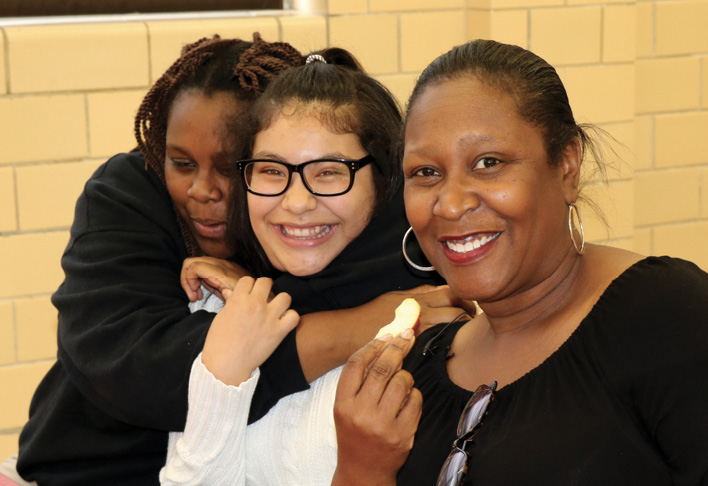 As a little girl, Alicia Thompson '15 thought her mother, a fourth-grade teacher at Carter Elementary School in Wichita, spent her days "playing with kids, writing on the chalkboard and riding the school bus."
Over the years, of course, her knowledge of the field has grown, and that knowledge has brought rewards. After years as a teacher and administrator in Wichita public schools, Thompson was appointed district superintendent in spring 2017, stepping into the role on July 1. It's a journey that still surprises her sometimes. "To start from a kindergarten student and to be sitting in this seat today as a superintendent is crazy," she says. "I would've never thought that I would have this opportunity to lead the school district that educated me."
Thompson came up through the Wichita schools she now leads, starting with kindergarten at Carter. She moved to Chisholm Trail Elementary for fourth and fifth grades because her mother, who was Carter's only fourth-grade teacher at the time, joked that "I'm not gonna look at you all day and then have to see you all night!" She graduated as a proud Falcon from Heights High School in 1986, then did her undergraduate work in education at Langston University in Langston, Okla.
After returning to Wichita, Thompson began her 25-year career in Kansas' largest school district as a classroom teacher for levels kindergarten through third grade at Ingalls Elementary, now Spaght Science and Communications Magnet. She loved her days up at the chalkboard, seeing her students grow: "When you're working with kindergarten kids," she reports, "they come in kinda timid and not sure of themselves. I love to watch their confidence grow as they find success and you're able to say 'good job!' You can see that light come on in their face, and the energy that they have as they are learning –that's priceless."
Although she loved classroom teaching so much that at one point in time she claimed she'd never go into administration, she transitioned into a building leader and then a district-level administrator prior to her appointment as Wichita's superintendent. She says she came to realize that she didn't only love helping students learn: she liked helping other teachers, too – and she was good at both.
"Other people saw that in me," she says, "and started encouraging me to take on more leadership opportunities inside of the building. The more and more I had those opportunities to do that, the more and more I felt that I was really making a difference being a leader." So she went back to school, earning a master's degree from Newman University in curriculum and instruction and numerous certificates from Wichita State, culminating in a doctoral degree in educational leadership in 2015.
She credits her studies at Wichita State with laying the foundation for her adminstrative skills: WSU, she says, "instilled skill sets of leadership in me." As superintendent, she values the close connection between the university and the school district: "Being partners with Wichita State has been a joy," she says.
Thompson's history of administrative work includes roles as assistant principal at Cloud Elementary; principal at Little Early Childhood Center, Cessna Elementary, and Spaght; and executive director of district staff development, before she became an assistant superintendent for elementary schools in 2005. Although six elementary schools in Wichita closed during her tenure, Thompson is proud to have had a hand in the development of the Multi-Tier System of Support, a framework she says "really gives us the opportunity to build around the whole child," not just their academic success or struggle, but their "social and emotional being," too.
In her new role as superintendent, Thompson hopes to build on that framework of support, as well as "to make sure that kids have skill sets that they can use to be able to go to college, or go on to a career."
Although Thompson – who has been honored with the Wichita Business Journal's Leadership in Diversity Award, the Martin Luther King Education Award from the Urban League of Kansas, and the NAACP Education Award – is the first African-American woman to hold the superintendent position, and the first woman at all to do so since Rosemary Kirby was interim superintendent in the early 1990s, she sees herself as a role model for young people of every race and gender:
"I recognize my accomplishment, and I celebrate that accomplishment," she says. "But what that really says to me is that if you take advantage of the opportunities that people give you, you can rise to levels much greater than me. You can make a difference in your city, in your state and in this country."