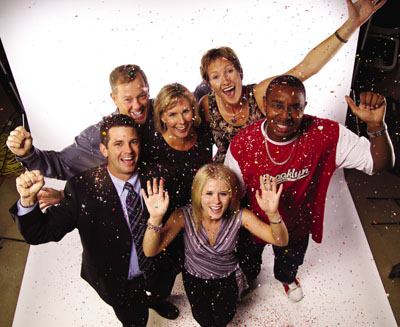 For the first time, the WSU Alumni Association and WSU Athletics are combining Shocker Auction and Shocktacular into one great event: Rockin' the Roundhouse, 6 p.m., Sat., Nov. 6, Charles Koch Arena.
"This will be a blockbuster event for our entire community," says WSU Director of Athletics Jim Schaus, adding that food, games and entertainment will be featured throughout the Charles Koch Arena complex. "It also benefits scholarships — and makes a difference for higher education at Wichita State."
Debbie Kennedy, the association's interim RnR coordinator, adds, "I'm so excited about this event. We're going to have food from a smorgasbord of Wichita's finest restaurants, a fun array of live music and games — and both a silent and live auction with all kinds of unique packages only available at this event."
Attendees can dance to the music of six live bands, including "America's Party Band" 3-Ring Circus, while interactive games are slated for the Preferred Health Systems Multi-Purpose Center. A silent and live auction, including packages featuring dinner with WSU alumnus Samuel Ramey and seeing him perform with the Chicago Lyric Opera, a Colorado fly-fishing expedition, a trip to LA to tour Warner Brothers Studios plus skybox tickets for an NBA game in the Staples Center, a full-service golf tournament at Terradyne Country Club and a holiday trip to New York including jazz at Lincoln Center, to mention just a few, will be among the evening's highlights.
RnR proceeds will provide assistance to many of the WSU Alumni Association and WSU Athletic Department programs, including student scholarships, alumni records, publications, student athletes' academic programs and career services. Tickets are $85, of which $60 is tax deductible.
Sponsors: Cessna Foundation, Cox Communications, Fahnestock Heating, A/C & Electric, Hartman Oil Co., House of Schwan, Journal Broadcast Group, KAKE- TV 10, McCluggage Van Sickle & Perry, McCormick Armstrong, Pepsi Bottling Group, Printing Inc., Professional Engineering Consultants PA, Scholfield Pontiac, Southwest National Bank, Standard Beverage Corp., Valley Offset Printing, Westar Energy, Wichita Business Journal. Restaurants: Abuelos, Accent Catering, B.G. Bolton's Grille & Bar, Corporate Caterers of Wichita, Famous Dave's, Fifth Avenue Fountains, Hog Wild Pit Bar-B-Q, Italian Garden, Jason's Deli, Johnny Carino's, Krispy Kreme Doughnuts, Kwan Court, Larkspur Restaurant, Nouvelle Café, Olive Tree, Prairie Fire Café, Red Hot & Blue Southern Grill & Bar, Red Rock Canyon Grill, Romano's Macaroni Grill, Savute's Italian Ristorante, Sheridan's Frozen Custard, Starbucks Coffee, Stroud's Restaurant & Bar, Toni D's Deli & Catering, Truffles Catering, Uptown Bistro, Wichita Canteen Co., Yia Yia's Eurobistro. And Presenting Sponsors: Koch Industries and Preferred Health Systems.