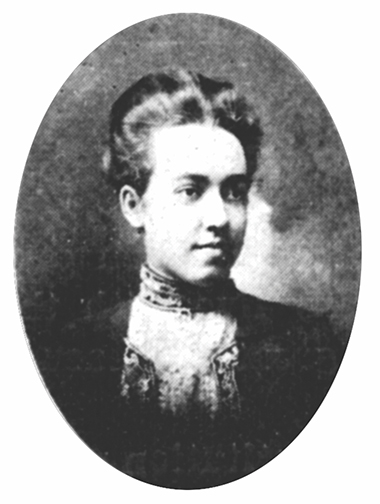 Ruth Eleanor Graves '03 was our university's first known graduate to become a professional artist. A student of Elizabeth Sprague at Fairmount College in the early years of the 20th century, Graves went on to study at the Art Institute of Chicago. She then set off for New York City and, in 1924, sailed on to Paris. Famous for its artistic life, the City of Lights attracted emigrés from all over the world, from F. Scott Fitzgerald, Ernest Hemingway, and other members of literature's "Lost Generation," to painters such as Pablo Picasso and Salvador Dali. One can only speculate with whom Graves rubbed elbows in her two decades in France. But wait, thanks to Darcy Moore, we do now know at least one of her friends in Paris — Eric Blair, better known under his nom de plume George Orwell. -CKW
AMONG THE LETTERS in George Orwell's possession at the time of his death in 1950 was one from Ruth Graves, whom he had known 20 years earlier in Paris. Literary scholars and biographers have never been able to trace Graves. Until now.
My research into Orwell's time in Paris, when he was still Eric Blair – the young, unknown, unemployed ex-police officer – faces the same challenge that his biographers have confronted. Paris just did not remember him. There are almost no primary sources, and few seemed to know anything about or correspond with the struggling writer at that time. From the moment I read Peter Davison's editorial notes about Graves' letter, in the final volume of The Complete Works of George Orwell, she seemed to have been a person who could have offered insights into those distant days. If only we knew who she was.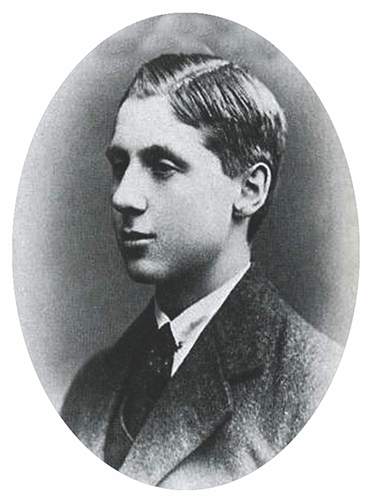 In her letter to Orwell, Graves fondly remembered "the very good talk of a tall young man in a wide-brimmed pair of Breton hats, who was as kind as he was keen of mind." She recalled "those Saturday evenings in Paris, when we took turns about the dinner, and the hours of good talk later in my little cluttered place in Rue de la Grande Chaumière. You showed me sketches of your experiences – some of the material I recognised when 'Down and Out in Paris and London' came out. Perhaps I was your first critic?"
It was also evident from her letter, written six months before Orwell died, that Graves knew her friend was seriously ill. She offered to procure medicine but knowing that there may be difficulties importing it to England, volunteered to act as courier.
Blair moved to France ostensibly to live cheaply while he kickstarted his career as a writer, but after five years serving the British empire as a police officer in Burma (1922-27) he must have fantasised about escaping to the cultural mecca of Paris, as many thousands of expatriates endeavouring to paint, write or at the very least affect a bohemian lifestyle had done before him. Graves lived near Boulevard Montparnasse, which Google Maps reveals is about a 20-minute walk from where Orwell's residence at 6 Rue Pot de Fer, in the fifth arrondissement, was located.
Knowing that Graves returned to the United States in October 1939, I started searching the passenger records of vessels bound for the USA. This simple line of enquiry proved very fruitful: A Ruth Eleanor Graves, born Jan. 8, 1884, was listed as a passenger on the S.S. Saint John. This steamer departed for New York, from Bordeaux, on the 14th of October. She appeared to be travelling alone and is recorded as "single" rather than "married." Her passport indicated she had left for Paris in early 1924. In the space for "object of visit," she had written, "study of art."
The only child of Walter and Mary Graves, she grew up in Wichita and was educated at Fairmount College. Her father was a physician and one of the college's board of trustees. Her mother was a keen reader, founding the Fairmount Library Club.
Graves, with her aptitude for art, graduated from the college in 1903 and moved to Chicago to study. After leaving the Art Institute of Chicago, she continued her studies with the Art Students League of New York (records indicating she won a scholarship and later supported the institution financially until her death). During these formative years, her teachers commented that she was an extraordinarily diligent young woman, highly independent and original.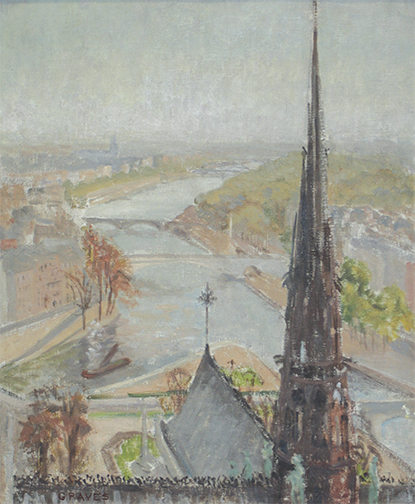 After making the move to Paris, where she was to live for 15 years, Graves had some reasonably immediate professional success. She exhibited three paintings at the prestigious Societé Nationale des Beaux-Arts in 1926. One of the paintings exhibited at the salon in 1926 was a cityscape of Paris viewed from Notre Dame, which Graves later presented to her alma mater.
Graves never married and lived most of her life in New York. Sadly, she died in a New York State mental hospital in 1964. She was probably suffering from an undiagnosed dementia, perhaps Alzheimer's disease, unable to "treasure all the memories" of her years in Paris.
Orwell, in his 1940 essay on American expatriate Henry Miller, Inside the Whale, writes amusingly about Paris when the exchange value of the franc was low: "Paris was invaded by such a swarm of artists, writers, students, dilettanti, sight-seers, debauchees and plain idlers as the world has probably never seen. In some quarters of the town the so-called artists must actually have outnumbered the working population – indeed, it has been reckoned that in the late 'twenties there were as many as 30,000 painters in Paris, most of them impostors. The populace had grown so hardened to artists that gruff-voiced lesbians in corduroy breeches and young men in Grecian or medieval costume could walk the streets without attracting a glance, and along the Seine banks by Notre Dame it was almost impossible to pick one's way between the sketching-stools."
Graves, having lived and exhibited in Paris for several years before Orwell arrived, was not an "impostor." The young Blair would have learnt a great deal from the older woman, devoted to art, who was to spend so many years as an expatriate. Graves' personal and professional life is deserving of study – not just because of her connection to Orwell – but in her own right.
---
FOUND STORIES: In Her Own Right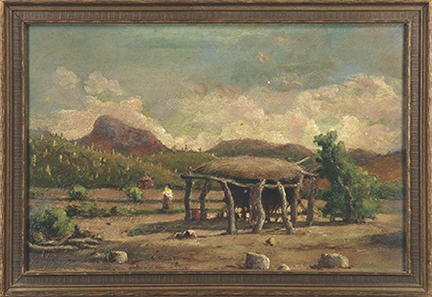 For years now, Ruth Eleanor Graves '03 (that's 1903, by the way) has been a captivatingly mysterious Shocker personality to me and a number of other Wichita State history buffs, including the late George Platt.
In 2008, Platt worked with Anna Perleberg on The Shocker's "A Girl Who Went from Wichita to Paris and Won Success," which shared basics about the artist's life, but left questions unanswered, especially about her time in Paris. (You can find this article at theshockermagazine.com.)
So, it was with great pleasure to hear from Darcy Moore, an educator, researcher and blogger based in Australia who, while researching George Orwell, ran across Graves. Moore's research continues. Among his remaining questions are these: Did Orwell reply to her letter? Did she keep diaries and letters? Did she sketch or paint Orwell? If you can help with his research, please contact him via email dfjmoore@gmail.com or Twitter @Darcy1968. For more info about Graves and Orwell, visit his blog: darcymoore.net/tag/ruth-eleanor-gravels/.
— Connie Kachel White