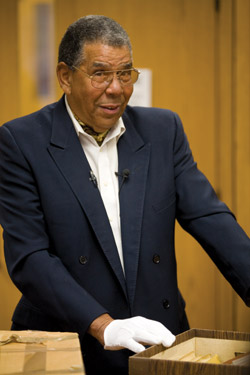 Gordon Parks had a love-hate relationship with his native state. Born in Fort Scott in 1912, the celebrated photographer, author, filmmaker and composer grew up under the pall of poverty and racism.
He attended a segregated grade school and then Fort Scott's only high school, where blacks were banned from playing sports and discouraged from taking college prep courses.
He remembered one teacher advising him and his fellow black students against setting their sights on college. They were, after all, destined to become railroad porters and maids, not doctors or lawyers or world-renowned artists.
"There was a time when I never wanted to see Kansas again," Parks said from his home in New York City during a 1999 interview. "It was a long time before I could bring myself to it."
Yet before his death March 7, 2006, at the age of 93, he told his son David that he wanted to be buried at home, in Kansas, and he was laid to rest in Fort Scott.
This February, the soul of his nine decades of creative vigor came home to Kansas, too — to Wichita State, in 140 sealed cardboard boxes. On Dec. 14, 2007, the Gordon Parks Foundation in Chappaqua, N.Y., accepted a proposal from WSU to become the permanent home of Parks' collection of private papers, photos, manuscripts and other personal items.
"Gordon would have been very pleased to know that his papers will reside at WSU," reports Peter Kunhardt, president of the foundation and a former Life magazine editor. "Under the leadership of Ted Ayres, a comprehensive plan is now in place to permanently place his personal papers and make them available to the public." For Ayres, vice president and general counsel at WSU, the delivery of Parks' collection was the culmination of months of hard work and years of heartfelt interest in Parks, his life story and his many and diverse artistic endeavors. "February was one of the best months I've had," Ayres relates. "I'm so gratified by the community's response to the arrival of Mr. Parks' papers. People understand and appreciate what we have here — the lifetime accumulation of his creative efforts."
Honored by Wichita State in 1991 with the university's highest award, the President's Medal, Parks worked as
a bus boy, piano player, dining-car waiter, basketball player and more before he made his reputation as a Life photographer, capturing powerful images, both grim and glamorous, from the middle decades of the 20th century.
He then turned to moviemaking with "The Learning Tree," filmed in his hometown, followed by "Shaft," a thriller starring America's first black action hero, Richard Roundtree, as detective John Shaft.
A remarkably diverse artist, Parks composed symphonies and sonatas, and choreographed and scored Martin, a ballet in memory of the Rev. Martin Luther King Jr. He also authored some 20 books, beginning in 1963 with his autobiographical novel, The Learning Tree, about a boy of 15 experiencing love, loss and racism in small-town America; continuing through Half Past Autumn, a retrospective of his life and work; and concluding with A Hungry Heart: A Memoir.
During a March 4 visit to campus, David Parks, an author and filmmaker who lives in Austin, Texas, described his famous father as a "pack rat. He kept everything." David toured WSU's Special Collections area in Ablah Library and opened one of three boxes set out for the occasion.
Inside, he found a manuscript of "The Learning Tree," a contract from the Directors Guild of America and a worn manila envelope from his father's agent. "Wichita and Wichita State seem to me to represent the art community in the state of Kansas," Parks says. "It only makes sense that my dad's collection be in a place that is so appreciative of the arts."
"This collection is very much a community treasure," WSU assistant professor and Special Collections curator Lorraine Madway said during Parks' visit. "It represents a lifetime's journey, and we are honored and delighted to have the collection here."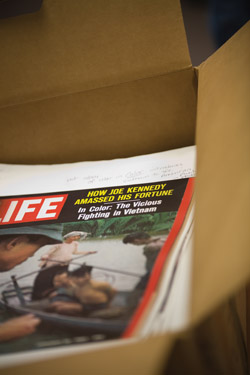 Plans call for WSU to hold, curate and display the materials for the public good. Madway and others estimate it will take two years to fully process the items. Long-range plans include the creation of cultural programs, even a multidisciplinary center, highlighting the collection. Through June 4, Special Collections is also displaying a unique example of Gordon Parks' influence: a bust of Parks sculpted by Clara Redmond of Wichita. The bust is her first work.
The Parks collection, which was appraised at $500,000, has come to WSU only with the help of scores of individuals, Ayres says. Among the first to plant the seed at WSU were Pete Armstrong '42 and Mark McCormick, a Wichita Eagle columnist, who has felt the positive influence of Gordon Parks since childhood. "I had a very personal motivation for wanting to see Mr. Parks' collection in Wichita," he relates. "I identify with so much of his work, and grew up in a home where we watched 'The Learning Tree' over and over."
After McCormick heard from David Parks that WSU might have a real shot at obtaining the collection, he mentioned this fact to Armstrong at a Wichita Rotary luncheon in 2006. Armstrong called WSU President Don Beggs, who talked to Ayres about the possibility of putting together a proposal to compete for the collection. Ayres was more than thrilled to take up the challenge.
With the financial assistance of some 15 donors whose support ranged from $100 to $200,000, Wichita State, led by Ayres, compiled a proposal valued at $505,500.
Ayres notes that Elizabeth King, president and CEO of the WSU Foundation, and Terre Johnson, the foundation's vice president for development, were instrumental in fundraising efforts. President Beggs and WSU Provost Gary Miller also provided financial support. The six-part bid — which set out dollar amounts for a cash payment to the Gordon Parks Foundation and in-kind estimates for archival and curatorial staff, as well as $100,000 to endow a position for a graduate assistant who will focus on the collection — also featured a list of connections between WSU and Parks going back to an exhibition of his work at the Ulrich Museum of Art in 1978.
Ayres submitted the final proposal to GP Foundation officials on Nov. 30, 2007. "November 30th is Gordon Parks' birthday," he explains. "I overnighted the proposal to the foundation late that day."
Earlier that day, he had overseen a campus celebration in honor of Parks. WSU students under the direction of Nick Johnson debuted an original dance to the music of "Shaft," and special guest panelists (Charles McAfee, Ken Lunt, Anna Chandler, Mike Roach and Gene Jackson, all of whom knew or had met Parks) personified the artist's life.
At one point in the festivities, which were being videotaped, Ayres held up the proposal and, speaking both to the audience and to members of the foundation, announced: "Mr. Kunhardt, it's on its way."
The Library of Congress and the New York Public Library were among a number of other institutions competing for the collection. Ayres says, "Our checkbook wasn't our strongest pitch. Our Kansas connections were."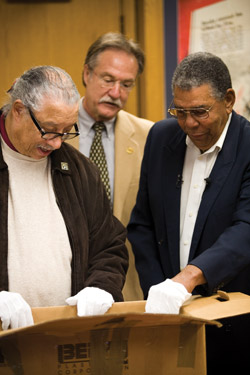 Ayres met Parks in Wichita in 2000 when Ayres was serving as Ulrich Museum interim director. Having been key in the decision for the museum to purchase four of Parks' photographs, Ayres invited him to campus for the unveiling of "Negro Woman in Her Bedroom, (Southwest Section) Washington, D.C." (1942), "Uncle James Parks, Fort Scott" (1949), "Department Store, Birmingham, Alabama" (1956) and "At the Poverty Board: Bessie and Kenneth, Little Richard, Norman, Jr. and Ellen" (1967).
"The museum was packed," Ayres recalls. "I watched how people responded to and respected his work. It was wonderful to see. And he was so kind, so gracious. I remember driving him to campus during that time, and I had this sudden flash of realization: the guy sitting right here in my Dodge minivan is a living legend!"
Parks had visited campus a number of times before: during his first Ulrich exhibition, when awarded the President's Medal in 1991 and in 1999 when the Corcoran Gallery's traveling exhibition Half Past Autumn, the first retrospective of his work, stopped at the Ulrich. It featured 219 photographs, accompanied by films, music, paintings, as well as manuscripts of poems, novels and other writings.
At the time, of all his accomplishments, Parks thought The Learning Tree his finest. "I dedicated it to my mother and father," he said. "I wrote it as a way of fighting for civil rights through common sense. Once, when I was discouraged with things in Kansas, I asked my mother if we would have
to live here all of our lives. She said I must accept Kansas and our town
as a kind of 'learning tree.' A tree that had good fruit and bad. She said that's the way it was with people. Whether I went or stayed, things would be like that. I would just have to accept it and my experiences as a learning tree." He did more than accept his experiences, he transcended them. David Parks recalls, "Dad often said that nothing worthwhile is easy to achieve. He was a real Renaissance man, without a doubt."
David, Beggs, Armstrong, McCormick, Ayres and so many others instrumental in bringing this Renaissance man's papers and photographs to Wichita State view them precisely as Parks himself would have: as a learning tree for
us all.