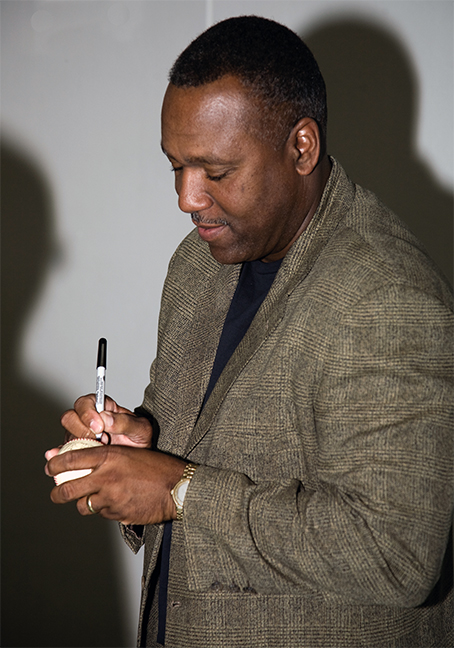 Joe Carter fs '81 can certainly deliver in the clutch — evidenced by the historic, high-pressure home run he hit to end the World Series in 1993.
He proved he can deliver punch lines, too.
Wichita State celebrated 30 years of Shocker baseball with a gathering that drew both the biggest names in program history and role players that the casual fan has probably never heard of.
All were honored and welcomed as part of the baseball family on this night — a memory-filled evening when fans were treated to anecdotes, jokes and inside information from the program's tradition-rich history.
Among the roughly 500 people in attendance at the "30 Years of Shocker Excellence" event Jan. 7 at the Hughes Metroplex were some 50 former players, including 19 All-Americans, 13 players with major league experience and 15 members of the Shocker Sports Hall of Fame.
Sponsored by the WSU Alumni Association, the public event was complemented by a private reception with players, coaches, university VIPs and representatives from the event's three sponsoring corporations: Fahnestock Plumbing HVAC & Electric, Schaefer Johnson Cox Frey Architecture and The Butler Water Damage Restoration Plumbing & Remodeling Services.
"We were so proud to be able to celebrate Wichita State's baseball history and to reconnect so many former Shockers with their original fans," says Debbie Kennedy '94, executive director of the alumni association and the driving force behind the event. "And it was just great fun hearing so many insider stories from the players and coaches. It was a wonderful evening!"
After the private reception where players reminisced and swapped stories, the public event got under way with welcomes and comments by a host of alumni association and university personalities, including Kennedy; Ross Hollander '73, association president; Jim Schaus, WSU athletic director; and Don Beggs, WSU president.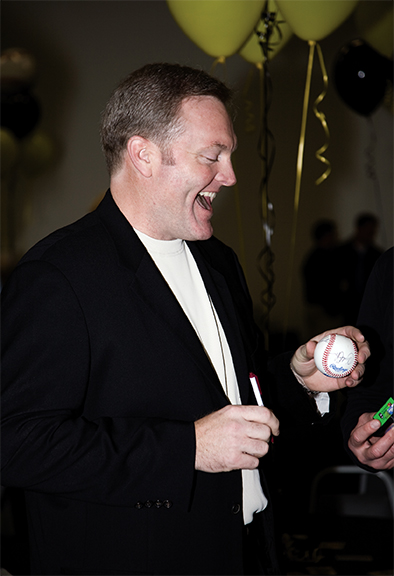 Next up was a video presentation of Shocker baseball highlights compiled and narrated by broadcaster and longtime voice of the Shockers Mike Kennedy '71. (As a print companion to the video, a 36-card set of commemorative Shocker baseball cards was handed out to each attendee.)
Prime time was saved for a panel discussion featuring some of the best talent that Shocker baseball has produced: Carter, Phil Stephenson '83, Charlie O'Brien fs '82, Eric Wedge fs '89, Darren Dreifort '95, Casey Blake fs '96, Nate Robertson fs '00 and Derek Schermerhorn fs '06.
They are all skilled ballplayers and, as the crowd learned, expert storytellers as well. Carter, a Shocker All-American who played in five All-Star games during his 16-year major league career, drew the heartiest laughs.
He recalled the recruiting pitch he received from coach Gene Stephenson, who excitedly showed off architectural plans for the fancy new stadium he planned to build. "This," Stephenson told Carter in the late 1970s, "is what you're gonna play in."
Carter paused, grinned and delivered perhaps the best line of the night: "But he didn't tell me I had to help pay for it. The only time I played in it is when I came back for an alumni game."
Carter also revealed a little-known story that perfectly illustrates the modest beginnings of Wichita State's baseball program under Stephenson, who arrived on campus in 1977 to restart a program that had been on hiatus since 1970.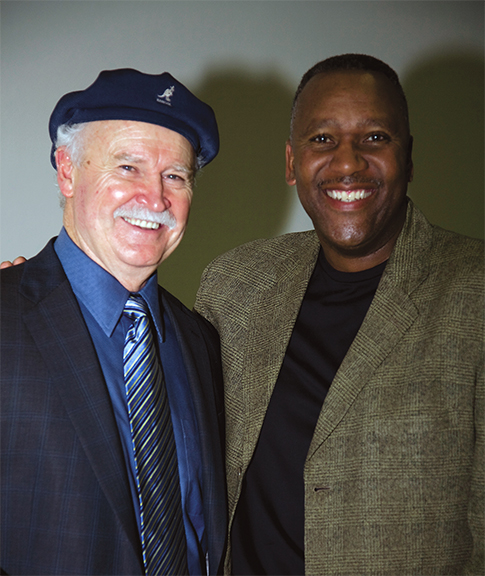 Stephenson has always taken pride in doing more with less. In this case, a stop at McDonald's turned into a major controversy. We had a 30-minute meeting in the parking lot because someone ordered two milks," Carter reported. "That's how tight the budget was."
Here are some other insider tidbits from the panel discussion, which was emceed by Mike Kennedy:

• To set this story up, understand that Stephenson is well-known for invoking great teams of the past as a way to motivate his players.
Thus, Wedge revealed the secret behind the success of the 1989 team, which overcame injury for an improbable College World Series championship.
"The only reason we won is because I was sick and tired of hearing about the '82 team," Wedge said. "I was so sick and tired of hearing about Charlie O'Brien, Phil Stephenson, Joe Carter. I mean, it was 'uncle,' you know?"
• Wedge, who won the 2007 American League manager of the year honors after guiding the Cleveland Indians to a division title last season, talked openly about his love-hate relationship with Stephenson.
"Gene and I had a volatile relationship, without a doubt," Wedge said. "We would yell and scream on the mound and in the dugout … but I think there was a mutual respect there. You know, as much as I hate to admit it, we have similar qualities."
• Kennedy recalled the time that the injury riddled Shockers were desperate for a right fielder. The only choices were catcher Dave McClure and DH Mark Nordyke '83.
Neither was a desirable option, according to assistant coach Brent Kemnitz '80. "It's like choosing between Ray Charles and Stevie Wonder," Kemnitz said.
Dreifort had perhaps the best stuff in Shocker baseball history, but his professional career was cut short by arm problems. He praised Wichita State coaches in general, and Kemnitz in particular, for resisting the temptation to change the natural delivery of pitchers in their care. It wasn't so in the big leagues.
"Everybody wants to put their stamp on you," Dreifort said. "It can lead to problems. I know with me it did."
• Kemnitz used to throw batting practice — until he hit Carter in the knee with a pitch. "How could you hit me?" Carter asked Kemnitz. "I swung at everything."
Stephenson, Kemnitz and assistant coach James "JT" Thomas '93 endured the onslaught of good-natured ribbing with grins — and they landed a few well-timed jabs of their own. Stephenson was the last to speak. "Good people attract other good people," he said. "We've had great people."