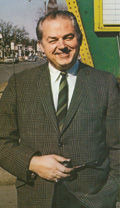 Frank W. Hafer fs '40 made his mark on the hospitality business.
As general manager of Holiday Inns of Wichita, he was well known for his efforts in promoting tourism and travel. In 1981, when presented with the Individual Achievement Award at the Governor's Conference on Tourism, his peers described him as "truly dedicated to selling Kansas as a visitor destination."
While he worked on many travel industry-related boards, he also made time for service to other organizations, including the WSU Alumni Association. A veteran of World War II, he served in the Pacific and continued for a 24-year stint in the Army Reserves.
Hafer had a fondness for pipes and owned more than 200 of them. A photo on the cover of the May 1969 issue of Tourist Court Journal featured him standing — with pipe in hand — in front of a Wichita Holiday Inn. He died Oct. 1, 2007 in Wichita.