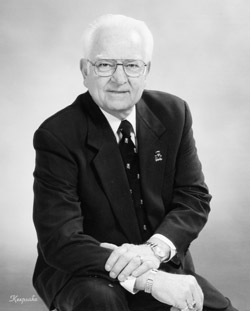 Max E. Hubbard '57 was a family man, retired businessman and avid Wichita State supporter.
A business graduate, he began his career as a sales engineer at White Star Machinery and Supply Co. He then co-founded Kansas-Oklahoma Machine Tools Inc. in 1962, became president in 1983 and sold the enterprise in 1988, after which he became co-owner and secretary-treasurer of Milling Precision Tools Inc. He retired in 1995, although he continued to provide appraisals on machine shop tools.
He and his wife, Lois '56, have been fervent Shocker fans since their undergraduate days. "We've always gone to Shocker games — football, basketball, you name it. We were among the early baseball fans, I'm pleased to say," Max once reported. The Hubbards have funded two endowed scholarships at WSU, one in music education and one in athletics.
As deeply as his commitment to Shocker sports ran, Hubbard supported his alma mater in many other arenas as well. He served on the alumni association's board of directors, was president in 1998-99 and even posted a stint as interim executive director.
He worked on many alumni committees, projects and events, including the Shocker Auction — for which he boldly donned a space suit to promote the 2000FUN: A Shocker Odyssey fundraiser. In 1999, he received an Alumni Recognition Award for his unflagging service to WSU and its alumni association.
This bold gold Shocker died March 6 in Wichita.