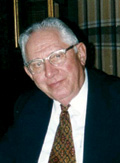 In 1985, Charles E. Heilmann '64 spoke to a group of scholarship students at Butler County Community College. He encouraged them to never lose the love of learning.
"Just as important as being able to make a living — indeed, in my opinion, even more important — is to be able to know how to live rich, full lives," he said. "And one truly knows how to live if one genuinely has a yearning for learning."
An assistant professor emeritus of sociology at WSU, Heilmann, who also taught at Friends University and Kansas Newman, was well known as a prison researcher. He also was an attorney and spent 40 years as municipal judge in El Dorado, Kan.
He retired in 1990, when he reported that what he would miss most about being a municipal judge was "the contact with people who are in trouble and who I might be able to help by not being too hard on them."
Heilmann had an avid interest in history and was active with the Butler County Historical Society for many years. A member of the society since its establishment in 1955, he served as president for 10 years. In 1999, he was selected as commodore for El Dorado's Prairie Port Festival parade, the theme of which was "Thanks for the Memories." Members of the parade committee said the theme was a perfect fit for Heilmann, who was known to tell stories each month in downtown El Dorado about the history and happenings of the city.
He died Jan. 15 in El Dorado.