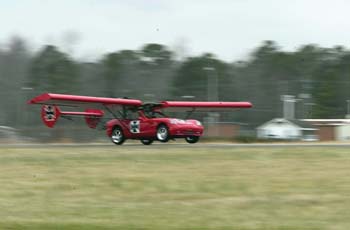 Back in the golden American era between World War II and the Kennedy assassination, our national consciousness brimmed with visions of a fantastic future, rife with robotic butlers, personal jetpacks, free energy and flying cars.
Now, a half-century down the road, Mark Palmer '83 has helped usher one of those space-age advances into reality.
Palmer, an aircraft systems design engineer at Cessna's plant in Independence, Kan., was tapped to participate in an episode of the Discovery Channel's television program Monster Garage.
In the show, which centers on celebrity motorcycle builder Jesse James, ordinary cars and trucks are often converted into absurd — but fully functional — dual-purpose vehicles. There was the fire truck brewery, for instance, and the SUV-turned-garbage-truck. And, in the episode featuring Palmer, there was the flying sports car.
One might ask why, of all the aircraft engineers in America, was Mark Palmer chosen? He wondered himself.
"The Monster Garage thing came out of nowhere," says Palmer, who holds a degree in mechanical engineering from WSU. "A producer from the show contacted our CEO Jack Pelton, looking for some 'airplane designers.' The next thing I knew, there was a phone call telling me I was on deck. Apparently I have a reputation, but I'm not sure just what it is."
Though flattered to be chosen for the project, he remained a bit skeptical.
"I thought the whole thing was nuts, and was surprised Cessna would want to have anything to do with it. The project entailed a lot of risk — and the real possibility of killing off a celebrity," Palmer explains, although he admits, "I also knew that almost everyone in flight operations here in Independence was a big fan of the show, and if I turned down the opportunity, they would never speak to me again."
Palmer, along with fellow Cessna engineers Neal Willford and James Terry, headed out to California, where they had a highly improbable project to tackle, and only five days in which to finish it.
"We knew from the outset that it would be very difficult at best to finish," Palmer says. "The format was very challenging. After signing release forms on the first day stating that if we were injured or killed there it was our own stupid fault, everyone is thrown onto the shop floor with cameras rolling, and only a general idea of what the objective is.
"Nobody is put in charge, there is no work plan, you have to order materials and find or order tools. They were not really equipped for the kind of project we were going to do. It reminded me a bit of high school auto shop. Seven toolboxes, all missing the 3/8 inch socket. Total chaos.
"The saving grace in our case was that we really had a dream team of talent there. Everyone was good-natured, motivated, skilled and experienced. We were all highly motivated to succeed, and our various areas of expertise blended nicely."
In the end, despite the myriad ways in which this project could have failed utterly, the build team beat the odds. Palmer still seems a bit surprised at how seamlessly the job was finished. He says he is "amazed by the number of things that had to go right in sequence to make it all happen."
He adds, "On the final build day, everything went together without a hitch. There was no time to double-check calculations, do things over, or test anything. And to really stack the odds, we had the 'biker dude' Jesse James himself insisting he fly it first, after one 'piece of cake' flight lesson in a Cessna 172. Very scary."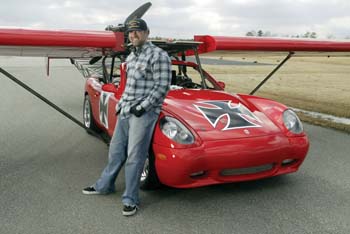 Palmer's apprehension was certainly rational, but turned out to be unnecessary. The car was taken to Kitty Hawk, N.C., where the Wright Brothers first flew in 1903.
And with James behind the wheel, it flew. The little Panoz Esperante's wheels came off the ground for only about three seconds, but at 80 mph, the total flight spanned more than 350 feet — greater than three times the distance covered by Wilbur and Orville's famous Flyer.
"I was ecstatic," Palmer recalls, "and greatly relieved that I would not have to change identities and move to another state."
Though the flying car project was challenging and fun, Palmer admits that the once-in-a-lifetime experience was probably enough for him.
"It was risky, stressful, and dreadfully exhausting. We passed the test, so it's time to count our blessings and get on with normal living," he says.
Palmer looks back today on the time he spent at Wichita State and connects it directly with his success as an engineer: "There is no doubt that the WSU experience has been beneficial. Engineering basics are very solid and useful tools that can be applied in almost every aspect of one's life. The engineering degree opens a lot of doors that would otherwise remain closed."
In Palmer's case, that would have included a pair of monster-sized garage doors.