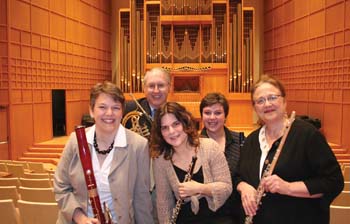 A rehearsal of the Lieurance Woodwind Quintet might be compared to a tune-up of a classic Italian sports car engine.
Except instead of one expert mechanic making deft adjustments here and there, another four are standing around the hood, offering opinions about how to best improve performance.
"It's a five-way democracy, and you're making micro-compromises constantly," says oboist Andrea Banke.
In other words, fine-tuning a woodwind quintet is a tedious process – but one its members find inspiring and sustaining.
"There are so many positions where you just teach all day, every day," says bassoonist Nicolasa Kuster. "Without a creative outlet, you stagnate." The quintet, which is celebrating its 60th season as a continuously performing group, is comprised of Frances Shelly, professor of flute; Suzanne Tirk, assistant professor of clarinet; Nicholas Smith, professor of horn; Banke, an assistant professor who teaches part-time at WSU, and Kuster, also an assistant professor who teaches part-time.
The member of longest standing is Shelly, with 34 years; Banke is the newest member, having joined two years ago. Every one of the musicians shares a commitment to and passion for the quintet; this collective energy has helped sustain the ensemble as one of the premier chamber music groups in the Midwest.
The Lieurance Woodwind Quintet, if not the oldest continuously performing woodwind quintet in the nation, is definitely one of the two oldest. (Only the New York Woodwind Quintet has any claim to be as venerable.)
The University of Wichita Woodwind Quintet, as it was first named, was formed during the 1946-47 school year. Original members were Dorothy Terwilliger, flute; Paul Dirksmeyer '47, clarinet; James Kerr, oboe; Larry Intravaia '48/49, bassoon; and Robert Bays, horn. Three of the members were WU faculty: Terwilliger, Bays and Kerr, who was also the director of bands from 1946-70.
Clarinetist Jim Jones was a quintet member in 1970, when the group changed its name at the suggestion of his wife, Gay. "She was playing in the quintet at the time," Jones explains, "and we thought that the WSU quintet should be named after the first dean of our college of fine arts, Thurlow Lieurance." Lieurance, a well-known composer, was near the end of his WU tenure when the original quintet formed.

Performance Highlights
A January 1948 edition of the Sunflower notes an upcoming performance of the quintet at the University Auditorium. The advertised program included Intravaia's transcription of Ravel's "Pavane" and Franz Danzi's "Gypsy Dance." Compositions for woodwind quintets date back to the 18th century, but credit is given to the 19th-century quintet works of Anton Reicha and of Danzi as establishing the genre.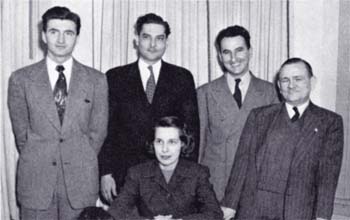 It is arguably the most intriguing type of chamber music, with a more disparate sound from instrument to instrument than brass or string groups.
Therefore, a woodwind quintet's challenge is to achieve a blend that, when heard, often sounds like one instrument rather than five. Hence the constant rehearsal tweaking.
"You have to be flexible enough to know when to be an individual and when to blend," says Kuster.
The Lieurance quintet has managed to achieve this balance through a rigorous rehearsal and performance schedule. Membership in the quintet comes with an appointment as a principal with the Wichita Symphony, although Tirk will not begin hers until the 2007-08 season.
While the quintet is required to perform once a year on campus, how much or little its members choose to rehearse and perform otherwise is left to the discretion of the group.
This year's incarnation of the quintet meets for two-hour, twice-weekly rehearsals, which are scheduled during the time many of their students are in band practices.
Rehearsals aren't taken lightly: Kuster notes that Smith, the French horn player, warms up for half an hour before each meeting. ("The same warm-up, every time.") This May afternoon, the five musicians are intent and focused as they make their way through their musical selections, often stopping to go over a phrase again and again to get the timing right.
There's also plenty of laughter and teasing, evidence of what Tirk calls "an easy camaraderie." Kuster says she connects with her colleagues personally as well as professionally: "We are all friends," she says. "These are people I can turn to if I needed to."
The quintet typically takes a "mini-tour" through Kansas once a year and performs locally at Chamber Music at the Barn and for events such as the Box Lunch Series at CityArts. The quintet is also on the touring rosters of the Kansas Arts Commission and the Mid-America Arts Alliance and has performed throughout the United States and across the globe.
A few highlights of performances past are appearances at NYC's Carnegie Hall and the Phillips Collection in Washington, D.C., as well as tours of Europe and, in 2001, Panama.
Banke notes that the variety of performance venues "encompasses the mission of the group, which ranges from education to consummate performances at the highest levels."
Smith and Shelly fondly remember the quintet's 1985 European tour, which was proposed by former dean of music Gordon Terwilliger and sponsored by Rie Bloomfield. During three weeks overseas, the quintet played 17 concerts in four countries.
Former quintet bassoonist Dennis Michel organized the 1980 Carnegie Hall concert. "It just made us work so hard, bringing us to a higher level of play," Shelly says. "This group has a history of setting high goals, and then the standards go up, up, up."
The quintet's varied program, another hallmark of the group, caught the ears of listeners and reviewers alike in 1991 at the Phillips Collection. A Washington Post review of the performance described it as "vibrant" and noted "the Lieurance musicians always sustained depth and sensitivity."

Permanent Record
The younger members cite their first meeting with the quintet as particularly memorable. Banke remembers wondering what she would discover, quintetwise, at Wichita State. "I wasn't expecting to find a group performing at such a high level," she says. "Inside I breathed a sigh of relief because we're all artistically compatible, and that's so rare."
Tirk rehearsed with the group while visiting campus for her interview, and convinced herself she wasn't going to get the job. "I left thinking, 'Too bad. I really liked those people,'" she says. The clarinetist was well disposed toward the group before arriving in Wichita, because she had listened to both of the quintet's recordings while a college student.
The quintet has released two albums with Summit, both recorded in Wiedemann Recital Hall – "the perfect place to record a quintet," relates Smith – and both produced by Smith, who says, "A permanent recording is one of the most important things we can do. Here we are in Wichita, Kansas, and someone in London can buy our CD at Tower Records."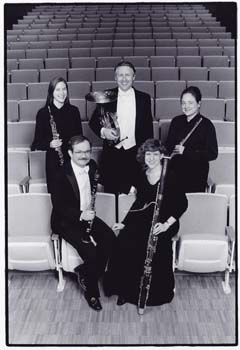 The last recording, Romantic Masterworks, was released more than a decade ago, though, and the group is eager to produce a third disc. "This is a reproductive art, what we are doing, but we have our own interpretation – and we want to get ours out there," Banke says.
They are considering producing a record of American music, like their first recording, although little has been decided for sure – except for one piece. They will record their interpretation of John Harbison's "Quintet." The work is considered one of the greatest and most difficult contemporary pieces for winds, and the quintet performed it for the first time for their faculty recital in January.
This spring, their faces still light up when talking about the experience. "There was this amazing energy and connection with one another," Tirk says. Banke turns to Shelly to remind her, "You came off stage and said, 'Where did that come from?'"
The group is excited about future projects, including working toward major performances, securing full-time status for the oboe and bassoon positions – and recording. "We've already received a grant that will partly fund the CD," Smith says, "so completing this project is our immediate task."
Quintet members are seeking sponsorships to help realize their other plans. When discussing goals, they sound like members of a brand-new ensemble with boundless energy and enthusiasm. Instead, they are members of an institutional quintet with a six-decade history – with boundless energy and enthusiasm.
"Doing this is renewing for us, because we make music that we otherwise couldn't make," Smith says. "It's been a real gift, but it's something that's hard to maintain."
"But we do maintain it," Shelly notes. "And that's the beauty."