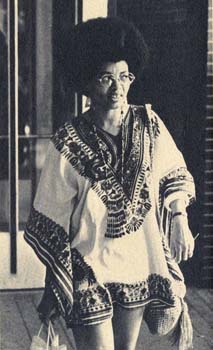 Deltha Colvin '72 attended Wichita State in an age of activism. She and her fellow black students studied, played, worked and dreamed in a political and social cauldron brought to the boiling point by long years of racial injustice. Many of them sought, through the force of their visions and the power of higher education, to forge a better world.
Today, as WSU assistant vice president for campus life, she is leading organizational efforts for a reunion of black students, highlighting those who attended from 1964-74. The campus gathering is set for Oct. 4-7. "This is not only a chance to celebrate seeing one another again," she relates, "it's an opportunity to share and record our history."
Black history at Wichita State is a compelling story, rife with heroes and villains and tales of exceptional courage. Although Fairmount College, the university's earliest predecessor, has no record of African-American students, the doors to higher education were opened to them when the college became the University of Wichita in 1926, the year Lester Foust, shown below, first suited up and played football as a Wheatshocker.
From the Jazz Age and the Great Depression, through the tumult of the civil rights movement and beyond, WSU has reflected, for better and worse, the realities of the wider world. Beginning in 1926 and ending in 1986, the first year Martin Luther King Jr.'s Day was celebrated as a national holiday, the time line entries below are far from complete. They do, however, hint at the determination, talent, perseverance, creativity, intelligence and passion that spurred so many black Shocker students and faculty to achievement.
— Connie Kachel White
---
A complete time line of black history at Wichita State may well be impossible to compile — but here is a start, with some national milestones noted in italic along the way.
Sources: personal interviews, The Shocker archives, Wichita State Alumni Association Memorabilia Collection, WSU Office of Institutional Research, Parnassus, The Sunflower, WSU Libraries, Department of Special Collections
1926
The Harlem Renaissance: African-American literature, art, music, dance and social commentary flourish in NYC.
At the University of Wichita, Lester Foust (shown at left in his football uniform, in a photo from the 1926 Parnassus) played football as a Wheatshocker.
Also in 1926, the sorority Psi Tau Delta is organized at WU, where Room 37 in Fiske Hall is reseerved for the sorority to use as meeting space.
1927
Ethel Waters treads the Broadway boards in the all-black revue Africana.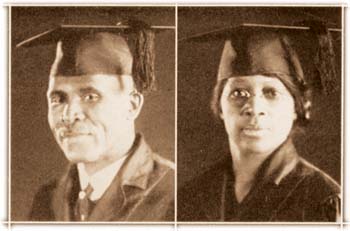 1928
The Harlem Globetrotters tip off for the first time.
Shown at right in their senior photos from the 1928 Parnassus are the University of Wichita's first black graduates, John Wesley Hayes, who earned a bachelor's degee in liberal arts and went on to receive a master's degree in religion in 1931, and Lotta Louise Hayes, who earned a bachelor's degree in liberal arts.
1929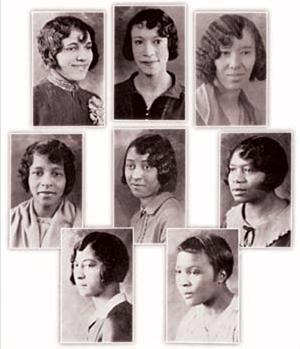 The Jazz Age ends with the New York Stock Market crash, ushering in the Great Depression.
At WU, there are eight Psi Tau Delta sorority sisters pictured in the 1929 Parnassus, which reports, "Now located on the second floor of Fiske Hall, this organization is one of the most active on campus." The sorority sisters are, from left, top row: Marie Mayberry, Lorene Adams, Willa McLean; second row: Roberta Hill, Martha Penn, Lois Rentz; third row: Erma Ratliff, Florence Young. Members not photographed are Bernice Brandon, Bessie Hedspeth, Lucia Hill, Dorothy Humphrey, Geneva Miller, Myrna Moore, Dorothy Sims, and Louise Thompson.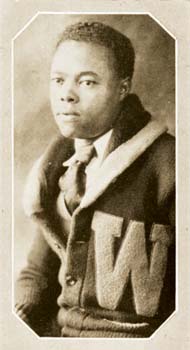 Also at WU in 1929, Shocker lettermen don ties and letter sweaters for Parnassus photos, including Herbert King (at right), a halfback who was also on the track squad.
Lester Foust (pictured in the photo at top, from 1926) also played football and ran track in 1929. Regina Foust '71/83 recalls that her father, who later became a hall of fame firefighter, "loved his Shocker football." She adds with a laugh, "He said they called him 'Tiger.'"
1931
The Scottsboro, Ala., trial of nine black teenagers charged with the rape of two white girls ignites a civil rights clash.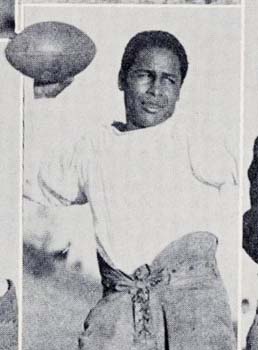 1934
Lorenzo McClain, a junior at WU in 1934, plays football on "the largest squad in the history of the school," according to the 1935 Parnassus in an entry carrying the headline: Football with a Sparkle. Also in the mid-1930s, WU President William Jardine answers a civil rights survey by noting that the university provides an equal opportunity for all races to work for a degree.
1936
Jesse Owens wins four gold medals in the Olympic Games in Berlin.
At the University of Wichita, Erna Prather Harris '36 is one of the few black women to attend college during the Great Depression.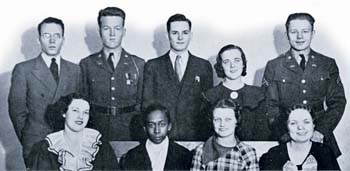 Harris was on the Sunflower staff in 1935, when the photograph at left was taken. In her senior year, Harris became the student newspaper's editor, the first African American to hold the position. That same year, the Sunflower earned many accolades, including receiving the Collegiate Press Association's Pacemaker Award as the best college publication in the country.
A native of Kingfisher, Okla., Harris (1908-1995) was the first black woman to earn a journalism degree from WU. Despite her achievements as a student at WU, she struggled to find work after graduation and decided to take matters into her own hands. "With $20 and a lot of brass," she published the first edition of her own newspaper, The Kansas Journal. But she was forced to shutter the Journal in 1939 after it lost advertisers because of her editorial stand against the Selective Service Act.
By 1941, Harris had moved to California, where she worked as a reporter for the Los Angeles Tribune. She supported open immigration laws to aid Jews fleeing Hitler, and she wrote editorials opposing the wartime internment of Japanese Americans. The FBI tapped the newspaper's phone and opened her mail, but she had her editor's support. In 1952, she moved to Berkeley, where she ran a print shop for years.
Ever an advocate for peace, she joined the Women's International League for Peace and Freedom, serving as a delegate to meetings in England, the Netherlands and India. In 1964, she traveled to Moscow as part of a diplomacy mission to build peaceful relations between American and Soviet women.
A woman with broad and eclectic interests — she once built a car from scratch — Harris enjoyed concerts and theater, maintained an identity with her African and Native American heritages, and never failed to stand up for her convictions.
1940
Richard Wright's Native Son is published.
1941
The all African-American pursuit squadron based in Tuskegee, Ala., was formed, later becoming known as the Tuskegee Airmen and flying with distinction during World War II.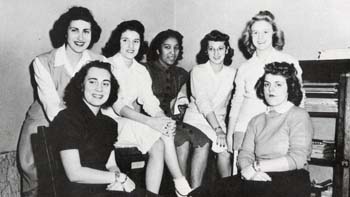 c. 1942
Bebop is born.
Ann (McLean) Rucker '45 is an active collegian at WU as World War II churns on. A member of the Women's Recreational Association, she is also a member of YWCA, which in 1944 helped "organize the Cadet Club for the army men stationed at the University." Rucker went on to a career as a review clerk for the Columbus, Mo., Metro Housing Authority.
1945
Ebony magazine is founded.
At the University of Wichita, seniors Gladys (Ewell) Bruce '45/67 and Clendolyn (Bailey) Corbin '45 are members of the university's Gamma Rho chapter of the national honorary education faternity Kappa Delta Pi.
1948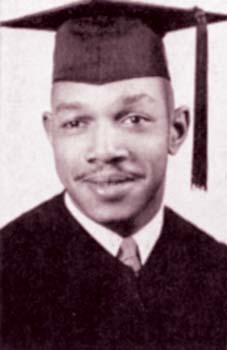 Graduating with a bachelor's degree in physical education and going on to a successful career and a ifetime of service to the Wichita community, Linwood Sexton '48 is one of the first black athletes to compete in the Missouri Valley Conference at a time when segregation sometimes barred him from sharing meals, staying at the same hotels and even traveling to certain away games with his fellow Shocker teammates. "It all depended on where you went," Sexton recalls. " I could never even go to Tulsa or West Texas State." A member of multiple sports halls of fame and the 1977 WSU Alumni Achievement Award honoree adds, "Those were terrific times, though, because we knew that if we were to get out of the minority doldrums of segregation that education was the most important thing. We felt blessed to be getting an education."
1950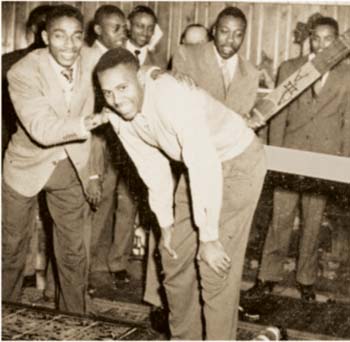 Gwendolyn Brooks wins the Pulitzer Prize for poetry.
The Delta Mu chapter of Alpha Phi Alpha, the first national black fraternity organized on the WU campus, is formally installed on March 25, 1950. Fraternity meetings are held at the home of Dr. J.E. Farmer, 1301 Cleveland Ave. Though records explain that Richard L. Cary '50 serves as president of the fraternity, which boasts eight actives and 11 pledges, the names of members do not accompany photographs, such as the one at right from the 1950 Parnassus.
1952
Ralph Ellison's Invisible Man is published.
1954
In Brown v. Board of Education of Topeka, the U.S. Supreme Court rules against public school segregation.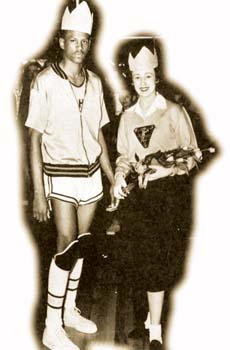 Cleo Littleton '55 is 1954's "Jack Armstrong" – the most All-American man on campus – and Jeannine Crowdus is "Wheaties Sweetie." Traditionally, the honor involves a meeting at center court, a crowning and a kiss during halftime of a Shocker basketball game.
In 2000 during an interview for a feature in The Shocker alumni magazine, Littleton recalled, "Coach ordered me not to kiss her, and my teammates egged me on to go ahead and do it. The crowd was applauding and cheering until it was time for the kiss, and then they went absolutely still. I just shook her hand. It was really funny – that was the one time that prejudice didn't bother me."
He said that while in high school he "never thought about going to college. My family didn't have the money for that."
But WU coach Ralph Miller offers him a full scholarship, and "Cleo the Cat" makes All-MVC his first season at WU, collects three more all-conference awards and is still the only four-time All-MVC first-team basketball player in the 100-year history of the conference.
1955
Rosa Parks refuses to give up her seat on a bus.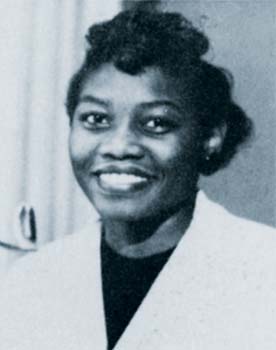 1956
LaVerne Baker '56/56/81 earns two bachelor's degrees at WU before becoming, in 1981, the university's first black student to earn a doctoral degree. Her doctorate is in communicative sciences and disorders.
1957
The NAACP registers nine black students to attend the previously all-white Little Rock Central High.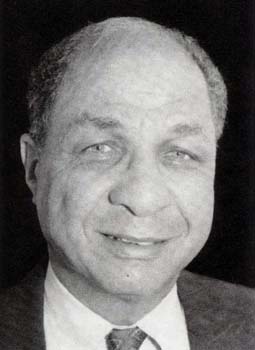 Michael Tilford graduates from Langston University, Langston, Okla., in 1957 and, in 1958, from Johns Hopkins, Baltimore, Md. In 1967, Tilford (d. 1996) accepts a position at Wichita State University as assistant director for Upward Bound, a federally-funded program that helps disadvantaged high school students prepare for college. When he is named dean of the Graduate School in 1988, he becomes the second African American to serve as dean at WSU, where he helps lead efforts in recruiting minority students. Wichita State's first black dean is William Harmon, dean of University College.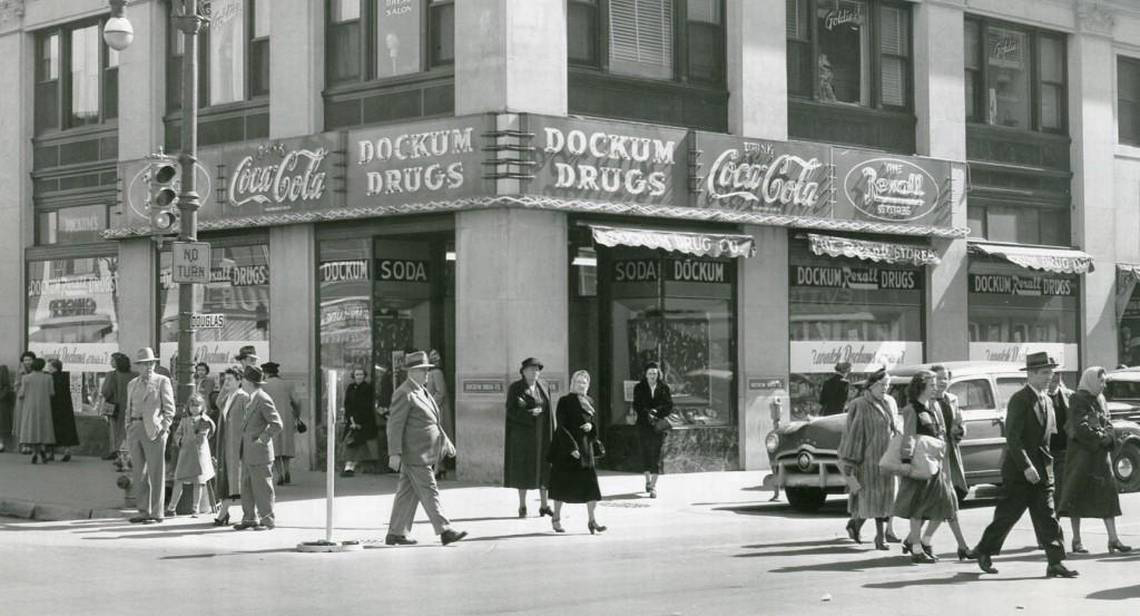 1958
In the summer of 1958, some two dozen students and members of the Wichita branch of the NAACP Youth Council — led by 20-year-old Ron Walters, a freshman at the University of Wichita, along with his cousin, 19-year-old Carol Parks Hahn '76/82, who later earned two degrees from Wichita State University — organize sit-ins at the downtown Dockum Drug Store on the southeast corner of Broadway and Douglas. Like many Kansas stores at the time, Dockum Drugs would not allow black people to sit at its lunch counter.
By Aug. 11, 1958, the series of sit-ins that Walters took the lead in organizing had brought about the desegregation of the Dockum lunch counter and all Rexall Drug Stores throughout Kansas. The Wichita protest sparked a similar demonstration in Oklahoma City in 1959, before the well-known Greensboro, N.C., sit-in took place in 1960. In 2006, the national NAACP recognized Wichita's sit-in as the first youth-led lunch counter sit-in.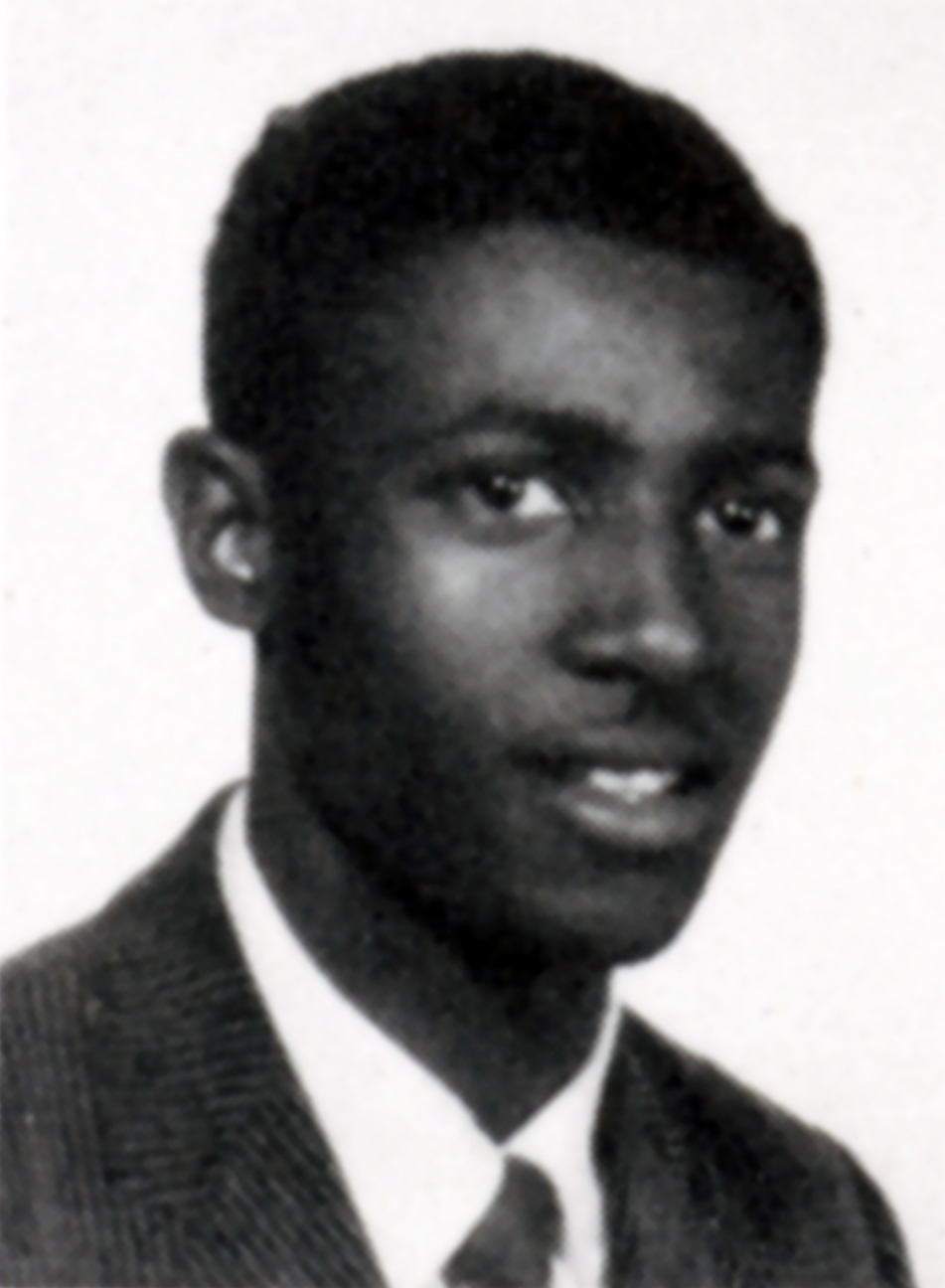 Walters went on to become an educator, political scholar and strategist, news commentator, author and activist, whose career included serving as Jesse Jackson's presidential campaign manager, professor of government and political science at the University of Maryland, and director of the African American Leadership Institute at UCLA.
Among the Wichita youth who participated in the Dockum sit-ins in the summer of 1958 are these Shocker graduates: Lequetta (Glass) Diggs '82, Robert Newby '61, and Galyn Vesey '61.
1959
Miles Davis records Kind of Blue.
1960
The sit-in at Woolworth's lunch counter in Greensboro, N.C., which gains much wider coverage than the Dockum Drug Store protest in Wichita in 1958, sparks sit-ins that become a landmark feature of the civil rights movement.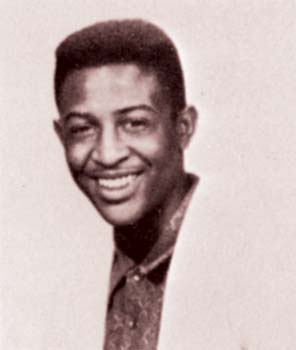 At WU, Riley Leroy Pitts '60 is news editor of the Sunflower and a member of Scabbard & Blade. Killed in action in Vietnam in 1967, he is posthumously awarded the Congressional Medal of Honor, the nation's first black officer to be so honored.
1961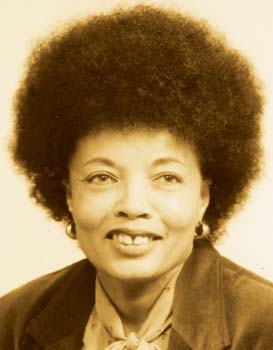 The Freedom Riders meet with overwhelming violence. In Wichita, Vashti Lewis '71, who is a 1949 graduate of Friends University, is at the forefront of the local civil rights movement and becomes one of the first black women to teach at WSU when hired in 1970. In 1972, she recives a Fulbright-Hayes fellowship to Africa, where she studies African literature and history at the University of Ghana. Her second husband, Chester Lewis, is a prominent lawyer and president of the Wichita NAACP for many years. It is he who files the original desegregation lawsuit against the Wichita public school system in the 1960s, and together the Lewises help break down housing color barriers in the city.
1962
By 1962, the Wichita branch of the NAACP has unveiled Operation Consolidation, which promotes the patronage of businesses that hire on merit not race. Leading the effort are Billy McCray, Castella White and Jo Gardenhire, who coordinates the campaign and who later becomes director of special services at Wichita State.
1963
Martin Luther King Jr. delivers his "I Have a Dream" speech.
1964
President Johnson signs the Civil Rights Act into law.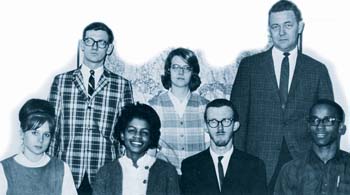 1965
Los Angeles flares into riots. Malcolm X is assassinated.
At Wichita State, members of 1965's WSU chapter of the NAACP, which was founded on campus in 1956, include Chester Hawkins, front row at far right in the photo here, and Margo (Looney) Watkins '65/65, who on March 21 actively joins the local battle for fair housing by making a complaint to Wichita's Human Relations Commission: owners of an apartment house near campus refused to rent to her because of her race. The commission finds against the owners, but the only formal action is publishing their names in commission minutes.
1966
Huey Newton and Bobby Seale found the Black Panther Party. Stokely Carmichael uses the phrase "Black Power."
1967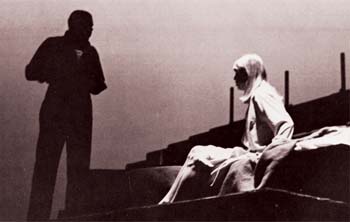 "And People All Around" makes its mid-American premiere in Wilner Auditorium Dec. 7, 1967. Based on the 1964 killing of three civil rights workers in Philadelphia, Miss., the stark George Sklar drama demands difficult emotional depth from performers. The Wichita State theater production is also a technical challenge with its dramatic stage set and many light and sound cues.
1968
Martin Luther King Jr. is assassinated, sparking riots in some U.S. cities. "The assassinations in 1968 of Martin Luther King Jr. and Robert Kennedy ratcheted up the tension on our campus," reports James Rhatigan, who was then dean of students. The university held a memorial service for MLK on the steps of Grace Memorial Chapel, where a deeply moved WSU President Emory Lindquist spoke eloquently to the students gathered there. "He defused the situation," Rhatigan says. "I believe the height of our edginess as a campus structure came after the tragedies at Kent State and Jackson State in 1970." Four Kent State students were killed during anti-war protests on May 4. Ten days later two students at Jackson State were killed during a protest against racism.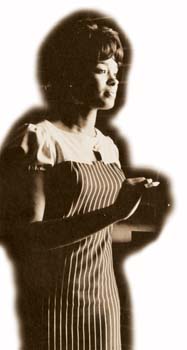 Joan (Huff) Minor '71 is a high-profile Shocker during her years on campus. Not only is she WU's first black varsity cheerleader, she is a campus queen twice over: the 1967-1968 Kappa Alpha Psi Sweetheart Queen (shown here) and the 1969-1970 Parnassus Queen. A talented singer who earned a bachelor's degree in English, this dynamic Shocker went on to a career in human resources at Stanford University before retiring and moving to Paris in 1999, forming the trio Major Minor and performing in jazz clubs and restaurants around the City of Lights. She often headlined at The China Club, Les 7 Lezards and Le Petit Journal and recorded her first CD, Integrity Matters, in 2003. In 2005, she returned to the United States to live in New York City.
1970
When Jerry Florence '71 and three other black students begin their research in 1970, Wichita State becomes the first to study Sickle Cell Anemia at the campus level. Of the 396 students tested, 28 are found to have the Sickle Cell trait.
1971
In 1971, "Jaddy" Blake '66/73 directs Project Together, which povides tutorial help, counseling and career guidance. The newsletter Getting It Together keeps its members informed.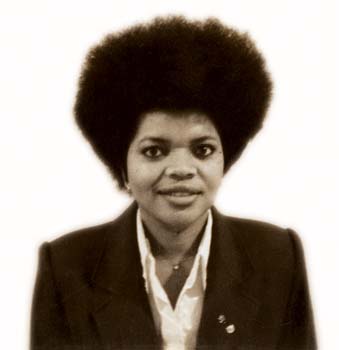 1972
Deltha Colvin '72 has a passion: equal opportunity education. After benefiting from the federal Upward Bound program while in high school, Colvin became an Upward Bound counselor as a student at Wichita State and, to date, has provided more than 30 years of leadership in the federal TRIO program arena. Since 1980, she has served as assistant vice president for student affairs at WSU.
1975
Arthur Ashe becomes the first black man to win Wimbledon.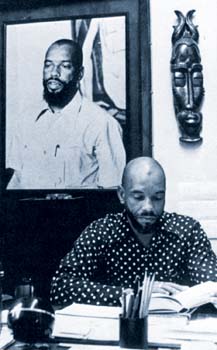 George Rogers, shown in this 1975 Parnassus photo, is Wichita State's first chairman of minority studies. "Our focus," he explains, "was cross-cultural communication. It was a hetic time. At one time, I think I was serving on 27 campus and community committees." Rogers is also key in bringing to campus poet Maya Angelou, who is WSU Distinguished Professor of Minority Studies in March 1974.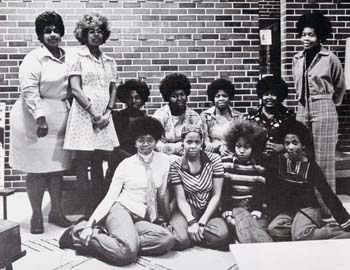 1976
Larry James and WSU's Black Student Union post a progressive year of activities, including publishing a campus newspaper, raising money to send some 200 youngsters from low-income families to attend the Shrine Circus — and crowning Black Student Union royalty: King Rocky Herman and Queen Elaine Robinson. Today Robinson-Fraction '77 is a trial attorney for the National Labor Relations Board in Atlanta, Ga.
1977
The miniseries Roots airs.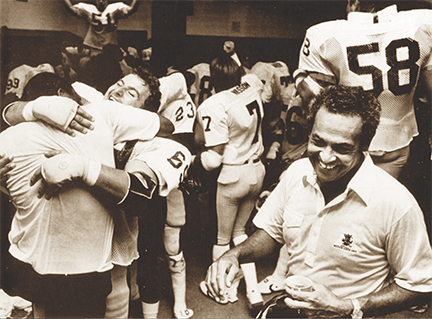 1979
Guion S. Bluford becomes the first black astronaut when he is selected as one of 35 out of 8,878 applicants to the space program.
When Willie "Jeff" Jeffries is hired at Wichita State before the 1979 season, he makes history as the first black head football coach at an NCAA Division 1-A university. In 2004, Jeffries told The Shocker alumni magazine, "I didn't realize all this weight would be on my shoulders. Some other black coaches said, 'You're carrying the light for us. If you do well there will be others.'" Anthony Jones '88, a tight end who played under Jeffries as No. 88 and later earned a Super Bowl ring with the Washington Redskins, is now head football coach at Division 1-AA Alabama A&M.
1982
This is the first year that official breakdowns of enrollment by race/ethnicity are available; 6.3 percent of Wichita State's undergraduate students are black, according to the WSU Office of Institutional Research. The percentage is 6.5 in 2006. Although the percentage has remained nearly unchanged, Rhonda Lewis Moss '89/91, associate professor of psychology at WSU, detects a change in attitude. "Students are more individualistic," she says. "In general, the motto of 'I am because we are' has faded among African-American students."
1983
Toni Morrison becomes the first African-American winner of the Nobel Prize for literature.
1985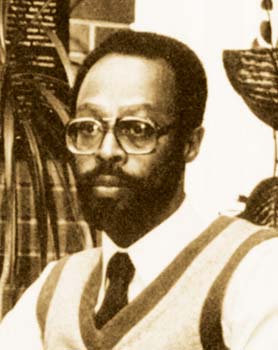 John Gaston '71/77 is chairperson of minority studies at Wichita State. During his student years, he is among those involved in a sit-in in President Clark Ahlberg's office to protest general conditions. Today, Gaston is dean of the College of Arts at Valdosta State University in Georgia — and minority studies is now known as ethnic studies at WSU.
Before arriving at Valdosta in 1992, Gaston wrote, produced, acted and toured the one-man show "The Brothers." The playwright, actor and poet says he views the arts as not only a way to entertain and express one's self, but as a means to teach and to learn.
1986
Martin Luther King Jr. Day is first celebrated as a U.S. national holiday.