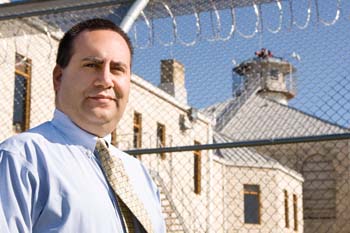 From the beginning, the imposing correctional facility in Hutchinson, Kan., has aspired to a nobler goal than mere incarceration.
Inspired by the rehabilitative success of the famous reformatory at Elmira, N.Y., Kansas Gov. John Martin authorized the building of a similar facility – dedicated to rehabilitation rather than sheer punishment – in 1885. Today that institution continues its worthy mission and is seeing real results, thanks to a program overseen by Rudy Rodriguez '87/87/96.

It's a pleasant spring evening in the minimum-security unit of the Hutchinson Correctional Facility (HCF), and some 25 inmates have gathered in a makeshift classroom to participate in what is simply called "the pre-release program." The windows are open, and poignant birdsong wafts in on a light, fresh breeze.
Rodriguez calls the inmates to order and they quickly comply, sitting silently as he introduces tonight's guest speaker, Chad Gilbert '93/96, an assistant vice president at the First National Bank of Hutchinson. The inmates, ranging in age from early 20s to 60-something, listen politely and attentively as Gilbert explains the basics of personal credit. If it weren't for their matching blue shirts and dungarees, one might easily mistake this group of men for a community-college class.
They are, in fact, enrolled in what Rodriguez describes as "a 90-day program for offenders who are nearing their release back into our communities. We offer numerous life skills classes to make their transition back into society a smoother transition for them."
Initiated in 2005, the program has reached roughly 400 offenders, covering issues such as personal finance, childrearing, job skills, domestic violence and other pertinent subjects. Though Rodriguez is clearly in charge, he deflects the spotlight onto others. "The key to the program," he claims, "is the volunteers who teach the classes. The offenders appreciate that citizens are taking the time to volunteer."
Those volunteers may experience a bit of apprehension at first, but once they take part in the pre-release program and see the positive benefits, they often come back again and again.
"I really thoroughly enjoy it," says Gilbert of his work with the program. "It is something I look forward to, something I feel these guys need desperately. I wish these same guys would have learned these things back in grade school and junior high."
Though not every inmate pays full attention, Gilbert says he can tell that his appearances have value to the majority who attend. "Each time, I've had no less than two or three stick around after the class and say, 'Hey, I'm getting out and planning on being a welder' – or barber or whatever – and they want to know a little more about a topic I'd addressed."
Gilbert has participated in the program five times to date, and plans to continue to do so. He comes back because he feels he's making a positive contribution to the community, but what drew him there in the first place, he says, was Rodriguez.
"Rudy and I knew each other through grad school at Wichita State," Gilbert explains. When the pre-release program was initiated, he continues, "Rudy kind of set the curriculum and was looking for people to fill the void. He knew that I was in the banking profession, and he called me up. He asked a few times before I was able to get with him, but I've come back every time he's invited me."
"I'm a big fan of Rudy," Gilbert says warmly. "He does an outstanding job."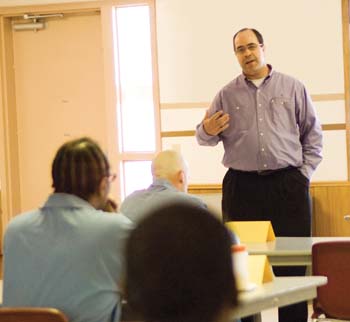 Rodriguez clearly enjoys his work. In the mid-1980s, as a student working on his degree in administration of justice, he attended a corrections-oriented career fair on the advice of a professor.
"What fascinated me about corrections," he explains, "is that I was always curious about the lives of individuals once they were convicted by the courts. Would they give up? Would they make the necessary changes within themselves? I thought I could make a difference in their lives."
Rodriguez was hired as a correctional officer in March 1985 and went to work at the Hutchinson facility, which at the time was still known by its original name, the Kansas State Industrial Reformatory. He left the department in 2005, but – missing the work – quickly came back, just in time to head up the newly-instated pre-release program.
Rodriguez gives credit to Warden Louis Bruce and HCF counselor Michele Blackmon for establishing the program; it was Bruce who adapted the idea from an existing course of study offered to inmates at the Winfield Correctional Facility, and Blackmon who took the reins in actually implementing it in Hutchinson. When Rodriguez returned from his short hiatus away from the corrections department, he and Blackmon traded positions, and the pre-release program became his baby. Now in its third year, it is showing positive results – most notably in its contribution to reduced recidivism among recent parolees.
"I am a strong believer in the program," Rodriguez says. "The department as a whole has really concentrated on the re-entry process for our offenders, and I believe that what we are doing is a crucial component of that process. I receive a lot of calls from offenders who have been released and they mention to me that the program has been of benefit to them – so, yes, I would like to think that our program, along with the many other initiatives that the department of corrections has taken, has been instrumental in the decrease of violators."
Inmates in the program confirm the value of the information they receive. According to one, "I think it provides good life skills, and can really be helpful, especially to guys who have been in here a long time. I've only been in a few months, and I get out in July, but think about someone being in here 10 years – just the online banking stuff would be hard to grasp." He praises the finance lecture given by Gilbert specifically, and says he already plans to go back to college. "I have an associate's degree, and I want to finish my bachelor's in business."
Another offender says the pre-release program is the single greatest initiative toward easing inmates back into civilian life. "A lot of guys don't have job skills, or even know how to conduct themselves at work or in a job interview. This program provides a lot of resourceful information to help get you back on your feet without selling drugs or robbing people." His six years of incarceration will end this summer, but he says he'll take something very valuable from his tenure in the program: "Not to quit. There's always help out there if you look for it."
Another feature of the program is the occasional guest lecture by a notable community figure. Past speakers include Pizza Hut co-founder Frank Carney '00, Wichita mayor Carlos Mayans, Shocker baseball coach Gene Stephenson, developer Jack DeBoer, television sportscaster Bruce Haertl fs '80, news anchor Susan Peters and WSU President Don Beggs. Each brings something valuable from his or her own experience to share with the inmates participating in the program.
"I don't pick them because of their high-profile status alone," explains Rodriguez. "I pick them because of the message that they can bring to the group. So many times offenders feel like giving up, but we stress that through vision, goal-setting and hard work, they can accomplish anything they put their hearts and minds to.
"For instance, Frank Carney had a vision for his restaurant, set his goals and the rest is history – but he also had his challenges. Nevertheless, he stayed the course and things worked out well. He also made a promise to his mother to graduate from college, and he went back to WSU and did just that."
Rodriguez is clearly pleased with the various positive messages shared by these guests. "Mayor Mayans talked about the journey he made from Cuba," he says. "Too many times the offenders feel like they can't make it once they are released because they are starting over without anything. Mayor Mayans stressed that with hard work they can accomplish anything. Coach Stephenson talked about hard work and goal-setting. Jack DeBoer talked about making the right choices and surrounding yourself with the right people and treating people with respect. Dr. Beggs talked about the importance of education and presented the offenders with their certificates during graduation."
Beggs says he was pleased to participate in the program, and to be there for a class' completion ceremony was a happy bonus. "I was very impressed with the reaction to me as an individual, and the commitment of the people to the program – there was a reason for being there, not just spending time. The whole purpose is to try to be of some assistance.
"I was there the evening they received their certificates of completion, and got to hand them out. That was nice. Like any time when you hand out certificates, you get an interesting interaction – you can see who was popular, see who had to work extra hard. It was all very respectful."
Rodriguez is thankful for the time and service donated by the guest lecturers. "The offenders really appreciate when we get our special speakers to come in," he says. "These individuals choose to speak to our offenders because they believe in what we are doing, and because they, too, want to make Kansas a better place to live in. Speaking to our offenders lets them know that they believe in them, as well. It is one thing to talk about the importance of education, but when you have a university president stress that as well, it means so much more."
The business of corrections has to constantly change to best serve the needs of those who are to be released into our ever-changing society, with the twin aims of true rehabilitation and decreased recidivism. Rodriguez points out that recent technological advances may be bewildering and frightening to inmates who have served longer periods of time. "In addition," he says, "their neighborhoods and families have changed as well. It is not an easy transition for offenders, but we can make that change a little less frightening by working together to give them the tools and resources they need for success."
The past era of corrections, with its emphasis on harsh punishment, is one Rodriguez is glad to see receding into history. "I never liked the term, 'Lock 'em up and throw away the key,'" he explains, "as the majority of offenders will be released back into our communities. I believe the focus on re-entry will continue. It is our goal in the department to start preparing the offenders for their release back into society at the beginning of their sentence, and throughout their incarceration. It's a win-win outcome for the offender and the State of Kansas."
And for our wider world.