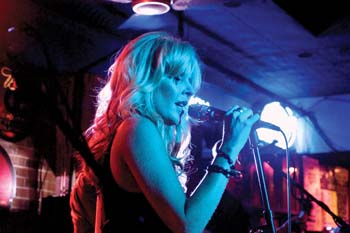 As she strolled down the red carpet at the 2010 Grammy Awards, Kim Cameron '88 might not have been the absolute center of attention — she happened to be walking in next to pop superstar Lady Gaga. "That was my favorite part of the awards," Cameron says.
Next year? Who knows? It may be her turn to wow throngs of fans on the red carpet, and she would have no trouble whatsoever doing just that.
Cameron, a popular recording artist and singer-songwriter in her own right, is on the road for a slew of concert dates that are part of her It's Your Turn tour.
She and her six-piece band, Side FX, included Wichita on the tour, playing the Shadow Bistro and Bar, as well as a midday acoustical set at the Rhatigan Student Center on Feb. 17.
Her rich, sultry voice and the band's infectious alternative pop grooves are making waves on radio and the Internet. Side FX released its second album, Turning Point, this January, and while the band's career takes off like a rocket, Cameron admits her steady demeanor, organizational skills and work ethic owe much to her previous career in video production and her studies in broadcast journalism.
Music, Cameron says, was always her first love. While it may seem a leap to go from creating training videos to taking center stage in the world of popular music, for her it is both a return to roots and a chance to use the story-telling skills she long ago mastered.
Her decision to jettison a successful career came after her brother-in-law discovered he had cancer. (He is now cancer-free.) She decided life was too short not to be doing what she loved most. Side FX was formed and launched its first CD, Contradictions, in 2008.
Cameron, who began her studies in broadcast journalism at the University of Nebraska, Lincoln, first came to Wichita on an internship at KAKE-TV. She decided to stay and finish her degree at WSU. She grew up in southern California. "Yeah, I'm a 'Valley Girl,'" she admits with a chuckle. After finishing her bachelor's degree, she says she fell into information technology work, which led to a lucrative career making training videos for government and corporate clients. But money could not hold her in what had increasingly become, for her, a career she felt lacked genuine soul.
Today, as she pursues her passion full tilt, she says, "I want to bring back the story to pop music the way that artists like Bruce Springsteen and Carly Simon have done." Her vocal style has been compared to Simon as well as Paula Cole and Nora Jones, among others, and each of her songs tells a story.
Cameron never knows where or when she might find an inspiring story for a song, and she remains open to serendipity. Sometimes it arrives on a casual night at a Nantucket brewery, as she watches complete strangers connect and have a good time ("Timeless"). It might come from a chance conversation with a disillusioned soldier on a cross-country plane flight ("My Hero"). "It's one of those magical stories," she says. "I wept when I wrote it." The serendipity of that creation did not end with the writing of the song, however.
One night after a performance, a man who had heard only half of her set stopped by to compliment her on the show, she remembers. He had come to the venue with no idea that he would again meet the woman he'd told his story to on that plane flight.
Cameron had performed "My Hero," but Hunter Bevis, the soldier, had not heard it. So she told him about the song. "Two days later I got a note from him, and he said, 'This song is perfect,'" she says. Since then, Bevis says he has found the song therapeutic and has used it to help other soldiers get re-acclimated into civilian life. Side FX now offers free admission to patients in veterans' hospitals who are able to attend concerts.
Cameron's personal philosophy about being an entertainer is exemplified in a statement on the "causes" section of her website: "Life is full of excitement and disappointment. I believe it's our job to make sure everyone has at least one chance at excitement."