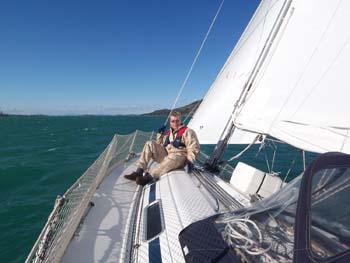 Roger F. Rand '78 is a man on the move. As performance project supervisor for oil services company Baker Hughes' African operation, his current territory covers 22 districts across the continent. His assignments have included two weeks in Equatorial Guinea and a fortnight in Ghana. Rand is part of a three-person performance team that focuses on pre-job planning for Baker Hughes, a Houston-based oil services company with operations in more than 90 countries. His boss is based in Norway, where Rand is shown sailing.
No stranger to the world of international commerce, Rand has traveled extensively not only in Africa, but also throughout Europe, Russia and the Caspian Sea area for his Houston-based employer, which has operations in more than 90 countries.
In 2008, he spent three months in Russia: Noyabrsk in Siberia, with temperatures ranging from minus 22 to minus 52 degrees Fahrenheit; historic Moscow; and Sakhalin Island, north of Japan. "These were some pretty interesting assignments," he says. He is quick to point out that he doesn't travel as a tourist; he is on the job seven days a week and doesn't often have time to explore. But he makes an effort to get out and about when he can. During a Moscow assignment, for instance, he had a chance to visit historic Red Square.
The youngest of four children, Rand was born and raised in Portland, Maine. After graduating from high school in 1971 and not knowing exactly what he wanted to do with his life, he joined the U.S. Air Force and served a four-year stint as an engineering site developer, with assignments in Texas, Ohio, Puerto Rico and, finally, Wichita. He spent the last two years of his tour at McConnell Air Force Base. Rand started at WSU while still in the Air Force and after being discharged, decided to finish his degree in Wichita instead of going back to Maine.
It was a decision, he says, that changed his perspective of the world. "In high school, I hated English, and after a great creative writing class, I learned to love English. I also disliked history in high school, but was drawn to appreciate history at WSU."
Despite his globetrotting career, Rand has kept his Shocker roots and returned to Wichita last May for a reunion with his Phi Delta Theta fraternity brothers.
He has spent the bulk of his career with Baker Hughes, where he has worked for 24 years. For the first half of his career, he focused on operations, marketing and sales, and covered territory through the western hemisphere, from Alaska to South America.
He left the company for eight years to do organizational development and consulting assignments in North Carolina and Alabama. But Baker Hughes wanted him back, so he returned to the company, next working in business development, eBusiness and as a product line strategist before switching to the quality group. Rand is now part of a three-person performance team that focuses on pre-job planning. His boss is based in Norway, and his counterpart works out of Scotland.
A typical international work assignment lasts five to 10 weeks, Rand says, and there are challenges to working overseas. Equipment doesn't always work as it should, and repairs can take much longer than in the United States. "So you learn patience," he says, "something that is not always easy."
Traveling overseas can also present challenges. Some flights are in cramped, noisy aircraft, and accommodations are sometimes, as Rand puts it, "somewhat primitive." But there are golden moments, too, such as an early evening 10-kilometer walk along the beach in the town of Luba, Equatorial Guinea, on the small island of Bioko.
"The sounds of the jungle and the surf pounding on the coastline provide a great time for walking and introspection," Rand says. He adds, "You just need to make sure you're out of the jungle before it gets dark."