Sculpting the final preparations for the Wichita Art Museum's June reopening are scores of volunteers and professionals — including a most impressive number of Wichita State alumni.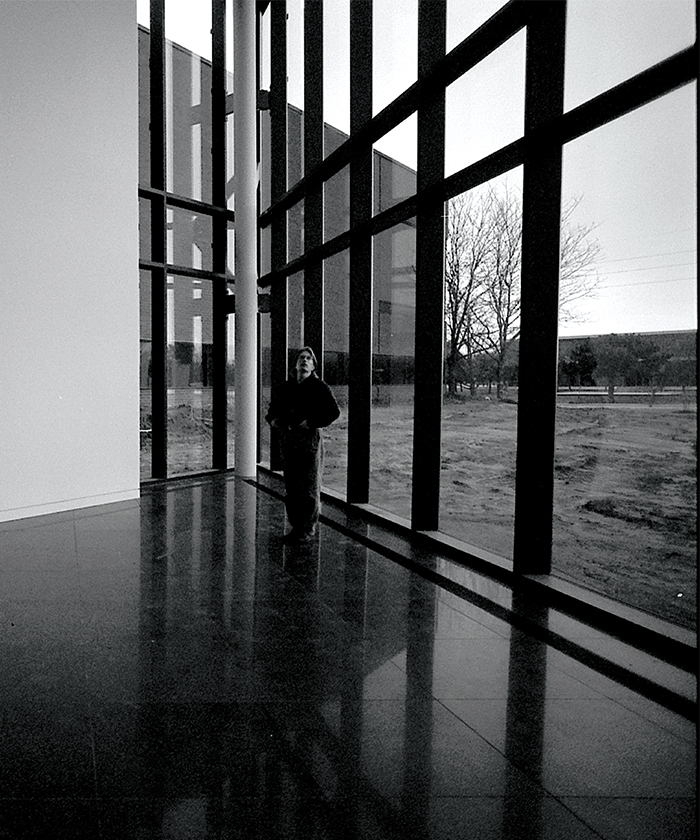 As head preparator at the Wichita Art Museum, Leslie Servantez '79/81 has been installing exhibitions, matting and framing artworks, making labels and signs, and moving and maintaining everything from exquisitely small pre-Columbian beads to Tom Otterness' massive, outdoor sculpture, Dreamers Awake, for more than a decade now.
During that time, this artist and former grade school and high school art teacher has come to know Kansas' largest art museum very well — its holdings, its history and every single one of its newly painted nooks and crannies.
"I love this job," Servantez says as she threads her way around buckets, ladders, tools, tarps and other construction obstacles during a spring tour of WAM's $10.5 million expansion project.
Designed by Wichita-based Schaefer Johnson Cox Frey Architecture and built by Dondlinger & Sons, also of Wichita, the expansion is the museum's third since its original construction in 1935.
"My work changes all the time," Servantez adds. "There's never a typical day. And the renovation has added a new dimension. There are meetings with architects and builders and city representatives and all kinds of decisions to be made — like what colors to paint the gallery walls, things like that."
Like a master gardener, Servantez knows the precise conditions for bringing out and conserving the beauty of her various charges — the 7,000 artworks that comprise the museum's holdings and span three centuries of painting, sculpture, works on paper and decorative arts.
With an eye on painting alone, WAM's collections brim with examples of such diverse artistic expressions as the penetrating realism and scientific exactitude of Thomas Eakins, the haunting visual reveries of modernist Arthur Dove, the poetic rhythmicality of abstract expressionist Mark Toby, Horace Pippin's engaging folk narratives and one of the celebrated studies of mother-child intimacy by impressionist Mary Cassatt, to mention only five. Servantez watches over them all.
Among her many duties is checking on the humidity and the temperature in the museum, making sure each doesn't deviate too far from the optimal level. "The renovation has caused a few more shifts in temperature and humidity than usual," she notes, "but we haven't had any major fluctuations. What's best for the art is a temperature that's 70 degrees, plus or minus five degrees. For humidity, we try to stay at 50 percent, plus or minus five."
While change is the spice of Servantez's work, some of her favorite things about the museum are constant.
"One of my favorite artworks at WAM is Charles Sheeler's Skyline," she says. "It speaks to me because I've had a hard time painting cityscapes, and this one is very simplified, yet with a beautiful combination of colors. I love Sheeler's ability to abstract complex images into simple compositions."
Skyline, a New York City scene painted in 1950 by the Philadelphia-born precisionist artist who reveled in clarity of design and simplicity of form, is one of 168 paintings, graphics, sculpture and decorative objects that make up the museum's core collection of American art: the Roland P. Murdock Collection.
Formed by the desire to "present visually a history of the culture of the United States," the Murdock Collection was assembled between 1939 and 1962 by Elizabeth (Stubblefield) Navas (1885-1979), who is one of a progressively minded pair of art-savvy women without whom there would be no Wichita Art Museum.
"I've always loved the fact," Servantez says, "that this museum is the result of the work and the money of lots of people, of course, but especially of that of two very strong, independent women."
Louise (Caldwell) Murdock (1858-1915) had an ultramodern idea — and, as it turned out, the will and the money to give it shape.
She wanted to create a collection of museum-quality American art objects in her husband's name for the people of her community. "She went against current trends when she decided to focus on American art," explains Lynn Hawks '89, WAM's chief development officer. "Just about everyone else was collecting European art, so her idea was very visionary."
The daughter of an early Wichita businessman and wife of Roland Pierpont Murdock, business manager and co-owner of Wichita's first major newspaper, Louise Murdock began studying interior decoration and home furnishing in New York two years after her husband's death in 1906. When she returned to Wichita, she established herself as one of the first professional interior decorators in Kansas.
And, with her father's financial backing, she designed and built Wichita's first skyscraper, the seven-story Caldwell-Murdock Building. It was earnings from her business and this building that eventually provided the income for the realization of her public art collection. But she was never to see it.
Upon her death, Murdock left Navas, her assistant and protégée, not only her interior design business, but also the charge of selecting the artworks for the collection — a task Navas immediately began to prepare for, but didn't complete for nearly half a century.
Although Murdock's 1915 will set up a trust for the acquisition of works by "American painters, potters, sculptors and textile weavers" — thereby making the nascent WAM one of the earliest to concentrate on American art — it wasn't until 1925 that civic leaders met the requirements of the will, which stated that the city must provide a building to house the prospective collection.
And it was another decade before a portion of the Art Deco design for the museum by New York architect Clarence Stein was built.
"When I first read about Louise Murdock," relates Susan Pompeo '79, a past WSU Alumni Association president and current member of the WAM Inc. Board of Trustees, "I remember thinking how amazing for a woman of that day to have such a grand vision and to have the commitment and resources to see it through. Her vision of what she had in her heart has evolved into an art museum I think she'd be proud of — I know she'd want all of us to enjoy it."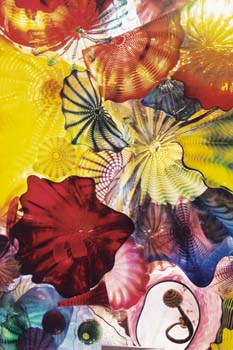 "This is the new public entrance," Servantez says, with a sweeping gesture that takes in a soaring multilevel hall whose soothing monochromic walls and inspiring floor-to-ceiling windows are perfect foils for two elegantly riotous works in handblown glass by Seattle artist Dale Chihuly: Wichita Art Museum Persian Seaform Installation, which serves both as ceiling for the ground-floor entrance and as a portion of the upper-level floor, and Wichita Art Museum Confetti Chandelier, which, with its fantastic shapes and colors, is the out-of-this-world centerpiece of the museum's new Farha Great Hall.
As Servantez continues the tour, she points out one of her own most recent undertakings — the creation and installation of visitor-information signage on the new glass doors leading to the galleries, which remain situated in the pre-expansion, diamond-shaped building that is itself the result of two earlier expansions.
The original museum was first expanded in the early 1960s by the addition of galleries and support wings designed — as was the current project — by Schaefer Johnson Cox Frey.
Then in 1976, ground was broken for the second major expansion. Inspired by Stein's 1935 plan, architect Edward Larrabee Barnes incorporated the original building into the new museum, which featured a sculpture deck and extensive window views of the nearby Little Arkansas River and surrounding city park area.
Current construction began in 2001 after a capital campaign was successful in raising $10 million, thanks to the City of Wichita, Sedgwick County and more than 160 foundations, businesses and individuals.
From a bird's eye view, the new museum looks like two diamonds, one larger than the other, clasped together by the structure of the great hall. "My goal for the design of the expansion," says architect Sam Frey, "was to connect with the existing facility with an appropriate architectural response, one that integrates seamlessly with the Barnes design.
This has been accomplished by maintaining the material pallet and by utilizing shapes, form, solid and voids that are respectful of the original architecture, employing rotated orthogonal geometrics, acute angular transparent corners, massive windowless forms where it is appropriate to be windowless to eliminate ultraviolet light, and offering large transparencies in social areas for contrast, to create a greater sense of hospitality and to endow these specific interior spaces with daylight."
As a museum trustee, Pompeo has watched construction progress with interest.
"The renovation," she says, "has piqued interest in the museum, which is great because that many more people will come to enjoy one of the jewels of our community. There's renowned art here that attracts art-lovers, of course — masterpieces by Mary Cassatt, Winslow Homer and Edward Hopper, for example, and the new Chihulys are stunning. But there are also things people can enjoy even if they aren't totally into art — a great new restaurant, gift shop and lots of activities for kids."
Museum trustee Marni Vliet '70/77 adds, "It's an exciting time to be involved with WAM. There's a renaissance going on, and the museum now has a new, physical way to open its arms to the community."
Vliet, Pompeo, Hawks and Servantez are only a few of the Wichita State graduates involved with WAM, either in professional capacities or as volunteers, a fact that hasn't escaped the attention of museum director Charles Steiner.
"The museum benefits from its strong ties to WSU in many ways," Steiner says. "First, Wichita State establishes the cornerstone of an intellectual community here in Wichita, a community with an appetite and interest in the history of art and art museums. Second, WSU is an invaluable resource for the museum. We draw from its library, its faculty and staff, its student interns, its Ulrich Museum of Art, its anthropology museum — and its alumni."
Of the museum's 31 trustees, nearly a dozen are WSU graduates, and serving with Servantez and Hawks on the museum's 20-person staff are chief curator Stephen Gleissner '87/87, membership and volunteer coordinator Deborah Deuser '87, CFO Jan Harper '90, photographer Kirk Eck '98, museum store manager Kevin Bishop '94, PR coordinator Ashle Burnett '02 and adjunct curator and former museum director George Vollmer '46/68.
And all of them are looking forward to the special events scheduled around the museum's reopening, including the rededication at 2 p.m., June 9 and the public open house from 10 a.m. to 5 p.m., June 14.
On the first day of regular public hours — 10 a.m. to 5 p.m., June 10 — museum visitors will see, for the first time ever, the works of the Murdock Collection hung in order of acquisition, leading off with Kansas Cornfield, by Kansas native son and Regionalist painter John Steuart Curry.
This spring, Servantez has been using her expertise in art conservation to prepare the works for exhibition. "I'm putting on new backings and making labels," she says. "I'm about two-thirds done with the collection. It's interesting to note how so many ideas on conservation have changed through the years. We used to use foam core to back art, for instance, but no more."
Many things indeed have changed since Elizabeth Navas made her purchase of Kansas Cornfield — from the changing views of the Little Arkansas glimpsed from the windows of the museum's handsome, third-floor café to the ever-shifting artistic explorations of the stuff of life.
A few things, though, have remained the same. One is the power of an idea to, as the painter Dove once said in explanation of his art, "stand the test of growing among the things that are lasting."
Louise Murdock's idea has lasted.
---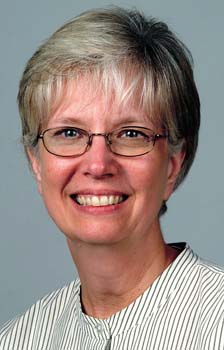 Labor of Love
Deborah Deuser '87 knew there might be limited opportunities for an art history major. But after graduating from WSU, she answered an ad for a weekend receptionist at the Wichita Art Museum.
The position was temporary, but the contacts she made proved lasting. "One afternoon I went back as a visitor to walk through the galleries," she says. "A former co-worker told me there was an opening for a security guard."
Deuser got the job and worked as a guard for three years.
"It was wonderful," she says. "I came to understand the artwork there and its sensitivity and why it needs to be protected. I learned an enormous amount. I overheard many tours and talks. My specialty had been in Byzantine and Renaissance art, and I got to increase my knowledge in American art."
She now works at the museum as membership and volunteer coordinator. "I can't imagine being anywhere else," she says. "There's always a new event or a new artwork, and that makes it an exciting place to work."
— Kerry Jones '00