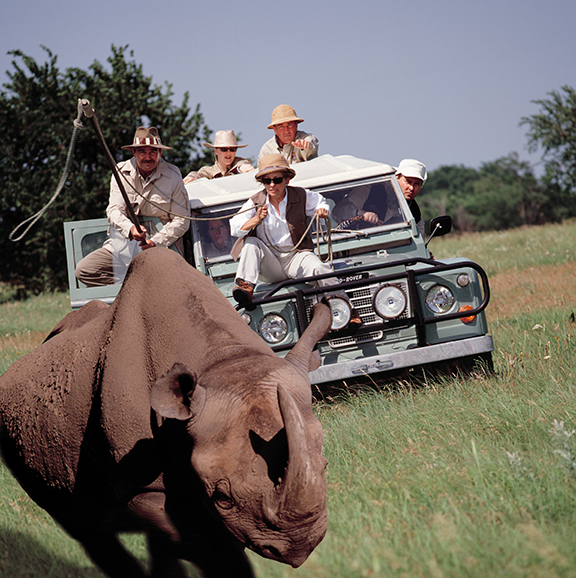 The 2001 Shocker Safari bagged more than $140,000 in support of alumni and student programs and scholarship opportunities at Wichita State University.

Tiger stripes and leopard spots dominated the decorations that greeted more than 750 guests to the Sept. 15 Shocker Safari in Century II's Exhibition Hall. Head guides (read, auction co-chairs) Shelly and Bill Moore welcomed guests to the 22nd Annual Shocker Auction, and master of ceremonies Anita Cochran introduced Lon McCurdy, who donated his auctioneering talents to the event with the help of his crew.
Wichita State President Don Beggs and his wife Shirley helped bring in the dollars. In fact, during live auction action one of the highest selling items of the night was a gourmet dinner for 10 at the couple's home.
A comic appearance by Bucky Walters, a taped welcome by Jeff Probst, the host of television's Survivor series, and the announcement of the Shocker Survivor Contest winner, Lisa Sutherland, were other highlights of the evening.
Among those attending were Chris Shank '69, WSU Alumni Association president, and his wife, Anna Anderson '74/76, Buck and Gladys '75 Alley, Don '88 and Lora Barry, John Ek, Dan '59 and Linda Foley, Pam Irish, Don and Elizabeth King, Bob and Karen Landers, Bill and Sue Pearce, Bob '70 and Jane Knight, John '85 and Felicia Rolfe, Dan '67 and Kate Taylor, and Sheryl '82 and Doug '80 Wohlford — who left the safari a happy man as the winner of a box full of cash.
"This event was truly a community happening," say Shelly and Bill Moore.
"Tribes of WSU alumni and university friends worked hard to pack as much fun into this one evening as possible. And scores of area businesses donated hundreds of items to this endeavor to raise money in support of higher education at Wichita State.
"That's the serious side of the adventure: raising big bucks for alumni and student programming, including scholarship development, through such initiatives as the Drive Your Pride License Plate Scholarship Fund and the Shocker Auction Endowed Scholarship Fund. We, the volunteer board and professional staff of the WSU Alumni Association, say 'thank you' to every person who's contributed to this worthwhile event."
---
THANK YOU, EVERYBODY!

VOLUNTEERS: Chairs Shelly & Bill Moore, Alumni Association President Chris Shank, Auctioneer Lon McCurdy, Emcee Anita Cochran, Survivor Host Jeff Probst, Bucky Walters, Afinke Machine, Acquisition Chair Kim Wingate, Acquisition Team Members Buck & Gladys Alley, Robin Bauer, Brad Beets, Steve & Kris Boleski, Corky Branda, Hollee Burns, Cindy Carnahan, Frank Chappell, Cindy Claycomb, John Davis, Jeff DeGraffenreid, Jane Deterding, George Fahnestock, Ken Fisher, Valarie Florio, Dan & Linda Foley, Bryan Frye, Britt Fulmer, Jeff Gates, Dick George, Shannon Giessel, Chandra Hall, Bob Hanson, Tim Holder, Fe Jacobs, Elizabeth King, Ann Konecny, Ron Kopita, Joe Korst, Eric Kraft, Danielle McWilliams, Julie Mitchell, Terri Moses, Lynette Murphy, Gerald Norwood, Steve Onken, Cindy Otte, Jim Rhatigan, Steve Shaad, Chris Shank, Lars Stamp, Lisa Sutherland, Kerry Thompson, Gretchen Torline, Margaret Vance, Barbara Waitt, Becky Weatherford, Connie White, Sheryl Wohlford; Cashiering, INTRUST Bank, Linda Cullinan; Door Prizes, Jeff Yearout, Kirk Postier; Super Silent Auction, Jeff DeGraffenreid; Silent Auction, Nancy & Michael Oldfather; Table Decorations, Sandy Stevens; Wichita Business Journal $50,000 Basketball Halftime Shot, John Ek; Party Chair Jeff Gates, Party Members Tammy Allen, Karen Black, Hollee Burns, Charlie & Cindy Claycomb, Dave Dahl, Darin Dredge, Valarie Florio, Bryan Frye, Heather Haines, Heather Hogan, Fe Jacobs, Karen Mies, Lanita Miller, Jana Moore, Michael Nelson, Jennie Schallenkamp, Brian & Helen Silcott, Glen Summervill; WSU Student Assistance: SAA, Kappa Kappa Psi, Tau Beta Sigma; Table Sales Chair Sheryl Wohlford, Table Sales Trish Brasted, Pamela Clancy, Bryan Frye, Don Glenn, Elizabeth King, Ann Konecny, Steve Onken, Susan Pompeo, John Rolfe, Jim Roman, Chris Shank; Promotions: Gladys Alley, George Fahnestock, Linda Foley, Jeff Gates, Shelly & Bill Moore, Nancy Oldfather, Felicia & John Rolfe, Chris Shank, Lisa Sutherland, Kim Wingate; with special thanks for production to Steve Brown Photography, Paul Chauncey Photography, Hatman Jack's, Dr. Ken & Helen Nelson and "Eugene" & the Sedgwick County Zoo

SHOCKER PARTNERS:
Black & Gold: Jim & Lorraine Mann Foundation. Silver: Emprise Bank; Fahnestock Heating and Air Conditioning; House of Schwan Inc.; Bill & Shelly Moore; Pepsi-Cola Bottling Group; Daniel J. Taylor Family Charitable Foundation, Dan and Kate Taylor; Velma Wallace. Bronze: Allen Gibbs & Houlik LC; Buck & Gladys Alley; Bank of America; Steve Brown Photography; Beverly Cash; Paul Chauncey Photography; Financial Planning Concepts; Dan & Linda Foley; INTRUST Bank, N.A.; Dr. Sam & Jacque Kouri; Printing Inc.; Chris Shank & Anna Anderson; Standard Beverage Corp.; Western Resources/KGE; Wichita Business Journal.
Partners: Mickey & Pete Armstrong; Automation Plus Inc., Sheryl & Doug Wohlford; Daniel M. Carney; Frank & Zenda Carney; Commerce Bank; EMC Insurance Companies; Fleeson, Gooing, Coulson & Kitch LLP; Foulston & Siefkin LLP; IMA of Kansas; Joe and Barbara Norton/Gilmore & Bell PC; OK Transfer & Storage, Kathy & Eric Sexton; Stelbar Oil Corporation Inc.; Triad Associates Inc./Dale Wiggins; WSU Media Resources Center.
Cash Contributors: Jerry & Jan Aaron; American Entertainment Corp.; Lindy Andeel; Thorton E. Anderson; B & B Investments; James A. Blue; Dakin Cramer; Dickinson Theatres; David Eads; S. Jim Farha; Robin B. Foley; Ronald M. Gott; Robert J. Harrison; R. Kell Hawkins; Curtis E. McNay II; Preferred Health Systems; Rand Graphics; The Research Partnership; Dr. D. Cramer & Geney Reed; H.D. Ritchie Charitable Trust; Spangles; The Wichita Eagle; Valley Offset Printing; Wichita Canteen Corp.; Mark P. Woods. Table Sponsors: Ammar/Clancy; Apex Engineering; Automation Plus Inc.; Buck Alley Rentals; Case, Moses, Zimmerman & Wilson, P.A.; Paul Chauncey Photography; Cindy Carnahan; Citizens Bank; David L. Dahl, P.A.; Digital Office Systems; Emprise Bank; Farha/Stevens/Farha/Steven; Foley Equipment; Foley Supply; Foulston & Siefkin LLP; Fresh/Allen/Anderson/Corn; Insite Real Estate Group; Key Construction; Klenda Mitchell Austerman & Zuercher; KSN Channel 3; KWCH Channel 12; Mike & Lynn Loveland; McCluggage, Van Sickle & Perry; Lisa & Steve Sutherland; Grant Thornton; Traditions Inc.; Trio Machine; Rolf Von Merveldt; Western Resources/KGE; Wichita Canteen; WSU Foundation; WSU Student Affairs; Jim & Denise Ziegler

ITEM CONTRIBUTORS: 14 Carrot Cooking, 4-C Tree Farm, 5th Avenue Gifts, Accent Lighting Inc., Air Capital Dixieland Band, Airport Steak House, Al Wittmann, Amarillo Mesquite Grill, American Airlines, American Cleaners, American Entertainment, Anonymous Friend, ApaDana Oriental Rug, Gallery Inc., Ark Valley Chapter Quails Unlimited, Arkansas Valley Adventures, Artistic Limousine, Artistic Marble and Bath, Aspen Traders, Athena Jewelry Inc., Automatic Music & Vending Co., B & J Television Service, Babs Mellor Sculptures, Bank of America, Barrier's Fine Jewelry and Gifts, Bearden's Stained Glass & Gifts, Beauty First, Benchmark Real Estate, Betty Gillespie, Bill & Shelly Moore, Billiards and Games Etc., Black Canyon Grille, Bob Beverage, Bob Knight, Bob's Place, Bombardier Aerospace, Bonnie Bing, Botanica: The Wichita Gardens, Bradley Fair, Brady Nursery, Braeburn Golf Course, Brends Inc., Brick's, Brothers Julian, Browning Ferris Inc., Buck & Gladys Alley, Budget Car and Truck Rental of Wichita, Budget Rent A Car, Buffalo River Outfitters, California Closet Co., Camera Angles Ltd., Candlewood Suites, Candlewood Suites Hotel, Candlewood Suites-Redfern, Carnahan Group/Spirit Inc., Carriage Park Pharmacy, Cathy Stevens, Century Manufacturing, CG Silver, Chance Industries Inc., Charles E. Varney, Chateau Cadeaux, Cherry Oaks Golf Course, Cherry Orchard Furniture, Cheveux, Chilton Billiards Inc., Chisholm Creek Kennels, Chris Shank, Christiane's Closet, Chuck Miller, Cibola's Restaurant, Cindy & Charlie Claycomb, Citizens Bank of Kansas, City of Wichita, Classic Impressions by Trey Allen, Clubhouse Golf, Coleman Company Inc., College Hill Cleaners, Connie's Cookies, Cook Builder Specialties, Cornerstone Studios, Corporate Caterers, Cortez Mexican Restaurant & Club, Cowtown, Cox Communications, Craghead & Harrold, Creations by Crawford, Crown-Uptown Dinner Theatre, Curves for Women, D z 9, Dan Carney, Dandurand Drug Co., Dane Design, Daryl Grotts, David Jabara CPA, David M. Eads, Davis Moore Quick Service, Dean Headley, Deborah Miller, Deck the Walls, DeFazio's Restaurant, Dick George, Dickinson Theatres, Doc's Steakhouse, Dollar Rent-A-Car, Don & Lora Barry, Don and Shirley Beggs, Donrey Outdoor, Dorman's Women's Fashions, Dorothy Harpool, Dorothy Matthews, Double D Labrador Retrievers, Doug & Sheryl Wohlford, Gerald Graham, Martha Shawver, Dutch's Greenhouse, East Side Vacuum, Eastwood Portrait & Photographic Décor, Eastwood Studio, Eberly Farm Inc., Elk Creek Lodge, Eller Media Company, Emmert's Jewelry, Emprise Bank, Entercom, Eric Fisher Salon, Eric Sexton, Evers Wine & Spirits, Excel Manufacturing, Exploration Place, F & E Wholesale Food Service, Fahnestock Heating and Air Conditioning Inc., Ferguson-Phillips Homeware, Fidelity Bank, Flight Safety International, Flint Hills Motorsports, Flint Hills National Golf Club, Flying Colors, Foley Supply Inc., Foulston & Seifkin Law Offices, Frank McMaster, Freight House LLC, G M Clothes Horse, Gary Hunter, General Pet Supply Midwest, Gentry Ltd., Ginny's, Gino Salerno, Giverny Grocery, Glitter Photography, Goldsmith's Inc., Greater Hutchinson Convention Visitors Bureau, Gregory Buell, Grier Jones, Gump Small Animal Hospital, Hair Solutions, Hall's Culligan, Happy King Chinese Restaurant, Harry Litwin, Hatman Jack's, Haunted History Tours, Healing Hands Therapeutic Massage, Hedrick's Exotic Animal Farm, Hidden Lakes Golf Course, Hilton Wichita Airport & Conference Center, Historic Fox Theatre, Inn Express Hotel & Suites, Home Fitness Exercise Equipment Co., Home Gallery by Cohlmia, Hotel At Old Town, House of Schwan, Hurst Liquor, Hutchinson Humane Society, Hyatt Regency Wichita, Ice Sports Wichita, Image Works, Indian Hills Ace Hardware, Individually Yours, Inn At Sedgwick, Inn at Tallgrass, Inn At the Park, Italian Garden Restaurant, Ixchel, J & J Fine Liquor, Jason's Deli, Jerry & Barbara Probst, Jerry Bittle, Jewelry Savers, Jim Lewis, Jim Powell Photography, Jim Rhatigan, Jo Western, Joe's Seat Cover Car Wash, John Davis, John Morse, Johnson's Garden Center, Johnston's Clothiers, Journal Broadcast Group, JR Koontz Flowers, Julie Jernigan, KAKE-TV 10, Kansas City Royals, Kansas Coliseum, Kansas Family Business Forum, KANSEL, Karg Glass, Hair Design, Kechi Playhouse, Keepsake Photography, Kelly Jobe, Kerry Thompson, Kevin Gustafson, Kevin Kowalik, Krispy Kreme, KSAS TV-Fox 24, KSNW TV-3, KWCH TV 12, La Chinita Mexican Restaurant, Larkspur Restaurant & Grill, Latour Management Inc., Laura: A Creole Plantation, Le Monde, Legends (Airport Hilton), Linda Parks, Linkz.com, Lodging Enterprises Inc., Logan Farms Honey Glazed Hams, Long Beach Marriott Hotel, Loony Bin Comedy Club, Louisiana Swamp Tours, Luther's Photography, Lydia's Ristorante, Lynch Jewelers, Lyndon's, Mae-Ssage, Magic Mirrors Beauty, Marbella Café, Marcus Food Company, Marian Beren, Marilee Hopkins, Martini Steakhouse, Marty Shawver, Mary Reeves & Misty, Master Galerie, McDonald's, McLean Dentistry, McPhail Clothiers, Mel's Carpet Cleaning, Melange Custom Jewelry, Midwest TV & Appliance, Mike Brown, Mike Seltzer Jewelers, Miles Music, Miller's Cleaners, Missouri Valley Conference, Mobile Home Living Inc., Models & Images, Moma-Dog Art, Mosley Street Melodrama, Music Theatre of Wichita, N & J Café & Bakery, Nancy Bereman, Nature's Way, Nevada Bob's Golf Center, New Belgium Brewing Company, New Horizons Computer Learning Center, New Orleans Tours, New York Jets, Norma Hale, Norwalk Furniture, Nouveau, NPC Inc., Oak Alley Plantations, Old Chicago, Olive Tree/Chelseas, Outback Steakhouse, Patton & Keehn Pest Control, Pepsi Cola Company, Persian Bazaar, Pet Haven, Pet Smart, Petco, Piccadilly Grill, Pierpoint Tree Farm, Pizza Hut, Wichita LLC, Planet Hair, Prairie Pines Christmas Tree Farm, Printing Inc., Professionals in Therapeutic Massage, Quarterage Hotel, Radisson New Orleans, Ralph & Nina Farha, Randy Cooper Fine Jewelry, Ray Morehead, Raytheon Aircraft Co., Razook's Furniture, Red Hot & Blue, Reflection Ridge Golf Corp., Reflection Travel, Reflections Interiors, Restoration & Waterproofing Contractors Inc., Rhatigan Student Center, Rice Limousines, Richard Lynn Shoe Market, Robert Carver, Robert Shields, Romano's Macaroni Grill (Kansas City), Romano's Macaroni Grill (Wichita), Rose Hill State Bank, Rose Rosenwach, Roy Birch, Rudd, Sam Cohlmia, SASNAK, Sasnak Management Corp., Savute's Italian Restarante, Scotch & Sirloin, Scrapbook Garden, Second Chance Plastics, Sedgwick County Zoo, Senseney Music, Sheldon Coleman Enterprises, Shepler's Western Wear, Shirley Knight, Shoelaces Inc., Signatures, Skydiving Wichita, Spangles, Spirit Inc., Stage One, Star Lumber & Supply, Farm Insurance Co., Steamatic Carpet Cleaners, Mart #209, Sterling Sisters, Steve and Lisa Sutherland, Steve Houlik, Steve Murillo, Steven Motor Group, Strands, Stroud's Restaurant & Bar, Summer's Winery, Summerfield Suites, Susan Scheu, Sutherland's Lumber, Sveta's Body Therapy, T & E Oil/Pantry +, Tallgrass Country Club, Target-East, Tate Studio, Tavia Shackles Hunt, TCBY, Terradyne Hotel & Country Club, Terri Moses, The Adventure Company, The Calico Rabbit, The Center for Improvement of Human Functioning, The First Place, The Good Egg, The Grape, The Hayes Company Inc., The Hourglass, The Inn at Willowbend, The International at Castle Pines Golf Club, The Place Setting…and more, The Plaid Giraffe, The Rearrangers, The Rose Hill State Bank, The Wichita Eagle, The Wichita Symphony, The Wright Focus, Thomas R. Devlin, Tillie's Flower Shops, Timberline Steakhouse, Timberline Steakhouse & Grill, Toni D's Deli & Catering, Total Entertainment Rest. Corp., Totally You, Tractor Supply Co., Tracy's Automotive, Traditions Inc., Tree Top Nursery & Landscape, Treescapes Inc., Triad Associates, Twigs, Ulrich Museum of Art, Ultra Modern Pool and Patio, United Distributors Inc., US Airways Express, US Logo Apparel, Valarie Florio, Vermilion Rose Bed & Breakfast, Walt Disney Company/Disneyland, Waste Management of Wichita, Watermark Books & Café, Wescon Products Co., Westlake Ace Hardware, Westphal Jewelers, Whimsies Gift Shop, Whimsies Gift Shop, Wholesale Beauty Club, Wichita Baseball Inc., Wichita Business Journal Inc., Wichita Canteen Co. Inc., Wichita Festivals Inc., Wichita Greyhound Park Inc., Wichita Gymnastics Club Inc., Wichita Hockey Inc., Wichita Marriott Hotel, Wichita Racquet Club, Wichita Radio Partners, Wichita Shirt and Cap, Wichita Symphony, Wichita Wranglers, Wilborn Hair Co., Wild Bird Center, Williams Ace Hardware, Willie C's Café, Wilson Building Maintenance, With A Twist, WSU School of Music, WSU Alumni Association, WSU Baseball, WSU Bookstore, WSU Bowling, WSU Center for Management Development, WSU Financial Aid, WSU Graduate School, WSU Heskett Center, WSU Intercollegiate Athletic Association, WSU Men's Basketball, WSU Men's Golf, WSU Nursing Alumni Professional Society, WSU Spirit Squad, WSU Women's Basketball, WSU Women's Golf, WSU Ceramics, WSU Theatre, YiaYia's Eurobistro, Yingling Aircraft, YMCA.
---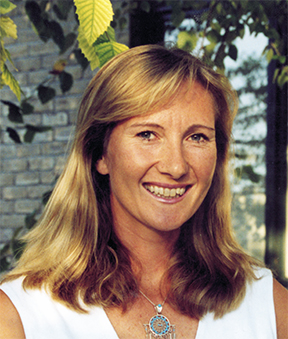 Shocker Survivor: Lisa Sutherland
Tribe Shockakor: Bryan Frye, Terri Moses, Eric Melgren, Clark Bastian, Lars Stamp, Cliff Tarpy, Frank DeSocio, John Bulcock, Valarie Florio, Corky Branda; Tribe Wucha: Cindy Otte, Jason Bennett, Jeff DeGraffenreid, Eric Kraft, Brian Wells, Cindy Carnahan, LaTricia Harper, Gladys Alley, Gerald Norwood, Ann Konecny; Tribe Alumamundi: Dave Dahl, Sutherland, David Eads, Fe Jacobs, Eric Fahnestock, Ron Kopita, Alan Cobb, Mike Loveland, Nancy Klenda, Megan Bush.