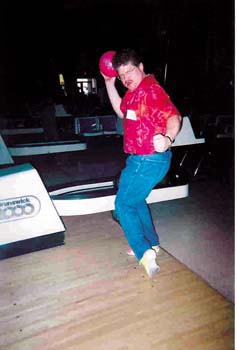 Wichita State's Young Alumni Association sponsored its first bowling tournament Sat., June 30 at Flight Lanes in Wichita. Planned as a fundraiser for young alumni programming, the tournament raised more than $3,000. Tournament bowlers each signed on to raise at least $50 in pledges, and 16 teams participated.
The event was planned by members of the Young Alumni Committee: Darin Dredge '97, Valarie Florio '98, Ronda '98 and Aaron '97 Hamilton, Fe Jacobs '98, Chris '96 and Kim '94 Hett, Kale Kroupa '98, Curtis Richardson '98, Brian '98/00 and Helen Silcott '98 and Kim Volz '96.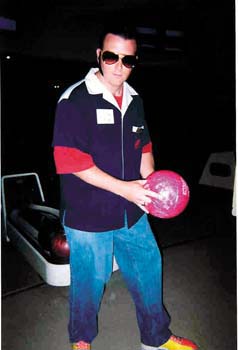 Following tournament play, various prizes were awarded, with first place going to team captains Dredge and Amy Casebolt '99 and their teammates. Dredge also won best individual score. Two teams shared Best Team Spirit honors.
The most spirited teams were comprised of players Jacobs, Rosa and Randy Goodman and Shawn Dowse and of Eric Fahnestock, Kroupa and Kelly Lyman '97.
Even the worst players took home prizes, with the members of Team Alumni Association posting the worst score of the night. Holding that dubious distinction are Megan Bush, Florio, Shannon (Giessel) Jobe, Paul Werner '00 and Connie White.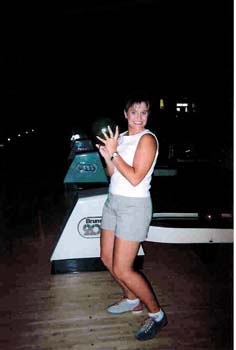 On a more positive note, Brandon Smith '99 raised the most pledges, single-handedly bringing in more than $150.
Members of YAA thank WSU bowling coach Gordon Vadakin '82 and the WSU bowlers, Frank DeSocio, Flight Lanes, Pepsi-Cola Company, House of Schwan Inc., Quizno's, Il Vicino and AJ's Sports Bar & Grill for their support of this premier event — support that included the donation of food, drinks and the use of the facility.
YAA members also would like to thank all of the prize donors: Bill Ard, Quarterage Hotel, Yia Yia's, Loony Bin Comedy Club, House of Schwan Inc., Gordon Vadakin, Northrock Lanes, AJ's Sports Bar & Grill, The Cedar, Wichita Hilton Garden Inn and the WSU Alumni Association.
Mark your calendars for the next bowling blowout sponsored by the Young Alumni Association and the WSU Bowling Team slated for Sat., April 6, 2002 at Northrock Lanes.