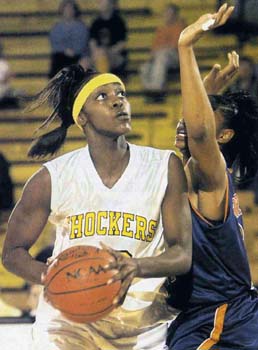 The Wichita State women's basketball team is looking to shake off the woes that plagued it throughout last season's 10-win campaign and return to the form that won them a NIT berth at the end of the 1999/2000 season.
Sporting great potential, the Shockers opened the season with a 71-66 win at home against rival Oklahoma State. It was the right way to kick off any season, with a quality win over a quality opponent from a powerhouse conference — the Big XII.
Sophomore Carlesa Dixon, a 6-foot forward who transferred to WSU from UNLV, led the Shockers with 18 points, while fellow sophomore Angela Buckner nabbed 15 rebounds.
But the luster of the new season dulled as the Shockers dropped their next two games, both on the road.
The first loss was to Oral Roberts University in Tulsa, Okla., in a narrow 62-58 defeat. While no loss is good, the Shockers received solid play from Dixon, who scored 16 points to again lead all Shockers.
Senior forward Jennifer Kaczka, who led the Shockers in scoring last season, pulled down 8 rebounds, while Buckner contributed 7 boards to the losing effort.
The Shockers traveled to Norman, Okla., to take on the then 6-0 — and third ranked — Oklahoma Sooners. It was a big game for the Shockers, and a chance to see how they measured up against a team that was playing on the level WSU hopes to attain.
Dixon again led the Shockers in scoring, with 21 points. Buckner dominated the glass in the first half and grabbed 15 boards, finishing the game with a career-high 18 rebounds, while at the same time adding 13 points. But these stellar performances weren't enough to slow the Sooner Schooner from sailing on to an 8-0 record. WSU fell to 1-2 after the 21 point defeat, 89-68.
The Shockers followed that road loss with a big win at home over Texas-San Antonio, 69-46. Kaczka and Tisharra Huggins led the team with 15 points each, and Buckner pulled in 18 rebounds for the second time in as many games. Buckner, who finished last season second in the nation in rebounding with 12.7 boards per game — was bettering that pace through the first four games of the new season with 58 boards — 14.5 per game.