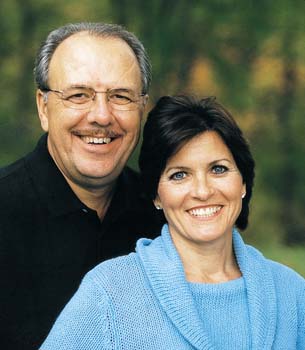 The goal of a second-to-none Wichita State University athletic facility is even closer with a $1 million donation from Dan '67 and Kate Taylor to the Roundhouse Renaissance.
To Dan Taylor, a private investor, the contribution is all about making dreams come true. One of his favorite quotes is from American patriot Patrick Henry: "I like the dreams of the future better than the history of the past."
As a WSU student, Taylor worked at Boeing to finance his education. He didn't have time to be active on campus. But for almost 20 years, he has shared his expertise, time and resources with his alma mater, starting with a stint on the WSU Alumni Association Board of Directors.
"When you have a high degree of success, you have an obligation to share that success with the institution that helped and inspired you," he says.
The Taylors have generously supported university causes such as athletics, the Center for Entrepreneurship, the alumni association, the W. Frank Barton School of Business and the construction of Woodman Alumni Center.
Recently, they established the Kate Taylor Endowed Scholarship for business students. Now another area on campus — the concourse of the new Koch Arena — will bear their name, which is fitting to represent the importance of this gift.
"We are proud to continue our support of Shocker athletics into the future, and we are happy to participate in the Roundhouse Renaissance," the Taylors say. "It is a future bright with possibility, taking WSU basketball to the next level."
The Roundhouse Renaissance addresses the primary facility needs of Shocker athletics and includes a reconstructed seating bowl, new and wider concourse, Student Services Building with Academic Center, climate controlled environment for all areas and new locker rooms. Construction will begin in March.
The Taylors understand the benefits of Shocker athletics to the community and urge others to join the effort. "The university, along with its intercollegiate athletics programs, is an integral part of the Wichita community, and hopefully all fans will step up and help bring this project to a successful conclusion," they say.