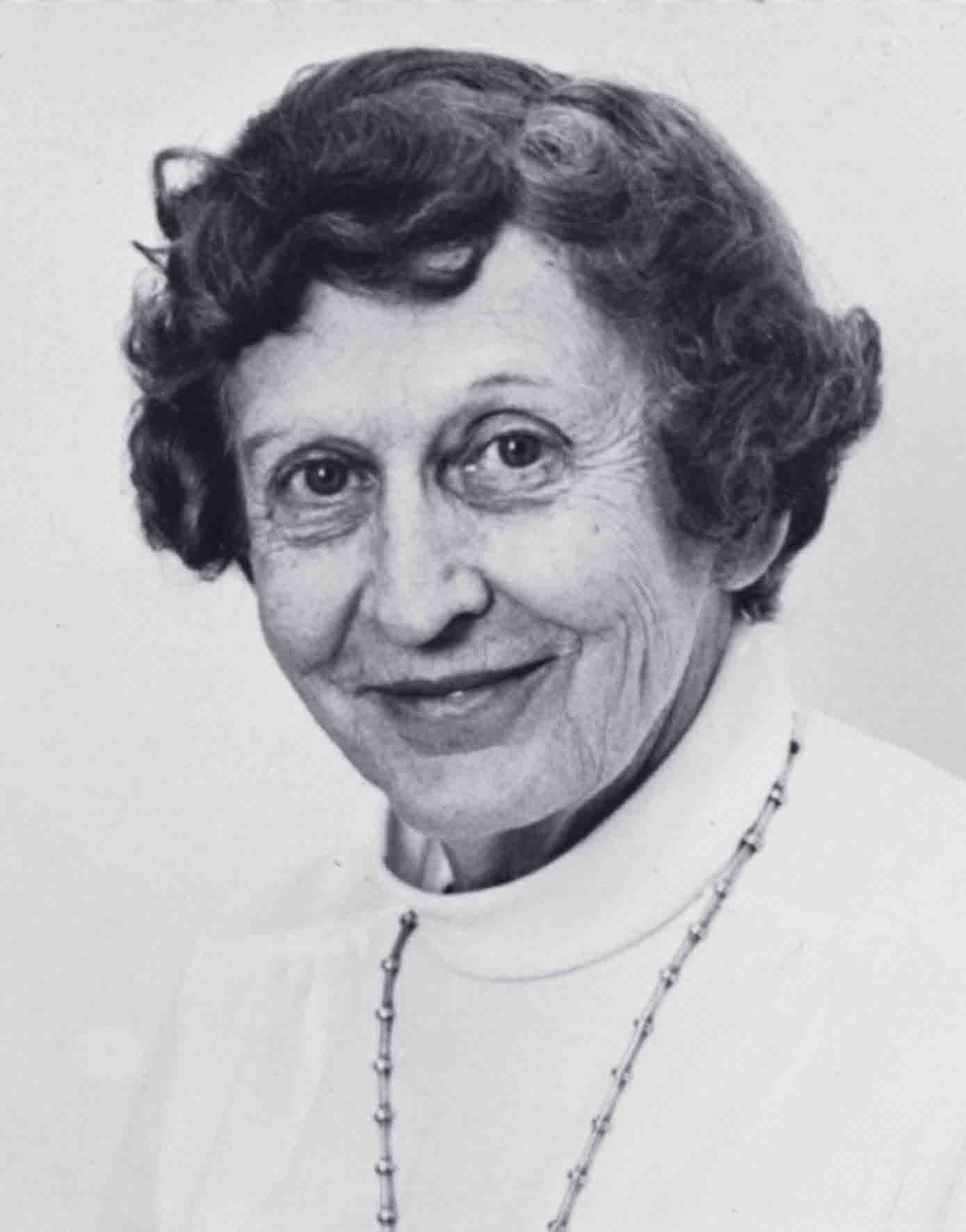 A Truly Distinguished Teacher
Geraldine E. Hammond '31, Gerry to friends and former students, spent a good measure of her 45 years as an English professor perched on the edge of a desk, holding forth on topics as varied as her discipline. She was a poet, an artist — silversmithing, ceramics, photography, watercolor and mobile making — and a passionate women's lib advocate, but above all, a teacher. Indeed, she was one of the university's most beloved and esteemed professors.
As WSU's oldest living professor emeritus, Hammond remembered the university in all its incarnations — Fairmount College, Wichita University and Wichita State. As a student, she was honored with the William H. Swett Prize, and as an English and psychology instructor in 1966 she received one of the first two Regents' Awards for Excellence in Teaching at WSU. For her lifetime of achievement and service, she was named the 1993 Laura Cross Distinguished Service Award recipient by the WSU Alumni Association.
After her retirement from the classroom in 1978, the Geraldine Hammond Fund was established. It supports a visiting professorship of humanist studies and a namesake scholarship. Paul Magelli, who was WSU dean of liberal arts and sciences at the time of her retirement, said that candidates for the professorship must emulate Hammond, "with the single most important criterion that the incumbent be a truly distinguished teacher."
Geraldine Hammond died Jan. 14 in Wichita.
— Dani Wellemeyer
---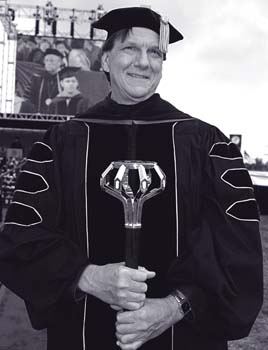 Outstanding Professor
Richard "Rich" L. Wiseman '72, a professor of human communication studies at Cal State Fullerton, was a lauded educator and scholar. Selected as the university's 2003-04 Outstanding Professor Award honoree, he also received the 2005 California State University Wang Family Excellence Award, which recognizes outstanding achievement of faculty members and administrators in the 23-campus California State system.
As a scholar, Wiseman, who earned his bachelor's degree in speech at Wichita State, specialized in intercultural, interpersonal and nonverbal communication, as well as persuasion and research methodology. He authored nine books, was awarded more than 25 research grants and was a founding fellow of the International Academy for Intercultural Research.
"Watching Rich teach a class was like watching Wolfgang Puck in the kitchen or Tiger Woods on the golf course," related friend and Cal State Fullerton colleague Robert Gass.
A longtime resident of Yorba Linda, Calif., Rich Wiseman died Nov. 24, 2006, near Corvallis, Ore.
— Connie White
---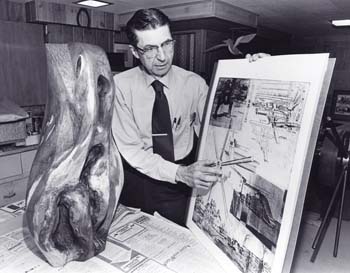 An Extraordinary Talent
David E. Bernard lived the artist's dream — working, teaching, traveling, creating. A printmaker of extraordinary talent, he taught his craft at WSU from 1949 to 1983, when he retired as professor emeritus of studio arts.
Bernard established WSU's printmaking program, the first in Kansas, when he arrived with a master's degree in the medium from the University of Iowa. His art travels took him to Europe, Mexico, Israel and across the United States.
A prolific and versatile artist, his work resides in the collections of many public institutions, including the Library of Congress and the Metropolitan Museum of Art. He produced lithographs, etchings, intaglios, woodcuts, paintings and sculptures and was instrumental in developing the technique of collography, a relief printing process, in the 1960s.
David Bernard died Dec. 21, 2006, in St. Cloud, Fla. A namesake scholarship fund has been set up with the WSU Foundation.
— Dani Wellemeyer
---
Margarette "Maggie" M. (Cooper) Babich '66, homemaker and former medical technologist in virology and immunology research, Dec. 31, 2006, Wichita.
Bruce D. Bierig '59, retired teacher, football coach and vice principal, partner in Z&B Custom Harvesting, Dec. 31, 2006, St. Francis, Kan.
B. Nadine Bollman '59, retired medical secretary, April 8, 2004, Silver City, N.M.
Rosalie (Keen) Bradley '70/78, president of Wichita Independent Neighborhoods, an umbrella group for the city's neighborhood associations, Oct. 8, 2006, Wichita.
John E. Brady '57, former pilot, nuclear weapons staff officer, April 19, 2004, Sebastian, Fla.
Macy E. (Shippey) Brady '33, homemaker and former member of the Lafayette County Health Board, Nov. 22, 2006, Prairie Village, Kan.
John E. Brane '41, retired Boeing Co. director of material, Dec. 16, 2006, Birmingham, Ala.
Morris N. Brenn '61, retired Maize, Kan., and Wichita public schools teacher who served in a non-combat position with the U.S. Army in World War II, Oct. 21, 2006, Wichita.
Paul D. Burns '71, retired television spotter, who also tuned pianos and caned chairs, Oct. 9, 2006, Wichita.
Carol (Lehman) Castle '62, retired Wichita public schools teacher, Dec. 21, 2006, Wichita.
Elizabeth A. (Boult) Chard '75, former counselor who founded Wichita's Monica House for abused teenage women, Sept. 7, 2006, Sarasota, Fla.
Ernestine M. (Klopfstein) Chester '41, homemaker and retired teacher who helped run Chester's Phillip's 66 Service Station, Oct. 8, 2006, Wichita.
Otis H. Collingwood fs '52, retired independent oil and gas lease broker and landman, Nov. 16, 2006, Wichita.
George N. Cornell '50, retired Small Business Association loan officer who served in the U.S. Navy's 115th Seabee Construction Battalion during World War II, Jan. 8, Oklahoma City.
Lois E. (Combs) Covington '36, retired sculptor who worked in bronze, brass and copper, Aug. 27, 2006, Mount Vernon, Ill.
Martha R. (Karlin) Culbreath '81, homemaker, former police officer and detective lieutenant, later employed at Waddell & Reed Inc. and at Insurance Planning, shooting sports enthusiast, Sept. 12, 2006, Hays, Kan.
Freema (Lyon) Deck fs '43, homemaker, Dec. 9, 2006, Wichita.
Dean E. DeHaven Jr. '72, retired vice president of human resources at St. Joseph Medical Center in Wichita, administrator at St. Francis Regional Medical Center and St. Joseph Regional Medical Center of Northern Oklahoma Inc., Nov. 19, 2006, Reeds Spring, Mo.
Peggy J. (Southworth) Doran '38, homemaker and retired Devereux Foundation accountant, Dec. 7, 2006, Honey Brook, Pa.
Henry E. Elder fs '78, trumpet player in numerous orchestras and bands, including the Wichita-based band Lotus, conductor, private-lesson instructor and adjunct professor at Friends University, Dec. 31, 2006, Wichita.
James M. Elliott '69, account executive, Oct. 15, 2006, Wichita.
Rose B. (Goodwin) Farrow '40, retired Central Securities Inc. clerk, Sept. 10, 2005, Andover, Kan.
William L. Ferguson '54, Boeing design engineer who served stateside in the U.S. Marine Corps and U.S. Air Force, Sept. 17, 2006, Seattle, Wash.
E. Lorene (Bettinger) Firsching '70, retired Medical Service Bureau director, Dec. 3, 2006, Wichita.
Gary V. Fletcher Sr. '51/58, retired Wichita public schools music teacher, band and orchestra director, composer and 1994 Kansas Music Educators Association Hall of Fame inductee, Nov. 19, 2006, Wichita.
Joanne (Dean) Forsyth '69/72, former elementary school music teacher, piano and organ accompanist, director of worship and music at the First Baptist Church in Wichita and the Countryside United Methodist in Topeka, Kan., Nov. 23, 2006, Topeka.
Martin R. Freeman '70/71, owner of Freeman Properties, Dec. 19, 2006, Sedgwick, Kan.
Joe A. Fry '74, retired Wichita public schools teacher, Oct. 4, 2006, Wichita.
Felix H. Garcia '62, retired Beech Aircraft tooling engineer, avid camper, volunteer with the Tax Aide program and the Wichita Radio Reading Service, Jan. 14, Wichita.
Lawrence C. Garlow '61, retired mechanical engineer for Gates Rubber Co. and former farmer who served in the U.S. Army during World War II, Oct. 28, 2006, Loveland, Colo.
Charlene M. (Hess) Gilbert '76, retired Boeing finance manager, Sept. 23, 2006, Wichita.
Carmen K. Goodwin fs '56, co-founder of Certified Inventory Service, former manager of Office Services and secretary-treasurer of McMahon Enterprises Inc. in Wichita, Dec. 23, 2006, Pueblo, Colo.
Wallace "Wally" C. Hanks '50, U.S. Army Air Corps WWII veteran, Kansas Air National Guard military air policeman and captain, former WSU baseball player, retired Boeing field service engineer and realtor with Hanks & Co. Realtors in Springfield, Mo., Dec. 11, 2006, Dublin, Ohio.
V. Robert Hayles '48, WWII veteran who retired in 1984 from the Kansas City, Mo., Department of Labor, Sept. 21, 2006, Colorado Springs, Colo.
Dixie (Sharp) Heim '74, retired advanced registered nurse practitioner who was instrumental in the development of Health Care Access in Lawrence, Kan., which provides care for the uninsured, Nov. 27, 2006, Lawrence.
Bobby "Bob" L. Helm '68/68/70, retired Transition Services Inc. psychologist, Nov. 8, 2006, Stillwater, Okla.
Bernice M. (Seyfert) Hitzeman '65, retired teacher of 40 years, Nov. 11, 2006, Sedgwick, Kan.
Melvina F. (Seyfert) Hitzeman '59, retired Wichita public schools teacher, photographer, Oct. 3, 2006, Wichita.
M. Lorene Huffman '75, former nurse, mobile home park owner, Dec. 18, 2006, Goddard, Kan.
Everett E. Hull '46, former music teacher, saxophonist, golf pro, Oct. 15, 2006, Phoenix, Ariz.
Son Thanh Huynh '05, L&T Machine Shop engineer, Sept. 14, 2006, Wichita.
Ada J. (Tully) Jaax '34/64, retired high school English teacher, Sept. 22, 2006, Randolph, Kan.
Eileen M. Jacobs '88, homemaker, artist, writer, former teacher and counselor, Sept. 11, 2006, Herington, Kan.
Patricia M. (Bludworth) Johnson '70, homemaker and retired music teacher, Jan. 4, Wellington, Kan.
William C. Johnson '75, former U.S. Army MP, Wichita Police Department detective and Magistrate Judge for Greenwood County, Kan., Jan. 4, Iola, Kan.
Ozell Jones fs '81, a 6-foot-11 center who played on the WSU basketball team that reached the Elite Eight in 1981. He went on to average 3.7 points and 3.6 rebounds during the 1984-85 season for the NBA's San Antonio Spurs and then played briefly for the Los Angeles Clippers. He ran a big and tall men's clothing store in LA, Sept. 7, 2006, Long Beach, Calif.
C. Philip "Phil" Kaiser '39, retired Phillips Petroleum vice president whose career with the company included serving as chief geologist of the European zone in Paris, manager of United Kingdom operations in London and of Egyptian operations in Alexandria, president of Phillips Petroleum–Norway and vice president of Phillips–Europe/Africa. In 1979, Kaiser was appointed WSU Distinguished Professor of Geology, Sept. 29, 2006, Bartlesville, Okla.
Betty J. (King) Kelso '78/78/81, retired secretary for King Van Lines and the Blood Department of the Wichita branch of the American Red Cross, and active supporter of local film and theater, Nov. 6, 2006, Wichita.
Velma M. (Popkins) Kirby '40, retired music teacher, Oct. 17, 2006, Lees Summit, Mo.
David E. Landis '70, senior software engineer for AT&tT Oct. 30, 2006, Cumming, Ga.
Harold A. Leimer '40, retired director of parish education for Lutheran schools in the state of Missouri, Feb. 17, 2006, Bridgeton, Mo.
Evelyn "Evie" (Nelson) Little fs '29, homemaker, an original board member of Heartspring and avid golfer who was proud of the hole-in-one she made while in her 80s, Oct. 29, 2006, Wichita.
Eugene K. Livengood fs '75, retired Boeing planner, member of the Police Reserves in Wichita and of the Kansas Air National Guard, Oct. 5, 2006, El Dorado, Kan.
Deborah D. (Downing) Thomas McIntire '90, social worker, Nov. 23, 2006, Hutchinson, Kan.
T. Marjorie (Huey) McQuiston '38, retired elementary school teacher who served in the Women's Army Corps in World War II and who volunteered as a peer counselor for the Department on Aging, Oct. 29, 2006, Wichita.
John H. McQuown '35/37, retired consulting petroleum engineer and president of JH McQuown & Associates Inc., June 5, 2006, Aurora, Colo.
Sandra K. (Jacobs) Miles '82, retired social caseworker, former Beloit, Kan., municipal judge and health educator for the Kansas Department of Health and Environment, Dec. 16, 2006, Beloit.
Louis F. Moeller '50, retired Phillips Petroleum employee, Dec. 1, 2006, Bartlesville, Okla.
Rex R. Mullikin '47, former U.S. Coast Guard intelligence specialist, retired Wichita police officer and farmer, Sept. 27, 2006, Wellington, Kan.
Gerry D. Myers '72, Boeing machinist, Nov. 8, 2006, Wichita.
Allan B. Nease '75, retired chemist for the federal government, who later worked as a computer programmer, Dec. 6, 2006, Lewisburg, Ohio. Nease was a longtime volunteer for the Civil Air Patrol, a nonprofit auxiliary to the U.S. Air Force that performs inland search-and-rescue missions. In 1970, he became only the second Kansan to receive the cap's Carl Spaatz Award.
George A. Neelly '39, WWII Army veteran, retired teacher and farmer, Jan. 1, Mullinville, Kan.
Allen L. Nelson '66, Vietnam War U.S. Air Force veteran, retired from York Heating and Air Conditioning, former assembler for Coleman Co. Inc., Jan. 11, Wichita.
Jack D. Osment fs '52, served in the U.S. Army's 10th Infantry Division, former banker, commercial pilot, airplane salesman, real estate broker and lobbyist, Sept. 17, 2006, Santa Fe, N.M.
Emma H. (Holmes) Patterson '62/63, elementary school teacher, Nov. 27, 2001, Rancho Palos Verdes, Calif.
Ralph H. Pennington fs '45, a 1946 West Point graduate whose military career in the Army and the Air Force was distinguished by a number of awards and honors, former System Development Corp. scientist and retired General Research Corp. senior specialist, Nov. 6, 2006, Dallas.
Barbara B. (Gibson) Perry '34, retired Wichita public schools teacher, active volunteer, Dec. 8, 2006, Wichita.
James A. Pickett fs '64, former vice president of Air Midwest Airlines in Wichita and director of business development for FFV Aerotech in Nashville, Tenn., Jan. 3, Nashville.
Delila (Peterson) Pinkerton '77, retired registered nurse practitioner at St. Joseph Hospital, Dec. 1, 2006, Douglass, Kan.
Elizabeth A. (Hunt) Pipkin '31, homemaker, retired co-owner of Pipkin Jewelers and Flower Shop, Oct. 12, 2006, Wichita.
James P. Powell '87, WSU political science graduate and Wal-Mart employee, Oct. 2, 2006, Wichita.
Warren L. Proctor '68, WSU mechanical engineering graduate, Sept. 23, 2006, Augusta, Kan.
Louis R. Regier '50, retired financial advisor and consultant, former senior partner in the Wichita accounting firm of Regier, Carr, Monroe & Wallace, active on numerous professional boards, including the WSU Accounting Advisory Council, Nov. 12, 2006, Prairie Village, Kan.
J. William "Bill" Rosenberry '73, financial advisor, bagpiper, Jan. 19, Douglass, Kan.
James P. Rozine '76, retired police commander, Oct. 3, 2006, Kansas City, Kan.
Geraldine (Testerman) Sanders '71, retired grade school teacher, Jan. 12, Stella, Mo.
Frederick "Fred" L. Schumaker '49, retired Department of Defense industrial engineer, Oct. 25, 2006, Wichita.
Karen L. (Zamberlan) Shick '86, communicative disorders and sciences graduate, July 19, 2006, Wichita Falls, Texas.
Robert W. Senner '53, retired director of choral music at Buhler, Kan., High School, former Robert Shaw Chorale singer, active in numerous professional organizations and 1978 inductee into the Kansas Music Educators Association Hall of Fame, Dec. 17, 2006, Lawrence, Kan.
Margaret E. (Wiley) Shearer '32, homemaker, vocal music teacher and choir director, Oct. 7, 2006, Hendersonville, N.C.
Baisal D. Smith '61, retired U.S. Army major and member of the Army's USA Modern Pentathalon Team, air ambulance pilot in South Vietnam and in Germany, commodity trading advisor and account executive with Boettcher & Co., Denver, May 14, 2004, Houston.
Sharon K. (Jantz) Smith '79, homemaker, retired nurse, Nov. 3, 2006, Ensign, Kan.
James L. Stalter '58, WWII Air Force pilot and Air Force reservist until 1983, retired Boeing engineer, singer with the Sacred Music Chorale of Seattle, Dec. 21, 2006, Seattle.
Mary Louise (Cape) Stebbins '77, former adult education teacher, retired business owner, Jan. 4, Rockwall, Texas.
Dana A. (Marshall) Stewart '98, homemaker and elementary school science teacher, Sept. 19, 2006, El Dorado, Kan.
Charles D. Stowell '48, music educator and musician lauded for his outstanding high school bands and jazz ensembles during the 1960s, WWII U.S. Navy veteran who played trumpet in the Navy Band, performing at the Capitol for President Franklin D. Roosevelt, before serving aboard the USS Hornet in the Pacific, former Western Oregon University music faculty member and nationally noted leader in teacher preparation, former music director for the Powell River School District in Powell River, British Columbia, Canada, where for 15 years his symphonic bands won numerous awards, Nov. 20, 2006, Powell River.
Deborah D. (Drummond) Suhr '75, homemaker, avid gardener and knitter, Jan. 19, Wichita.
Thomas "Tom" A. Tatlock '37, self-employed oil operator, Nov. 1, 2006, Wichita.
George G. Tennery '62, retired systems analyst for Grumman Technical Services in Houston, Community of Christ Church evangelist, Nov. 13, 2006, League City, Texas.
Robert E. Thiele '51, retired Air Force colonel and attorney, longtime member of the WSU Alumni Association, Dec. 7, 2006, Wichita.
Jerry A. Thole '71, former Pony Express branch manager, Sept. 12, 2006, Fall River, Kan.
Corliss C. (Hammond) Thomas '36, retired WSU Registrar's Office and psychology department staff member, active in many organizations and an avid Shocker basketball fan, Oct. 14, 2006, Wichita.
Michelle K. Thompson '98/00, registered nurse, Dec. 2, 2006, Wichita.
George H. Tittsworth '49/52, retired State Farm Insurance agent, Jan. 1, Wichita.
Raymond H. Traynor '53/59, retired Wichita public schools speech clinician, WWII U.S. Air Force veteran, Ham radio enthusiast, Dec. 2, 2006, Bentonville, Ark.
James "Jim" W. Trimble, retired pro football coach who was head coach of the Philadelphia Eagles for four years but spent the bulk of his career with the New York Giants, starting in 1967 as an assistant coach, later a personnel director, personnel consultant and scout. Also a head coach for 10 years in the Canadian Football League, he began his career at the University of Wichita as a football line coach, then head coach and, at the age of 29, athletic director. In 1966, along with an engineering friend, Trimble redesigned the goal posts used in the NFL, earning a patent for it; May 23, 2006, Indianapolis.
Kiet Van Vuu '90/93, Sedgwick County sheriff's officer, Nov. 11, 2006, Wichita.
Dorothy J. Wallace '86, former nurse, retired business owner, Sept. 30, 2006, Cassville, Mo.
Esther L. Wenzel '34/34, homemaker and first paid WU Alumni Association employee, Feb. 15, Wichita. (Please watch for The Shocker's profile of Wenzel in the summer issue.)
Everett D. Wessel Jr. '60, former Shocker basketball player, retired PE teacher for Wichita public schools, where he was a state championship basketball coach, Jan. 13, Wichita.
Maurice P. West '59, former social studies teacher, former Mulvane Co-op bookkeeper and Collier Farm farmer, Nov. 23, 2006, Dwight, Kan.
Stephen W. Williams '80, self-employed repairman, Jan. 2, Wichita.
Nancie L. (Specht) Wilson '87/88, speech language pathologist for the ANW Special Education Cooperative in Humboldt, Kan., Dec. 29, 2006, Iola, Kan.
Raymond P. Wiske '57, WSU business administration graduate, Nov. 25, 2006, Thornton, Colo.