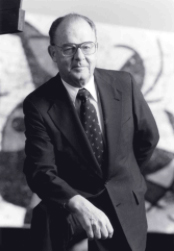 Clark D. Ahlberg '39 began his last day as WSU president by mowing his lawn about 8 a.m. He arrived at his university office an hour later to wrap up some last-minute tasks, and as he contemplated his imminent retirement he told a Wichita Eagle reporter, "I've been preparing for this for 10 months. The process is like dismounting from an elephant — slow, laborious and slightly dangerous if you fall off."
He did not fall off. After announcing in September 1982 his intention to retire, the political science graduate who became his alma mater's ninth president calmly and deliberately dismounted and gracefully bowed out of the duties that had occupied his attention for 15 years.
In WSU's line of presidents, Ahlberg followed Emory Lindquist, the first to lead the university after it came into the Kansas system of higher education. Preceding Lindquist was Harry Corbin '40, who led the charge to move the Municipal University of Wichita into the state system. About his two predecessors, Ahlberg once related, "It was important to me to get into a university where you could do something, and Wichita State was ripe to go places. Harry had provided the opportunity. Emory had smoothed the transition."
It was then Ahlberg's turn to sculpt WSU's growth. He oversaw expansion in enrollment and academic programs, and changed the face of the campus with major building projects, art acquisitions and landscaping initiatives. As the student body grew from some 11,500 in 1968 to more than 17,000 in 1983, he worked hard to recruit top-notch administrators and faculty members. To cite one example, a full 75 percent of the 200 liberal arts and sciences faculty members hired during the first 11 years of his presidency held doctorates.
Academic offerings were expanded in numerous disciplines, including women's and minority studies as well as health-related professions for which the College of Health Professions was established in 1970. A decade later a building was constructed to house the college and in 1984 was named Ahlberg Hall for both Clark and his wife Rowena. Other campus facilities constructed during his time as president include the McKnight Art Center, Hubbard Hall, Clinton Hall, the Heskett Center, Wallace Hall and Lindquist Hall.
"The physical campus is, of course, only a setting through which to achieve the educational, intellectual and cultural goals of the university," Ahlberg wrote in the early 1970s when working on long-range plans for campus development. "Nevertheless, the attainment of these goals is significantly dependent on the care and wisdom with which we plan our physical environment."
A native Wichitan, he first became familiar with the university environment as an undergraduate at WU, where he played collegiate tennis, honed his skills as a campus leader and met his future wife, Rowena Osborne, with whom he would have two sons and a daughter. After graduation, he went on to earn master's (1942) and doctoral (1951) degrees in political science from Syracuse University.
He worked for various federal agencies in Washington, D.C., then went back to Syracuse to become one of its key administrators. Then, during the administration of New York Gov. Averell Harriman, he served as budget director and later first deputy comptroller of the Department of Audit and Control. In 1959, he returned to Syracuse University to be vice president of administration and research.
After 29 years in the East, he returned to his hometown to assume the WSU presidency. "I'd never really thought of coming back," he reported. "But it turned out to be the best decision I every made." After his July 1, 1983, retirement, he continued to teach at WSU and in 1986-87 served as interim chancellor at the University of Alaska-Anchorage.
"The way to happiness," he once said, "is to attach yourself to something more important than the self."
Clark Ahlberg died Jan. 26 in Gig Harbor, Wash., where he had lived since his wife's death in 2002.