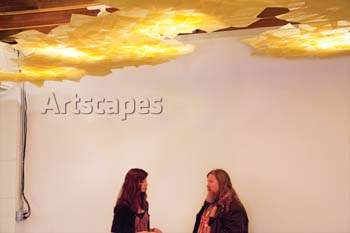 Wichita State's original vagabond student gallery, WSU Shift Space, has ceased its wanderings and settled into a converted cinder-block garage in Old Town.
Shift Space, Wichita State's
off-campus student gallery, is both functional and funky. And on this particular Friday night in February, it reeks with the smell of onions.
Toby Dai, one of the WSU undergraduate art students selected to show works in the juried exhibition "Current III," is studiously chopping onions.
A small crowd of gallery-goers gathers on this opening night to watch, some quizzically. Dai's artwork, "Onions," is the sole performance piece in the show, relates Jennifer Holt, WSU School of Art and Design faculty member and director of the largely student-run gallery.
"The gallery provides students the opportunity to gain valuable experience exhibiting their artwork in a professional setting," Holt says. "Students are involved with all aspects of creating exhibitions with the goal of learning how to theorize, conceptualize, justify, fund, organize, advertise, design and install professional-level art exhibitions of their own and others' creative work."
Each academic year, Shift Space hosts some 12 contemporary, student-centered art exhibitions and special events. In addition, the gallery hosts a professional artist exhibition once a year.
This show, Holt explains, gives students experience in art handling and exhibition design through consultation with a tried-and-true pro.
Holt, whose own artistic efforts are focused on ceramics, notes that Shift Space, because of its location in Wichita's Old Town arts-and-entertainment district, acts as a "bridge between Wichita State and the greater Wichita community, allowing us to function as a catalyst and activist for arts in our community."
In its roles as arts activist and catalyst, Shift Space echoes earlier ventures in creating distinctive spaces
for art and art activities.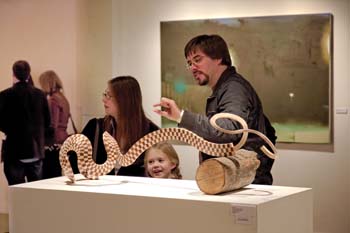 Back in 1958, for example, John Simoni, a University of Wichita art professor, wrote in a Beacon newspaper article about the opening of a downtown gallery by the "indeX"
group of Wichita artists, most of whom were either WU
faculty members or WU graduates – Robert Kiskadden,
David Bernard, Rex Hall '58, to name three.
The group, Simoni reported, opened its indeX Gallery
at 116½ S. Broadway. "It is the first enterprise of this
character to open in downtown Wichita or in Kansas,"
he wrote.
The gallery, according to another newspaper article, specialized in abstract art, or, as Simoni put it, "ideas in
art that are contemporary." And as yet another newspaper writer explained, "The interesting element of the new venture is that it brings art into downtown Wichita. This should help take it out of its slightly sequestered context when situated in museums on campuses and in quiet residential neighborhoods. The indeX group – at least at this point – is frankly abstractionist. Therefore its offerings will not be everybody's 'cup of tea.' "
A series of university-related, off-campus galleries showcasing contemporary art followed the indeX Gallery's lead. Another early enterprise was Bottega, with Gallery 319 opening at 319 S. Main in 1962.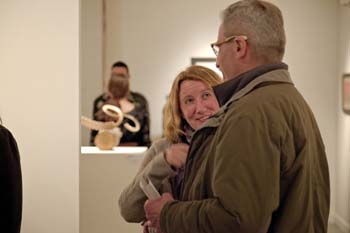 Gallery 319, Bottega and the indeX Gallery, as well as the string of WSU faculty and alumni galleries and art spaces that came after them, artfully linked the university arts community with that of the greater Wichita arts and cultural community.
But by and large, display space for student art was still relegated to sites on campus. "Our students had only two very small spaces on campus to exhibit work, the 500-square-foot Clayton Staples Gallery in McKnight Art Center and the 250-square-foot Rhatigan Student Center Gallery," says Robert Bubp, WSU School of Art and Design associate professor of painting and drawing.
"The problem with the small spaces," he explains, "was that group exhibitions such as BFA senior exit shows and MFA graduate thesis shows could not easily be done."
In 2004, Bubp approached the Wichita Downtown Development Corp., looking for vacant spaces that could be used for student exhibitions. The WDDC took Bubp up on his concept of a roaming gallery for student artwork – Shift Space. One of Bubp's favorite exhibitions during Shift Space's time as a shifting gallery with monthly exhibitions was the "Bank Job" show held in October 2005. The show was installed in the Bank One building downtown, a building that was then scheduled to be gutted and readied for remodeling.
The space, Bubp says, was "so cool. It had red carpet and a huge balcony, and we discovered that we could walk downstairs and the main bank vault was left open. There was no electricity, so going down there was a flashlights-only affair, and there was this huge vault door just like you've seen in the movies. The students really dug it."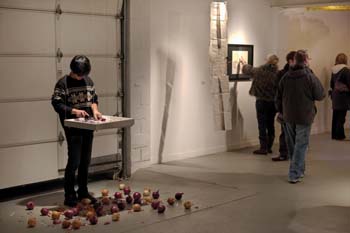 The cool factor notwithstanding, the Bank One space posed challenges. No electricity was solved by bringing in a generator, but only two days before the exhibition's opening.
And the exhibition area was so large, Bubp says, that an installation of traditional art objects simply wouldn't have filled the space.
"So groups of faculty and students worked on various installations like monumental wall drawings, projections and spatial installations," he says. "It was a hive of artistic frenzy for 48 straight hours that I am sure I will never experience again."
As successful as "Bank Job" and other early Shift Space shows were, they also pointed out the longterm impossibility of creating exhibition-worthy spaces on a monthly basis.
"It was an unbelievable amount of logistical effort to occupy a space and build temporary walls, install temporary lighting, run all the cords, and hang the work," Bubp says.
After a 15-month stay on Commerce Street in a building marked for demolition for the construction of intrust Bank Arena, Shift Space has settled into a converted garage at 803 E. Third Street, where its art exhibitions and activities have been engaging, amazing and sometimes startling gallery-goers since August 2007.
Bubp's description of Shift Space's most recent happening – the April 15 "Project Run-A-Way," a major fundraiser for the gallery and its fourth annual wearable art fashion show – can also be read as a partial description of Shift Space's own history: "bizarre, absurd, ridiculous and quite amazing, all at once."
As for the future: Who knows what artscapes will come Shift Space's way?