The crowd – some 5,000 Shockers strong – gathered in Charles Koch Arena well before the coaches and players strode into their home venue as champs Friday afternoon, fresh off the plane from New York City.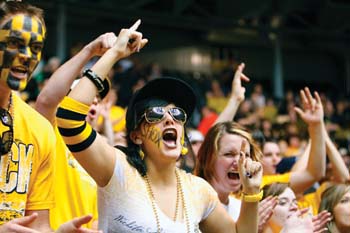 Wichita State's 66-57 National Invitation Tournament championship
win against the Alabama Crimson Tide the night before at Madison Square Garden was the program's first national title – and the crowd was raucously appreciative. Special speakers at the April 1, 2011,
rally included Wichita Mayor Carl Brewer.
"We cannot say enough how proud we were last night watching
our team get the victory," he said. "It meant so much to Wichita and
Wichita State."
The crowd erupted when coach Gregg Marshall took the microphone. "There is no way we can do what we did this season without all of you; 29 wins is phenomenal," he said about the record-setting season. "We have the best fans in the world."
The cheer maximum came as NIT MVP Graham Hatch and then other Shocker players addressed the audience. "You helped make a memory for me and my teammates that will last a lifetime," Hatch said.
Meet the Seniors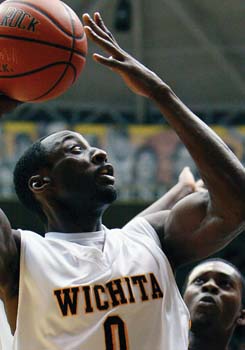 Wearing No. 0, Aaron Ellis, the 6-9 forward from Myrtle Beach, S.C., played in every game as a freshman in 2007-08, posting a career high nine rebounds in each of the final two contests of the year. In 2008-09, he averaged 3.2 points and 3.5 rebounds off the bench while playing in 33 of the Shockers' 34 games.
As a junior, he started 30 of 35 games and netted a season high 14 points and career high three blocks against Alcorn State. In this season's NIT championship game, Ellis played 22 minutes and contributed 8 points in the winning effort.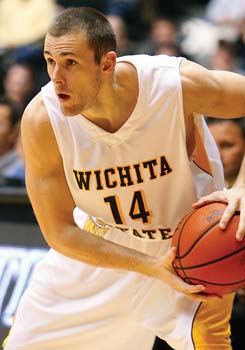 Graham Hatch, the 6-4 guard from Mesa, Ariz., played in 14 games as a freshman. As a sophomore, he was named the Cleo Littleton Most Improved Player and started in five games. He started all 35 games his junior year, 2009-10, and was recognized as All-District VII All-Academic First Team for his 3.7 GPA in chemistry.
This season, he was named NIT Most Outstanding Player. "I was just thankful to be there for my team when they needed me," he told the New York Times after the March 31 game. "I can die a happy man now."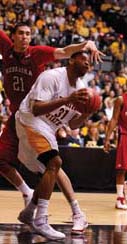 J.T. Durley, a redshirt freshman in 2007-08, the No. 31 center/forward from Pittsburg, Texas, played in all 31 games. He averaged 7 points per game and was named to the MVC All-Freshman Team. As a sophomore, he was the Cleo Littleton Most Improved Player and had
16 double-figure scoring games, leading WSU in scoring nine times.
As a junior, he started all 35 games and averaged 15.2 points in the final four regular-season games. After the NIT win, Durley was quoted in the Wichita Eagle: "I can't explain this feeling. Great memories."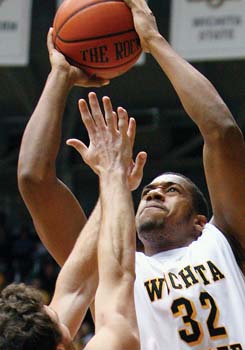 From Gastonia, N.C., Gabe Blair, the No. 32 forward was a junior-transfer who, per NCAA guidelines, sat out the 2008-09 season. He worked to add 18 pounds and strengthen his
6-foot-8 frame. As a junior in 2009-2010, he played in 32 of 35 games off the bench, posting
a career high 11 boards against USC-Upstate, but battling the last third of the season with a
quad contusion.
He was named to the 2010 Valley's All-Bench Team by a vote of the MVC's beat writers. In
the NIT win at Madison Square Garden, Blair played 14 minutes and scored 4 points.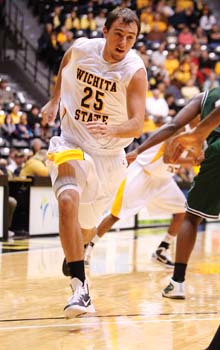 Derek Brown, the 6-5 guard from Pleasanton, Kan., played in three games during the 2006-07 season as a freshman non-scholarship player. After a two-year hiatus, he returned to the squad as a non-scholarship junior and played 11 of 35 games off the bench.
As a senior, Brown played in the final minutes of the WSU versus Washington State NIT game on March 29. "Today, our shootaround at the Garden was kind of crazy," he told Bob Lutz '84 of the Wichita Eagle. "And then when I got into the game tonight, things were pretty surreal."