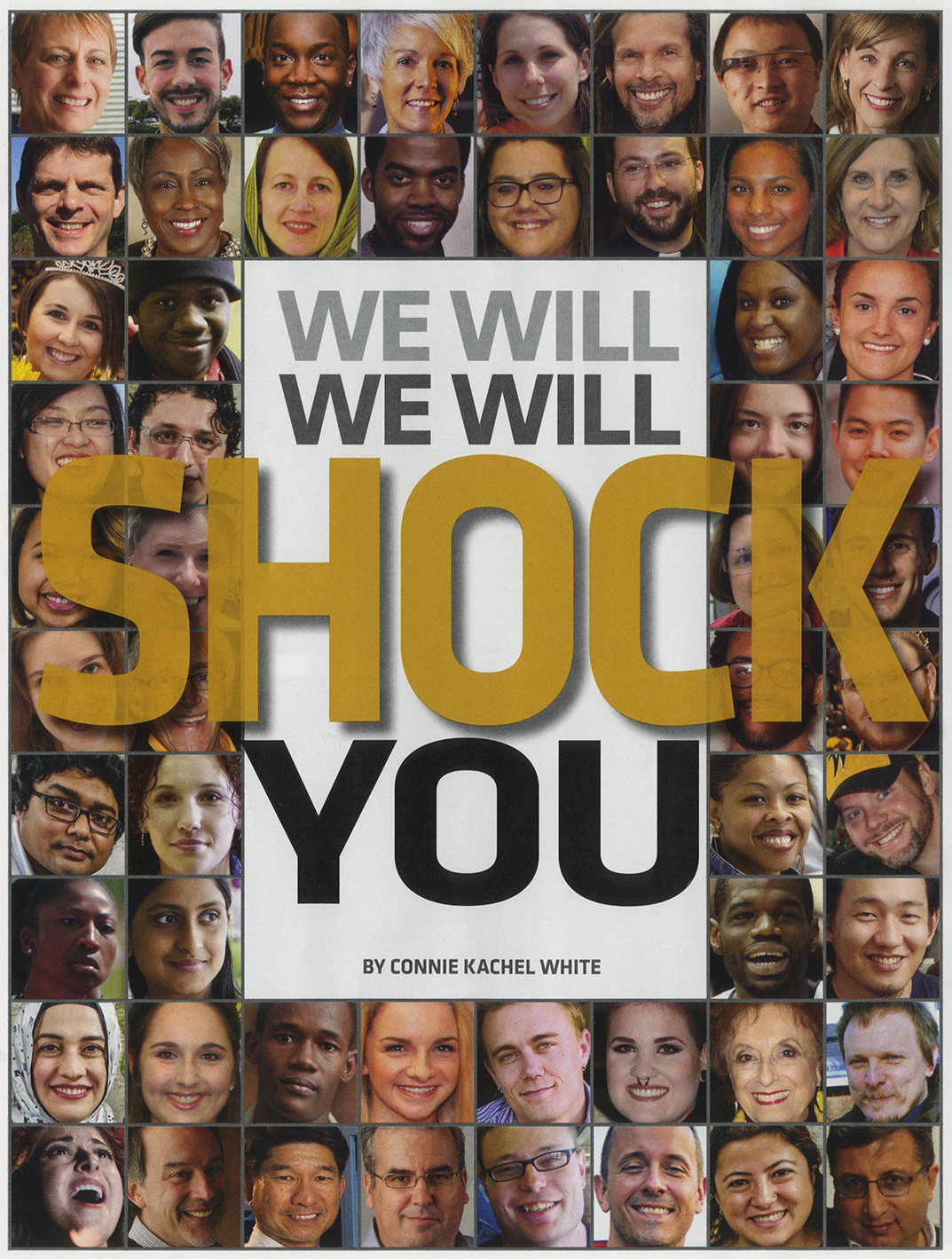 "This is the best time to invest in the future of Wichita State – to 'Shock the World,'" says WSU President John Bardo.
"Our alumni, partners and all who contribute to this campaign will help position this university as a driving force in the economic renewal of Wichita and Kansas. Everything we do as the Innovation University is meant to leave Wichita State and our region stronger than they are today, more capable of thriving in an age when higher education, business and society are being transformed by technological and political change. This strategy is crucial to our ability to succeed as a 21st century university."
The campaign, which was quietly begun in 2013, is slated to run through 2020. The WSU Foundation kicked off the public phase of the seven-year campaign on Oct. 5.
"Our alumni have always been our biggest champions," says Elizabeth King, president and CEO of the WSU Foundation. "They take tremendous pride in their alma mater, and they recognize the investment it takes to provide today's students with the same high-quality education they had as students. By contributing to the Shock the World campaign, they are giving Wichita State the resources it needs to strengthen that reputation for educational excellence, and to be responsive and relevant in the 21st century." The $250 million campaign, to which more than 13,000 donors have contributed upwards of $145 million to date, has three overarching priorities. King explains, "The Shock the World campaign will invest in three areas that represent the essence of Wichita State: our people, places and programs."
Our People
While the asset-building scope of this campaign is new for Wichita State, fundraising campaigns themselves are, of course, as old as the university and its two predecessors, the Municipal University of Wichita and Fairmount College. Back in 1914, for example, the students who put together the yearbook Parnassus included a page called "The Alumni." Here's a section of that article:
Wichita State's bold vision to become the world's example for applied learning and research – to be an Innovation University - will take some serious coin to fully realize: $250 million, in fact, which is the goal for the WSU Foundation's Shock the World campaign.
In 1917, the Sunflower student newspaper reported on an alumni reception that took place in the home of Walter Rollins, Fairmount's president. "Professor Binnwiess said to the alumni that it was to their interest to push the college forward, for when Fairmount becomes a stronger school, then their degrees will stand for that much more. And the professor was exactly right in what he said. The alumni realize the situation and are getting behind the college in a very material way, to the amount of $2,000 per year toward running expenses." Monies were raised through various channels for what was named simply the "Alumni Fund."
Today, just under half of Shock the World's $250 million goal "will be dedicated to providing new scholarships for students and increased resources for faculty, including chairs and professorships that offer our best tool for recruiting and retaining exemplary faculty," King says. "When I meet with alumni, they almost always recall memories of a favorite professor or faculty member they revered. They know the difference a remarkable educator can make in the lives of students. This is why faculty are such an important part of the 'people' portion of our campaign. They also often remember that the financial assistance provided by a scholarship made a significant difference in their lives."
Denis '77/80 and Shirley '80 Dieker are among the alumni who have stepped up their university giving with the establishment of two scholarships. "My earliest memories of WSU were radio broadcasts of Shocker basketball," says Denis, a business administration graduate whose involvements at WSU include chairing the WSU Alumni Association board from 2014-15. "My interest in WSU was increased being on campus as a high school student for a drum major camp and a program about computers and programming. My comfort with the campus and the ability to work while in school were key in choosing a college. Completing my degree wasn't easy, but Wichita State provided the opportunity and a scholarship. Engagement with student activities and the Greek community provided for leadership growth. These factors are all relevant to my life just as they are to current students."
Dieker adds, "As President Bardo innovated and enhanced the relationship with the community, Shirley and I felt compelled to establish scholarships in our names to help others with similar backgrounds to ours. It's our hope to partially pay back what we've been given by our university. With the increasing costs of college education, we encourage others to contribute to the enhancement and growth of Wichita State."
Our Places
"When we talk about places, we mean the spaces where we learn, innovate, create and even play," King explains. "We will dedicate about $101 million to equipping 25 labs in the Experiential Engineering Building, building a new center for athletic and academic services for student-athletes, renovating Koch Arena, completing the final phase of the Eck Stadium development project and building a new business school complex."
Located on the Innovation Campus, the new facility housing the W. Frank Barton School of Business – blueprinted as a 143,000-square-foot complex with a price tag of $60 million, $28 million of which will be funded with campaign contributions – will feature architectural and technological aspects geared toward boosting interaction and collaboration among students, faculty and others. For instance, there will be breakout areas to encourage teamwork among students, and faculty offices will be intermixed to encourage cooperative ventures among different academic specialties.
Craig Barton '83, son of the late Frank Barton, has donated $350,000 for the business school. "My passion for Wichita State has been strong since I was a college freshman in 1979," he says. "The business school carries my father's name. There can be no one who loved and respected his dad as much as I do mine. Everything I can do to benefit his legacy, I will do. And my little seven-year-old great-niece is Zaren Barton Thompson. I want her to grow into a young woman knowing that her great-grandfather, whom she never knew, is an integral part of the history of WSU."
Other business school donors include INTRUST Bank, with a gift of $500,000, and Allen, Gibbs & Houlik LC, which also contributed $500,000. Led by Paul Allen '70, Don Glenn '75 and Gary Gibbs '73, Wichita-based AGH is one of the largest independent Certified Public Accounting and advisory firms in the central United States – and one of the largest employers of WSU graduates.
Allen, the firm's CEO, is a past president of the WSUAA board and current chair of the WSU Foundation board. The reason for AGH's gift, he says, is this: "Talent is the critical resource for the organizations who will power our community's continued success. To continue building our talent pipeline, we all have a responsibility to invest in our citizens' educational attainment. That's one of the key factors which will dictate our community's future and lift our region's competitiveness. The new Barton School of Business is a keystone of the campaign. It leverages new ways of learning and working together to create a long-term impact that will change lives and family futures."
Like Allen, Pamela Clancy Ammar '80, a retired attorney who has a long list of WSU volunteer activities to her credit, including chairing the WSUAA's Alumni Awards program for a number of years, is a campaign donor in support of innovative ways of learning and working together – even playing together: Ammar and her husband Alex, a surgeon, have contributed $350,000 to the Charles Koch Arena renovation. "I had a wonderful experience at WSU as an undergraduate and met many people who continue to be dear friends," Pamela says. "Wichita State influenced who I am today. I am grateful for the excellent education in and outside the classroom. My husband and I contributed to the campaign because we want to see WSU continue to thrive and remain a special part of Wichita – and beyond!"
The Ammars' gift stands among the latest in a long line of generous university friend and alumni giving. In 1946, well after Fairmount had made the transition to the municipally supported University of Wichita, alumni association members were engaged in one of their most ambitious undertakings: helping raise money to construct a football stadium. "As you know," related the association's newsletter, "the Alumni Association is endeavoring to raise $60,000 as its share in building Veterans Field. That goal can be reached only if each one of us gives his share – $40."
Our Programs
"Our investment in programs covers experiences that make Wichita State so distinctive," King says. "We've already received a gift of $5 million to strengthen our Honors College and support Ablah Library. Additional gifts will support excellence outside the classroom, such as applied learning opportunities, cultural enrichment and activities that emphasize innovation and entrepreneurship." With a goal of $34.3 million, the range of student-focused programs to be supported is broad: everything from fine arts performances and art exhibitions, to field study opportunities for students in geology, biology and anthropology.
"Wichita State is at a pivotal moment in a history built on defying expectations and transcending boundaries," King says. We are an essential driver of economic development in this region, and our emphasis on innovation, discovery and creativity will make that role even more important. Achieving this vision, and preparing today's students for tomorrow's challenges, requires an enormous investment of resources. The Shock the World campaign is that investment."
The late Geraldine Hammond '31, a former WSU English professor, once wrote: "Institutions do not actually exist in themselves but are only abstractions of whatever the people in them at any given moment do and are."
At this given moment in our collective Shocker history, we are revving up to Shock the World.