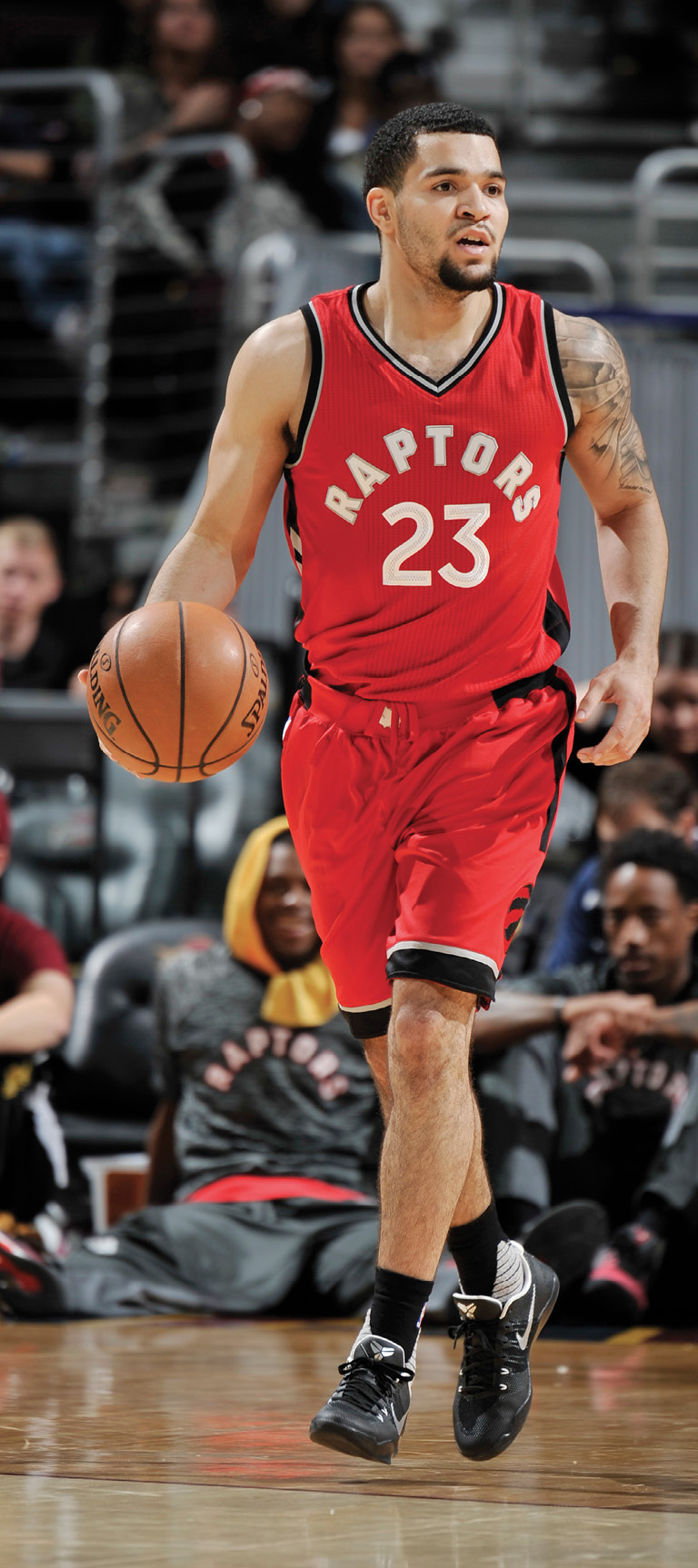 We're not quite used to it yet: seeing Fred VanVleet and Ron Baker on the basketball court in anything but Shocker yellow and black. But, defying the odds as they're known to do, there they are in National Basketball Association team colors, VanVleet in Toronto Raptor red and black, and Baker in NY Knickerbocker orange and blue.
One of the best stories about former Wichita State All-American Xavier McDaniel goes like this: On the very first day of basketball practice in 1981, when he was a promising yet unproven freshman forward, McDaniel walked straight up to juniors Antoine Carr and Cliff Levingston, the star "Bookends" who were leading a resurgence of Shocker basketball.
"One of you guys," McDaniel said, "is going to have to sit down."
The story has been retold so many times that it's difficult to separate fact from fiction, but this is certain: McDaniel possessed so much swagger that it's something he definitely would have said.
Playing with uncommon ferociousness, the X Man won Missouri Valley Conference Player of the Year twice and went on to a successful NBA career.
The only other Shocker to win Player of
the Year honors twice is Fred VanVleet,
an All-American point guard who may
have matched McDaniel's intensity on the court and also made a memorable first impression when he arrived at Wichita State as a freshman.
Evan Wessel, then a redshirt sophomore, recalls that VanVleet was anything but overwhelmed. "Fred wasn't intimidated at all," Wessel says. "That's not Fred, to be intimidated."
Like McDaniel, VanVleet went on to become a dominating Valley player, and, in typical workmanlike fashion, he's finding success in the NBA.
After going undrafted, he outlasted several other players in a grueling training camp and preseason battle for the Toronto Raptors' 15th and final roster spot.
"Obviously, Coach Marshall is a pretty tough coach," VanVleet tells The Shocker in November after a Raptors' practice. "He definitely gets you ready to be coached hard and demands that you put in the effort and grind every day trying to be better. That puts you ahead in terms of being ready to reach the highest level and perform.
"It's the best feeling in the world, to grind away your whole life and then get to the point where your dream comes true. But I have to stay focused. This is just the beginning."
VanVleet found out he had secured a spot with the Raptors in a meeting with coach Dwane Casey and general manager Jeff Weltman after the team's final preseason game on Oct. 22. In typical no-frills VanVleet fashion, he texted family members, but he decided not to call his mom right away – no international plan on his cell phone.
Casey's description of VanVleet will not surprise Shocker fans.
"I thought Fred kind of stuck out with his defense, his tenacity, his ability to score as a third point guard," Casey told the Toronto Star. "I thought he earned the spot. It wasn't given to him."
As expected, playing time has been limited for VanVleet, who started the season as a third point guard for the Raptors, one of the NBA's top teams. However, when Toronto went on a six-game winning streak to improve to 14-7, VanVleet earned minutes in four straight outings.
In the Raptors' 113-80 victory over the Lakers on Dec. 2, VanVleet scored his first professional basket. It came on a move Shocker fans saw countless times as VanVleet used a crossover dribble to beat a switching big man, drove to the hoop and finished high off the glass with his right hand. The Lakers' Tarik Black was simply helpless, and he shook his head in "a little help here" style after his block attempt came up empty.
"I can still get to the rim whenever I want to, it's just a matter of finishing," VanVleet says. "Obviously, the guys are a little bigger so you have to adjust your shot a little bit. But that hasn't changed – I can still get to the rim."
Undoubtedly, Shocker fans fell in love with VanVleet because he led WSU to the Final Four, to 35-0, to a victory over the Kansas Jayhawks. But Midwesterners also appreciated and marveled at his well-known personal story – the violent death of his father, the tales of his hometown of Rockford, Ill., and his eventual acceptance of a demanding step-father.
Thus, VanVleet sees any basketball success he achieves as a victory for Rockford, which statistics show is one of the most dangerous cities in the country. To VanVleet's delight and for nominal pay, the Rockford Area Convention and Visitors Bureau named VanVleet its first tourism ambassador, making him the face of its marketing campaign.
In the most effective advertising spot, there's a simple picture of VanVleet in a spotlight, dribbling a basketball.
"It's huge – you can't put it into words – to have an effect on the community, to show young athletes and young kids in general that you can have a future and you can have success if you make the right choices.
"Anybody who knows me knows that nothing has come easy. Everything I have I've worked for with blood, sweat
and tears."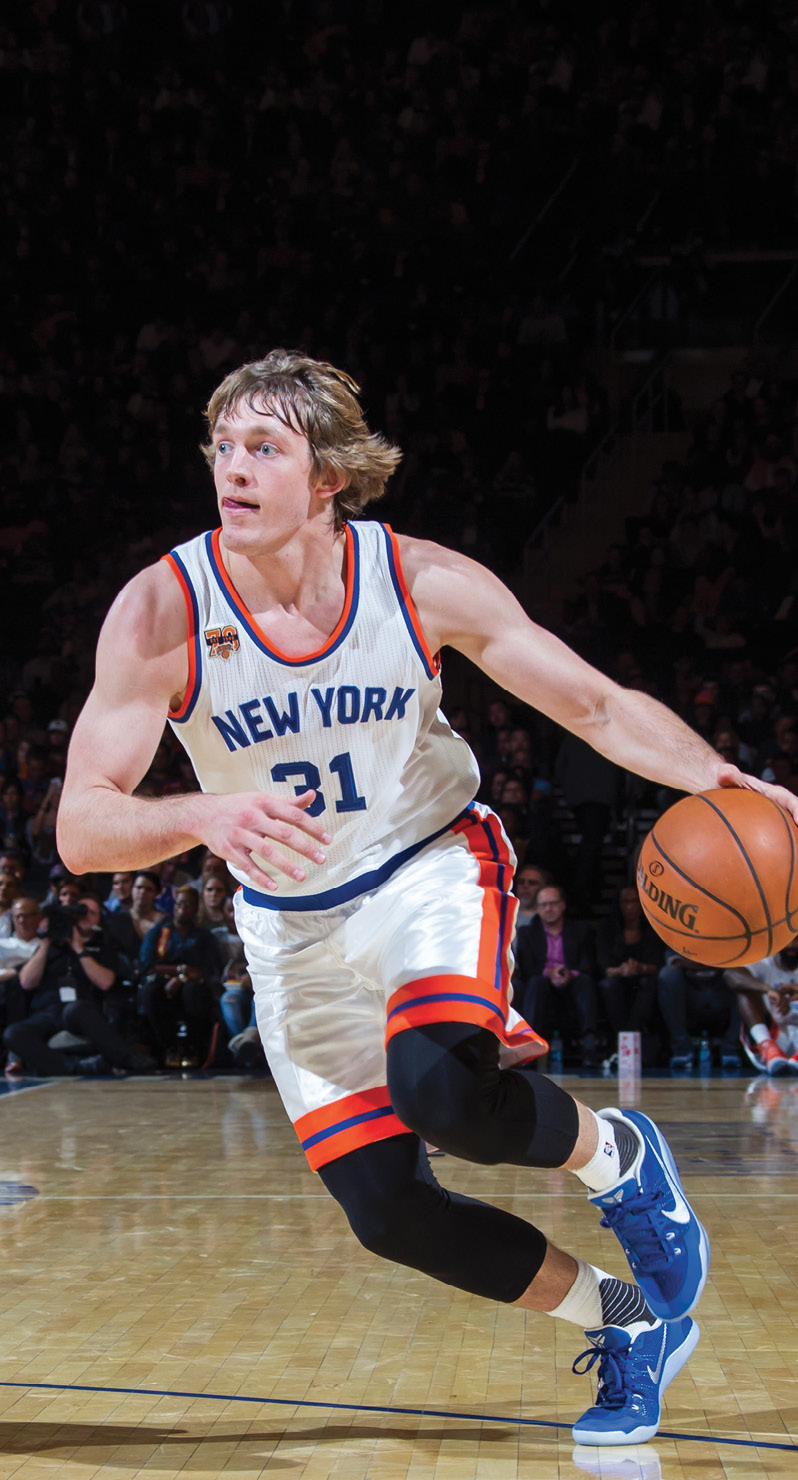 Too Big to Dream Small
Ron Baker's story – small-town boy is overlooked by the big-time schools, walks on at Wichita State and becomes a star on the national stage – always resonated with Wichita State fans of all ages. One of the most popular Shockers ever, Baker even wrote a semi-autobiographical children's book about a little boy who follows his dreams called Too Big to Dream Small.
The book was released in early August, and it's safe to say that Baker's experiences since then have already provided material for a sequel – the tale of a Kansas kid from Scott City (population 3,800) blessed with boy-band looks, perfect hair and much game trying to succeed in the Big Apple (population 8.5 million).
Wessel, another popular Shocker, roomed with Baker during their days as Shockers and the two text frequently.
"I think Ron is adjusting quite well," says Wessel, who is working for Stoutheart Financial Group in Wichita. "He's living just outside the actual city of New York and learning all the ins and outs of getting around. I think he is adjusting to the big city life just fine. Obviously, they do a lot of traveling with all their games, but (he) seems to be enjoying living in New York. I know he enjoys all the great pizza places up there."
Baker earned his spot on the Knicks' roster the hard way. After going undrafted, he signed with New York as a free agent and headed to summer league to prove himself.
"Some guys don't get this opportunity; I have to make the most of it," he told nyknicks.com. "I think I need to be a more efficient player as far as my shooting. I feel like my defensive capabilities are coming along pretty well. I've just got to get my confidence up going into these games and make some shots."
After a slow start, Baker impressed the Knicks by averaging 14 points, 5.6 rebounds and 2.4 assists per game in the Summer League. (Astute fans will recognize how similar those numbers are to his senior season: 14, 4.8, 3.2.) In five preseason games, Baker was solid (7, 2.4, 2.0) and shot better than 50 percent on 3-pointers – play that earned him the Knicks' 15th and final roster spot on Oct. 21.
As expected, Baker turned his full attention to proving himself as a Knick. When asked to talk with The Shocker, for example, he told the Knicks' public relations director that he simply couldn't do any interviews, he had to focus on basketball. Baker has played sparingly for the Knicks, who won four straight to improve to 12-9 as of Dec. 7. Baker saw action in five of those 21 games (including a season-high 16 minutes in a Nov. 2 loss to Houston) and averaged 2.2 points while shooting 31 percent from the field.
Even so, Baker has flashed enough potential – he dropped in five 3-pointers and finished with 26 points, six rebounds and three steals in 26 minutes in one Developmental League game – to turn heads. One popular Knicks blog, for instance, encouraged the team to play Baker more in a lengthy post titled "Don't Let Ron Baker Be The One Who Got Away."
Baker fits "the NBA archetype of a potentially undervalued player," dailyknicks.com said. "As his D-League debut showcased, Baker does a bit of everything on the court. He spaces the floor with his shooting ability, is a surprisingly good on-ball defender, and is a capable and willing passer, which is important for a Knicks team whose offense can get stagnant. In his short time with the Knicks, he's also made a name for himself with his intangibles. He works hard, and has a veteran-like feel for the game, which quickly made him a fan favorite at Madison Square Garden."
Indeed, Baker went viral for one star-powered moment at The Garden. In the fourth quarter of a blowout victory over the Mavericks, Baker was, of course, still hustling: he deflected a pass, saved the basketball with one hand, and his momentum carried him into the star-studded first row of the crowd.
The ball ended up in the hands of Mindaugas Kuzminskas, who slammed in a dunk for the Knicks. Baker ended up bumping into front-row seated Ben Stiller. The two exchanged one of those bro handshakes, and Baker walked cooly back onto the court.
Our Shocker Backcourt Pros
Paul Suellentrop, Shocker beat writer for the Wichita Eagle, could tell early that there was something special about Baker and VanVleet. Although they were freshmen, he said the duo stood out as leaders on the 2013 team.
"The youngsters on that team, and you can throw Tekele Cotton and Evan Wessel in there too, were the most reliable guys on that team," Suellentrop says. "I'd be there working or walking around, and those guys would always be on time or early. I'm not saying the older guys were unreliable, but it might be two minutes before film when Malcolm Armstead would roll in, and Ron and Fred would be there waiting."
That team went on the memorable Final Four run, which included a shocker over No. 1-seeded Gonzaga – a game in which Baker and VanVleet both contributed huge three-pointers.
Shocker fans were smitten.
"How could they not be?" Suellentrop says. "Those guys checked all the boxes. They were hard workers, good with the fans, went about their business the right way. They won. You can't ask for much more than that."
Nope. Not of our Shockers – not even of a rookie Raptor or Knick.
---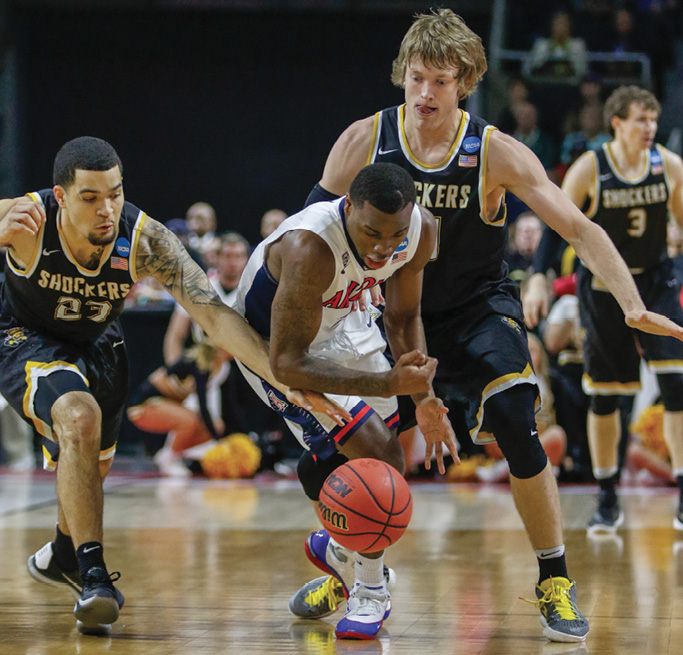 VanVleet & Baker: Wichita State's Bookend Guards
Ron Baker '15 (center in the photo here) arrived on Wichita State's campus from Scott City, Kan., in 2011. He shared a room in Fairmount Towers with Evan Wessel '15 (in the background at far right wearing No. 3). Wessel played in 13 games as a Shocker freshman. Baker redshirted that year, and then played host to Fred VanVleet '16 (at left, reaching for the ball) during his recruiting visit to WSU.
VanVleet, from Rockford, Ill., joined the Shockers in 2012. By the time VanVleet and Baker were seniors on the Shocker squad, they had played in four NCAA Tournaments, including a tournament run to the Final Four in 2013, and their talents had contributed to Wichita State's winning three MVC titles. They had become, if not the most beloved, certainly the highest profile duo of WSU All-American guards – ever. As of March 19, 2016, the online "Ron and Fred Club" had a million members. They were, VanVleet and Baker, already inseparable in Shocker basketball lore – like the Bookend Forwards of an earlier era when Cliff Levingston and Antoine Carr teamed up to lead the Shockers to national prominence in the early 1980s.
This is where VanVleet and Baker rank in Wichita State basketball program history. In WSU career points scored Baker comes in at No. 8 with 1,636 points on the list that's led by Cleo Littleton (1951-55) with 2,164; VanVleet is No. 15, with 1,439 points. In field goals made, Xavier McDaniel (1981-85) netted 893, while Baker takes the No. 11 spot with 522 and VanVleet comes in at the No. 25 position with 463. With three pointers made, Baker commands the No. 2 ranking with 242 behind 248 by Randy Burns (2001-05), and VanVleet is in the No. 9 position with 365. In career assists, the duo of VanVleet and Baker excels: VanVleet holds the No. 1 spot with 637. Baker is No. 9 in the ranking with 345. And in steals, get outta here — VanVleet nets the top position with 225, and Baker captures the No. 4 ranking with 163.
But it wasn't simply the basketball proficiency of this Shocker duo that landed them smack dab in the middle of Shocker hoops history. It was their brotherhood. "Our friendship," VanVleet told a Wichita Eagle reporter early in 2016, "is damn-near the same thing as me and my brother."
— WSU Sports Information, Connie Kachel White