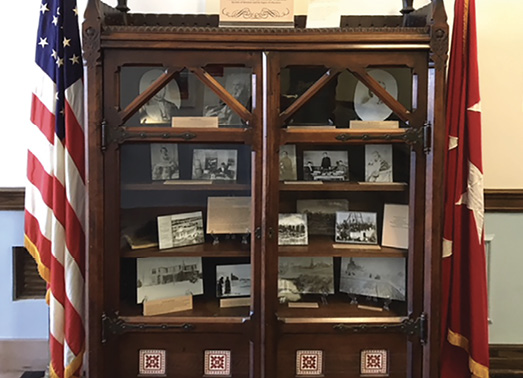 THE BEAUTIFUL AND IMPOSING ANTIQUE BOOKCASE built for the first president of Fairmount College sits by the top of the stairs, near my office in Morrison Hall. It's a daily reminder that we stand on the shoulders of President Nathan Morrison (1895-1907) and all those, including loyal and active alumni, who have helped shape the university we love.
I'm fortunate to have met the presidents who preceded me, going back to 1949 – Harry Corbin '40 (1949-1963), Emory Lindquist (1963-1968), Clark Ahlberg (1968-1983), Warren Armstrong (1983-1993), Eugene Hughes (1993-1998) and Donald Beggs (1999-2012). I sit at President Emory Lindquist's desk, to take inspiration from his leadership in broadening the local impact of the university while establishing it in the state system.
In his 1963 convocation address, Lindquist said: "Our university has the rich sense of belonging to the past and the exciting feeling that the future is heavy with the promise of better things."
That's the feeling I have as we enter 2018. You've already heard a lot about Innovation Campus and the "Shock the World" capital campaign, so, briefly, here are five other high-impact initiatives to watch in the new year:
• Our formal affiliation with Wichita Area Technical College will begin July 1 under its new name, WSU Campus of Applied Sciences and Technology. WSU faculty and staff have been working with President Sheree Utash and her team on joint programs and facilities to serve students and the workforce needs of Kansas industries.
• We're strongly focused on student recruitment and retention. Part of that is improving the quality of student life through means such as improving housing options and recreation and wellness facilities. We're also emphasizing high-potential growth segments, such as first-generation students and those from the I-35 corridor in Texas, Oklahoma and Missouri. Based on application trends, we expect the fall 2018 freshman class to be our largest ever, for the third year in a row.
• The university has been introducing academic programs and approaches to fit the needs of students and industries. Examples include expanded online degrees and badges, plus new degrees in education (teacher apprentice program), engineering (engineering technology with specialized tracks in civil engineering, cybersecurity, management and mechatronics); media arts (with specialized tracks in animation, audio production, filmmaking and game design); as well as a Master of Arts in Innovation Design. Upcoming: global supply chain management and homeland security. Our top priority for new state funding is a program in material and chemicals engineering.
• Funded research and related applied learning opportunities are expanding. Our externally funded research hit an all-time high of $90 million in 2017. One intriguing new contract is with the U.S. Army Aviation and Missile Research Development and Engineering Center to support a two-year, $1.9 million effort focused on fostering new research and development collaborations to advance military technology and move it more quickly into the hands of Army users.
• As part of our effort to attract, retain and develop the best students, faculty and staff, we created a new office of Diversity and Community Engagement, led by Vice President Marche Fleming-Randle. I also agreed to become chair of the Urban League, to help with workforce development and build bridges to residents of neighborhoods near the university.
What other high-impact initiatives do you think we should be working on? Please write to me: president@wichita.edu.