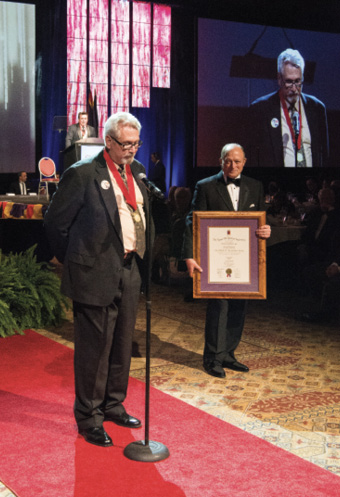 Denis Dieker's involvement with the Kansas Eta Chapter of Sigma Phi Epsilon was an important part of his college experience more than 40 years ago at Wichita State. So much so that he made it a priority in his adult life to facilitate a positive experience for other fraternity members and alumni through volunteerism.
Dieker '77/80 was honored for those efforts by his national fraternity in August, receiving the Order of the Golden Heart at SigEp's biennial Grand Chapter Conclave in Orlando, Fla. The award is SigEp's highest honor, given to members who have served the fraternity with distinction for at least 30 years. Dieker received a medallion and scroll, joining a group of 160 fraternity honorees from across the country since the award was first presented in 1959.
"I just felt the fraternity really helped me out significantly as an undergraduate," says Dieker, a chief financial officer at Midwest Drywall in Wichita. "I probably would not have graduated from WSU had it not been for my involvement with SigEp. I saw volunteering as a way to repay the debt and help others out."
As a WSU student, he served as chapter president and held other SigEp offices. After graduating, he became the chapter's alumni and volunteer corporation treasurer and a contributor to the alumni newsletter. He later served as one of SigEp's district governors and AVC president, focusing on volunteer recruitment. He also engineered fundraising efforts for a new chapter home and managed the AVC's $2.4 million capital campaign.
Dieker is the second Wichita State graduate to receive the Order of the Golden Heart, joining Robert Kerr '75.
---
Greek Life at WSU
The Greek community at Wichita State is full of brotherhood and sisterhood, tradition and pride. From participating in Hippodrome and the Shock the Yard Step Show (photo above), to house events and intramurals, Greeks know how to show school spirit. They always have! The Shocker's Greek page celebrates the university's Greek-letter organizations, their members and alumni members. For more info about Greek life at WSU, visit wichita.edu/GreekLife.
Greek Awards
5 p.m., Monday, Feb. 26 – WSU Annual Greek Awards Reception and Ceremony, Hughes Metroplex. The ceremony, which begins at 6:30 p.m., will celebrate the accomplishments of the fraternity and sorority community from 2017. Awards include the Craig Barton Outstanding Sophomore Award, the Dr. Sam Cohlmia Greek Man and Woman of the Year, the Panhellenic Outstanding Fraternity Award, and the Sigma Phi Epsilon Outstanding Sorority Award.
Spring Retreats
March 2-4 and 9-10 – Held every spring at Camp Hiawatha, the HiStory Fraternity Retreat and Kallistei Sorority Wellness Retreat provide opportunities for two members from each chapter to come together to discuss topics that have an impact on their lives.
HiStory, slated for the first weekend in March, focuses on issues surrounding men and masculinity, fraternity sterotypes, men's health and barriers that men have to overcome.
Kallistei, scheduled for the following weekend, is an overnight retreat that spotlights social, mental and physical wellness, and how it relates to being a sorority woman in today's society.
Shock the Yard
7 p.m., Saturday, April 28 – The 9th Annual Multicultural Greek Council Shock the Yard Step Show is MGC's feature event and a campus tradition as chapters and teams step to determine who is the best in the Midwest. This year's show will be held at Charles Koch Arena.