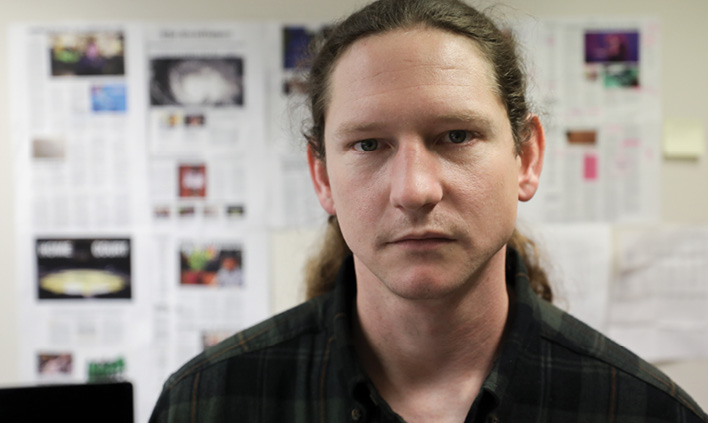 Chance Swaim '14 stopped by the Wichita Eagle one summer afternoon in 2015 in search of a job. The Wichita State alum had a bachelor's degree in English earned while working full time in construction, insulating buildings – including a few on campus. He planned to join WSU's graduate creative writing program that fall, but also wanted to make a living as a writer, and figured a newspaper was one place to do that.
Then-deputy editor Tom Shine gave him a tour of the newsroom, suggested he get some experience, and introduced him to Shelby Reynolds '16, an Eagle intern and incoming editor of the Sunflower, the WSU student newspaper.
Two years later, Swaim followed in Reynolds' footsteps and assumed the editorship of the Sunflower, despite the fact he studied fiction and had no journalism experience when he began. In fact, he'd never taken a communications class. And yet this past spring, he was named the 2017 Kansas College Journalist of the Year. This fall, he's helming the paper, holding down the MFA program's fiction fellowship, finishing the collection of short stories that will form his thesis, and applying for investigative reporter positions at newspapers across the country.
Swaim's path to journalism started when he was a kid, with his curiosity and questions about the world. He remembers going fishing with his father and brothers, and asking nonstop questions, things like: "What happens if we catch a thousand-pound fish?"
In high school, his jaw was wired shut for six weeks after he broke it during a fistfight over a disputed call in a pick-up basketball game. "That's when I really started writing," he says, "because I couldn't talk." He wrote stories, poetry, journal-like personal essays.
In 2013, his friend Kolby Hopkins, "one of the nicest, kindest people," was shot and killed after the bars closed in Old Town, right across the street from the old Eagle building. The case remains unsolved, a source of frustration for Swaim, both then and now: so many questions still unanswered.
As a WSU underclassman, Swaim bounced around a handful of different programs and potential career options. By the time he landed in Bryan Flores' English 102 class, he'd settled on biology with an eye on a career as a pharmacist. As the class reached its end, Swaim realized he would miss it. So he took another literature class, and then another, and switched his major for the final time.
He took creative writing classes toward the end of his degree program and got hooked. Margaret Dawe, associate instructor of creative writing, remembers meeting him for the first time when he stopped by her office "with a big construction helmet under his arm" to ask permission to take her advanced undergraduate fiction workshop. "He had a Jimmy Stewart, 'aw, shucks' manner about him," Dawe says.
Swaim credits Dawe and other creative writing faculty for his development as a writer. When he started working as a beginning reporter at the Sunflower, he already wrote well, says the newspaper's faculty advisor, Amy DeVault. "He's an exceptional writer, and we really have to credit that to the faculty in the English department," she says. "It's not hard to make a journalist out of a good writer, a good thinker, and a good researcher. Chance is all three of those things."
Most inexperienced reporters cut their teeth on stories about campus events and student profiles, but Swaim's first article was about a homicide. "I wanted to get an insider's view of how the news worked," he says. An open-records workshop taught by then-Eagle reporter Kelsey Ryan inspired him to start requesting documents. "That's where the real stories are: in these documents that no one would usually see," he says.
His work with open records caught the attention of the Kansas Collegiate Media judging panel. "His work shows he is as comfortable unpacking documents and records for readers as he is harnessing the emotion of his subjects," reads one judge's comment.
While he plans to continue writing fiction and poetry, Swaim plans to pursue a career in journalism. "It started as a way to make money as a writer," he says, "but it turned into a way to ask questions and get answers – a way to search for the truth."
He's hooked, like a thousand-pound fish.