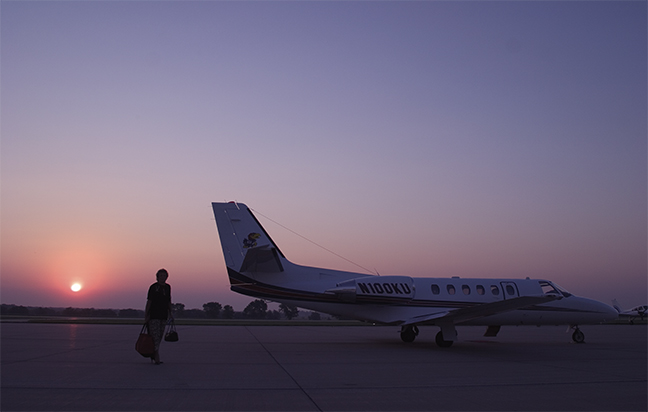 Daybreak is still 15 minutes distant when "AIDS Doctor" Donna Sweet '70/72, delayed in her car by a passing train, reaches for her cell phone to call one of her University of Kansas School of Medicine-Wichita staff members awaiting her arrival at Jabara Airport.
On the tarmac, a KU jet sits ready, its pilot's flight plan listing Salina as its first destination, followed by Garden City and, that evening, a return to Wichita.
Every four to six weeks, Sweet and her team make the rounds of AIDS/HIV outreach clinics scattered across Kansas. Today, they are booked to see some 60 HIV+ patients. For more than two decades, Sweet has kept up a feverish pace on the front lines in the war against AIDS. Her workdays often stretch from sunrise to well beyond sunset.
Now 55, she might be expected to begin indulging her love of travel and golf, but she has no intention of slowing down or redirecting her focus. Patients are waiting — in ever growing numbers. The jet lifts off at 7:24 a.m.; five minutes later her pager goes off for the first time today.
Sweet, one of WSU's former Gore Scholars and a 1979 graduate of the KU School of Medicine, was serving her residency in internal medicine in Wichita when she first heard about the mysterious disease that had begun afflicting gay men in Sweden and the United States and heterosexual men in Haiti and Tanzania.
The deadly disease, Acquired Immune Deficiency Syndrome, was named in 1982, the year she was board certified in internal medicine. As AIDS deaths mounted (the number of known U.S. deaths in 1982 was 853; by 1985, the number had climbed to 5,636), public awareness of the virulent new killer turned to panic.
"I spent my first decade in AIDS care trying to dispel the hysteria — to get patients taken care of humanely and rationally," Sweet says. She adds, her voice heavy with both frustration and determination, "The fear and hysteria have been replaced by complacency, a complacency that is hurting us, our community, our state and our world."
Although AIDS, which is triggered by the insidious Human Immunodeficiency Virus, is, as yet, incurable, its symptoms and complications variably respond to a variety of treatments. "In the United States, our mortality from AIDS has dropped 80 percent due to treatment availability," Sweet reports. "We are definitely helping people with HIV and AIDS lead longer, better lives."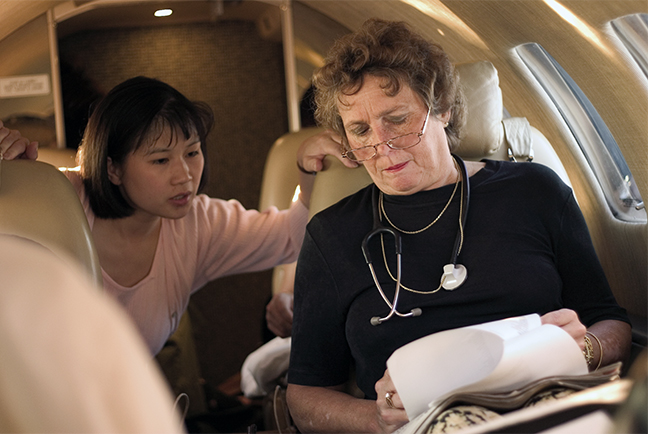 At 7:47 a.m., as the jet begins its descent into Salina, Sweet packs the stack of Sweet Emergency Fund paperwork she's been attending to into a big, red canvas bag. Established in 1990 through KUSM-W, where Sweet is a professor of internal medicine, the fund helps some 200 HIV+ individuals each month pay for medications and services not covered by federal Ryan White programs and private insurance.
Last year, the fund paid out $50,494 for medications and $5,707 toward dental and other medical services. Notably, while Sweet's work on behalf of HIV/AIDS patients may be better known, they make up only about 25-30 percent of her overall caseload.
Fund administrator, physician, professor: Sweet also holds national office as chair-elect of the prestigious American College of Physicians Board of Regents, serves as director of internal medicine education at Wichita's Via Christi Regional Medical Center-St. Francis as well as director and principal investigator of the Kansas AIDS Education and Training Center and is a respected researcher, lecturer and — the reason she and her five-member team have just landed in Salina — outreach clinic worker.
She explains, "In addition to caring for HIV/AIDS patients at my clinic at KUSM-W Internal Medicine Midtown, we have outreach clinics in Pittsburg, Salina and Garden City. Each clinic is unique. We'll see more heterosexuals in Salina, for example, than we will in Wichita — there'll be more Hispanics in Garden City. The care we provide all of our patients is assisted by Ryan White Title II case managers who are based in different regions of the state." In 1990, Sweet had 275 HIV/AIDS patients. "This year," she says, "we have 820."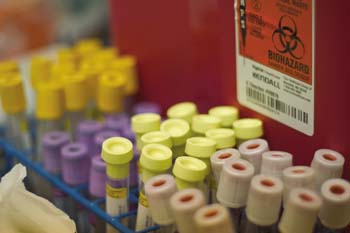 Stanching the rate of HIV infection is a key objective in the global fight against the virus. With highly active antiretroviral therapy becoming widespread (at least in developed countries), the number of deaths among persons with AIDS is falling, but a product of this success is that AIDS prevalence is on the rise.
According to the Joint United Nations Programme on HIV/AIDS, an estimated 5 million people worldwide acquired HIV in 2003, the greatest number in any one year since the beginning of the epidemic. Sweet relates that there are about 40,000 newly acquired infections each year in the United States.
Because HIV is transmitted predominantly through risky behaviors, especially unsafe sex and sharing contaminated needles, it is preventable.
That is why Sweet borders on the obsessive when it comes to HIV/AIDS education. And she has little patience with moralistically narrow approaches to public education about the disease, whether the counterproductive attitudes and policies are found in the United States, South Africa, India or China.
Of particular annoyance to her is the practice of limiting funding for AIDS education programs to ones that counsel abstinence, exclusively. "Don't get me wrong," she says. "I'm all for abstinence. It's the kids who aren't."
Her stethoscope draped around her neck, Sweet grabs her purse and paperwork-stuffed bag and joins Kathryn "KT" Thiessen '91/99, nurse practitioner; Ruth Freund '83, medical technician; Beth Tackitt, case manager; Ely Brumfield, internal medicine resident; and Ha Ta, internal medicine physician and KUSM-W assistant professor, outside the jet.
They walk quickly — Sweet in her customary four-inch heels — to two waiting cars driven by the regional case manager and her aide. It's 8:20 a.m. when they pull up at the clinic, which occupies an unused section of the Salina Regional Health Center.
Thirty patients are scheduled to be seen this morning, and Sweet's team begins immediately to set up, organizing charts and examination rooms as quickly as they can. Iced tea, coffee, cookies and fruit are arranged on a table along one side of the hallway. On the other side another table displays a selection of magazines and pamphlets: HIV Positive!, Cocktail Time, Your Wishes Made Known: The Living Will and Medical Durable Power of Attorney are three of the titles.
Each arriving patient is greeted by name and if not a full-blown hug then a pat on the shoulder, a squeeze of the hand or some other form of physical contact. There isn't a proper waiting room, so before being called into private rooms for check-ups, patients and their family and friends hang out in the hall — talking, laughing, catching up with one another. A few tears fall.
"Hello, Doctor," says a 30-something, healthy-looking black man. "How are you, Bill?" Sweet responds. "About the same." As the morning ages, more patients — black, brown, white, female, male, gay, straight, old, young, couples, singles, families, a grandmother, a beautiful, middle-aged Asian woman infected years ago by her husband, a young mom and her shy 6-year-old son — come and go.
Out of the whirl of activity, a procedure emerges: Patients are registered and have their vitals taken; one of the doctors then sees them; and before they leave, their blood is drawn by Freund, a lab supervisor and med tech who has worked with Sweet for 15 years.
Treating HIV/AIDS is a complicated undertaking. The virus, which is found in varying concentrations in blood, semen, vaginal fluid and breast milk, lurks in the body for years before festering into AIDS. HIV attacks CD4+ T cells, a type of white blood cells that normally coordinate the immune system's response to infection.
By using these cells to replicate itself, HIV spreads throughout the body and depletes the very cells needed to fight off infection. Complicating the picture is the fact that HIV is prone to mutation, so it can become resistant to therapy. Patients today are given a complex regimen of antiretroviral drugs that attack HIV at various stages in its life cycle.
HIV+ individuals whose CD4 counts have fallen below the threshold of 200 have AIDS. People with AIDS often suffer lung, brain, eye and other organ disease along with debilitating weight loss, diarrhea and anemia, and they fall prey to a range of opportunistic diseases, including a type of cancer called Kaposi's Sarcoma. To keep their patients as strong as possible for as long as possible, Sweet and her team watch closely for signs of any disease.
"KT, will you do a Pap on Rochelle?" Sweet directs. "Just routine." Thiessen has worked with Sweet in patient care for six years, and prior to completing her ARNP at WSU, she assisted the doctor in a number of research efforts. This morning, she's faced with a simple challenge: finding a flashlight.
The clinic's examination rooms are not fully equipped, and there's not enough light to safely perform the test. As a search is conducted, Sweet explains, "This place isn't equipped to do everything we need, but we do it anyway. It's like wilderness medicine."
Sweet later catches up with "Rochelle," a young white woman with a ready smile. In a voice not to be questioned, the doctor gently says, "We're going to get those CD4 cells back since you're now taking medicine."
Between patients, Sweet checks charts and returns phone calls and pages. At 10:35 a.m., she hangs up the phone, sets down a chart, surveys the clinic scene — they are four patients behind — and reports, "It gets kind of chaotic at this point. We have new patients."
She points to the closed door of a nearby examination room, "In there is a new sick child, 6 years old." Infected by his mother during childbirth, the little boy's case is particularly poignant because, Sweet says, with proper treatment an HIV+ pregnant woman need not pass on the virus to her newborn, either during pregnancy or delivery.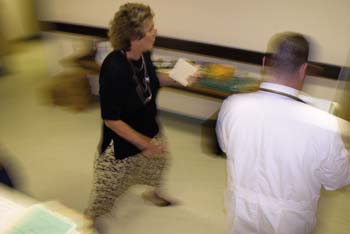 At 11:15 a.m., case manager Tackitt finishes packing up charts and other clinic supplies, stowing them in bags emblazoned with the name PROCRIT, a drug often prescribed to treat anemia.
She has worked with Sweet for a year and is bilingual — a skill that will be called upon often at Garden City's clinic. As the last patients take their leave, someone yells out a goodbye. "Be safe!" echoes down the hall, as Tackitt adds, "We'll be back October 22, same time, same place."
Left-over bagels serve as brunch for Sweet's team now back aboard the jet, winging southwestward. After scanning The Wichita Eagle, Sweet lies her head against her seat's headrest and closes her eyes for a moment. It's 12:25 p.m.
By 1, they're on the ground in Garden City, met at the airport by the regional case manager who's driving a rumbling van.
This AIDS/HIV clinic is held in a clinic run by the United Methodist Mexican American Ministries. Seven people are in the waiting room when the team arrives; 31 patients are slated to be seen, some driving in from Hugoton, others from Liberal. Two new clinic arrivals — obviously brothers — stop by the check-in desk, above which hangs a God Bless America sign. One asks, "Is Dr. Sweet in?" After being assured she is, they take seats and begin to talk quietly.
Sweet, who earned both bachelor's and master's degrees in biology from WSU, began her career as a scientist, but decided patient care looked more fulfilling. To date, her honors include receiving the Award of Courage from the American Foundation for AIDS Research on World AIDS Day 1992, the 1994 WSU Alumni Recognition Award and the 2004 A. Price Woodard Award presented by the National Conference for Community and Justice for her efforts in promoting "acceptance, understanding and respect for all people."
She also was recognized in 1993 by the Health Care Financing Administration for her willingness to treat HIV+ individuals without regard to their ability to pay for service and in 1995 was one of only 130 experts invited to take part in the first White House Conference on HIV and AIDS. She is nationally and internationally in-demand as a lecturer and teacher, most recently traveling to Russia, which she enjoyed. "I'll be going back," she says.
Just before 2 p.m., Sweet heads back to a staff room where lunch has been delivered. "Try these tamales. They're the best," she says, as she grabs a bite or two and takes a long drink of water before going back to her patients. At 2:20, Dr. Ta emerges from an examination room and calls for a translator.
On hand to help are Tackitt and several clinic workers who also speak Spanish. Among Hispanics, the number of new cases of AIDS per 100,000 population was three times the rate for whites (6.6) in 2002, but lower than the rate for African Americans (58.1), according to the CDC.
AIDS is increasing most rapidly in women, while heterosexual transmission is the most rapidly growing route of infection. Globally, more than 20 million people have died since the first AIDS cases were identified. If current trends persist, by 2020 AIDS could claim up to 100 million lives, putting it on track to be the worst pandemic in human history. "Obviously," Sweet says, "this is no time to be complacent."
"Michael," a young black man, checks his watch as he waits for Dr. Sweet: it's 3:07. "I've known I'm HIV+ for three years," he relates matter-of-factly. "I've been coming to Dr. Sweet all that time. She and her staff treat you right — they really show you love." He pauses then asks, "Hey, you're not gonna use my name, are you? I'm private about this."
By 4:10, all patients have been seen, and the team gathers in the front room, waiting for the samples of blood Freund has spent the afternoon drawing to finish spinning. Their work day is turning out to be relatively short; they will be back in Wichita well before 6 p.m.
Since first becoming aware of HIV, Sweet has seen a generation come of age. In that time, she's studied the roles ignorance, fear, denial and prejudice have played — and are playing yet — in the spread and treatment of HIV. She's watched the sometimes sad, sometimes maddening, sometimes heroic responses people living with HIV and dying from AIDS have to the disease, as well as the sometimes sad, sometimes maddening, sometimes heroic responses society has to them.
Our past with AIDS has been tense, and the future, Sweet says, is conditional, dependent on how each of us decides to respond to this grave, yet — if Kansas' premier AIDS doctor has anything to say about it — ultimately conquerable enemy.