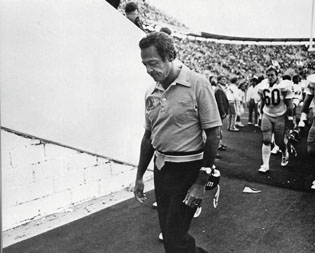 Twenty-five years ago Wichita State made sports history with its hiring of Willie "Jeff" Jeffries, the first black head football coach at an NCAA Division 1-A university.
The 67-year-old Jeffries, now a fundraiser for the athletic department at South Carolina State, has a large photo hanging in his office that captures the greatest moment ever produced by WSU football.
The picture shows former Athletic Director Ted Bredehoft hugging Jeffries — the pair surrounded by ecstatic football players — after the Shockers upset Kansas 13-10 in 1982.
"It gives me a wonderful feeling every time I look at it," Jeffries says of the picture, which was a gift from Bredehoft. "In 44 years of coaching, you collect quite a bit of hardware, but that picture is one of my prized possessions." The victory over Kansas was Jeffries' most-memorable and longest-lasting gift to success-starved Shocker fans.
In fact, the game-winning play — a touchdown pass from the versatile Prince McJunkins to Don Dreher — was recently immortalized in the Koch Arena history museum as one of the school's "Great Shocker Moments."
But to focus on that one victory, thrilling as it was, when looking back at Jeffries' accomplishments is to do his career an injustice. Finding his true legacy requires less provincialism and a broader perspective than the image of celebrating an exciting victory.
You must look at the bigger picture. When Jeffries was hired before the 1979 season, he made history as the first black head coach at an NCAA Division 1-A university. Surprisingly, though, Jeffries didn't fully realize the enormity of the occurrence at the time.
He had compiled a 50-13-4 record and won five conference championships at South Carolina State and, in his mind, had simply earned a promotion to a bigger school. "I just thought I was moving up in the profession," he reports. "I didn't realize all this weight would be on my shoulders. Some other black coaches said, 'You're carrying the light for us. If you do well, there will be others.' But I didn't even realize I was the first until the newspapers started writing it up. I'm happy about it; I'm certainly proud of it. It's a mark in history."
Jim Rhatigan, who was WSU vice president for student affairs in 1979, says of the break-through appointment: "I give a lot of credit to Ted Bredehoft for opening this door. Coach Jeffries was very popular in the coaching community and with his players. We had successful teams — some very exciting years under Coach Jeffries."
Reuben Eckels '91, who was a wide receiver for the Shockers, recalls the players' response to Jeffries: "It was a big deal for all the African-American players — for all the players, really. We all knew we were a part of history, and we wanted to do our best for him."
Anthony Jones '84, a tight end who played under Jeffries as No. 88 and later earned a Super Bowl ring with the Washington Redskins, is now head football coach at Division 1-AA Alabama A&M. An African-American himself, Jones recognizes the significance of Jeffries' historic stint at WSU, but stresses that race took a back seat to character.
"It was never about race. It was just about people coming together for a common goal," he explains. "At first I thought that goal was to win football games, but in the grand scheme of things, it was bigger than that. The goal really was to produce positive role models and go out and give back to the community."
Known for his southern charm and stern but fatherly demeanor with his players, Jeffries, then 42, had the right temperament to break the color barrier. Eckels describes him and his working philosophy this way: "He believed that excellence was one thing that could overcome racism, so he demanded that his players be the best they could be — on and off the field. He was able to get along with people of all races. He had strength, he had charm, he had dignity. Those traits allowed him to overcome barriers. I love the man."
Linebacker Mitch Gee '87 says the bottom line about Jeffries was that he "treated everybody the same — black players, white players. Everybody loved him. He's a good person. He did what he thought was right."
During a recent phone call from his on-campus office in Orangeburg, S.C., Jeffries describes Wichita State and the city of Wichita as being filled with "great, great people" who met him "with open arms." He reports that he can't recall any racial incidents that happened during his time at WSU.
But in an interview with The State newspaper in Columbia, S.C., he said he was stopped from joining a Wichita country club because he was black. In the same article, Ben Blacknell, one of Jeffries' assistants, said the coach heard racial slurs.
"He was the right man for that job," another assistant, Larry Beckish, told The State. "The man hasn't got an iota of prejudice. He knew how to take it and let it go." Indeed, Jeffries tells a revealing story about an ill-fated recruiting visit early in his WSU tenure.
He was in the living room of a recruit, who was white, eating cookies and drinking hot chocolate with the parents. All seemed to be going well — until the recruit admitted he couldn't see himself playing for a black coach. His tone wasn't hateful, simply matter-of-fact, Jeffries recalls, and there were no hard feelings.
Jeffries even defused what could have been a tense situation with a joke. "I told him," says Jeffries, who still chuckles at the memory, " 'Well, I'm certainly glad I found this out before it was fourth and one.' "
Besides, Jeffries couldn't afford to focus on the historical significance of his situation, or the narrow-mindedness of a teenage recruit. The task of turning around Shocker football, which had produced only one winning season in the previous 15, required his full attention.
Improvement would come, but it would take time, recruiting — and diversity. Eckels says, "Coach Jeffries wanted the best players. It didn't matter what color you came in. We had a Hispanic kicker, African-American players, Caucasian players." Playing a grueling schedule that included the likes of Alabama, Arizona State and Tennessee, WSU went just 1-10 during Jeffries' first season. Still, Jeffries says, "We saw a bright future."
The players responded well to Jeffries' coaching style. Eckels recalls, "He was a person you could always go talk to. With some coaches, you don't really have a relationship with them. They're just interested in getting you on the team and keeping you on the team. With Coach J, he was always interested in how you were doing, how your family was doing."
And Jones relates, "Coach Jeffries, he was our coach, but he was more than just a coach. I mean, I went 1,300 miles from home, away from my family. He made me feel like I was a part of his family, that I was more to him than just a football player. And that means a lot to you being so far away from home."
Records of 5-5-1 and 4-6-1 followed Jeffries' first season at WSU before the breakout season of 1982, when the Shockers finished 8-3, including the state-shaking win over the Kansas Jayhawks. To this day, Jeffries clearly recalls the play the Shockers ran for the game-winning score — No. 169, a fake to a running back followed by a pass.
McJunkins, the first player in NCAA history to rush for 2,000 yards and pass for 4,000, found tight end Dreher down the right sideline for a 50-yard TD. "I have a tape of the game, and I put it in four or five times a year," Jeffries says. "What a game."
Following a 3-8 season in 1983, WSU announced in a Jan. 27 news release that Jeffries had resigned to take the head coaching job at Howard University. He finished with a Shocker record of 21-32-2 — just a .400 winning percentage, but he is third on the victories list among coaches at WSU and tops in the modern era.
At the time, the rumor mill circulated that Jeffries, faced with an NCAA probation for recruiting violations, had been forced out by new Athletic Director Lew Perkins. Not so, Jeffries relates: "I had two years left on my contract. There was never any talk of me being fired."
Jeffries spent five seasons at Howard then returned to South Carolina State, where he coached until retiring in 2001. He remains active at the college, serving as director of athletic fundraising and providing analysis for the team's radio broadcasts.
In addition, he also helps teach a class for athletes on a volunteer basis. Clearly, he still believes in a compassionate but strict approach with youngsters. During the interview, a football player entered his office to take a test, but he had forgotten his notes. Jeffries gave the kid a break — with a warning: "OK, I'm giving you a chance this time. Don't foul up again."
Says Jeffries, "He can't go to Xerox or IBM, or Koch Industries out there, and make that mistake. They'd fire him. I'm trying to prepare them for the real world."
But it's time spent on football-related tasks that provide Jeffries the most enjoyment. "I enjoy what I'm doing at this stage of my life," he says. "I'm in transition. I enjoy being around football — that's what I like the most. I get to go out to practice and, if it's raining, I get to come in. All the players know me. It's great."
However, he isn't so upbeat when discussing the number of black coaches who currently hold Division I positions. Jeffries was the first and, in his opinion, too few have been allowed to follow — an opinion seconded by Eckels, who says, "There's still a stigma there. There's a stereotype that African-American coaches are good recruiters but they're not good with the X's and the O's."
Of 117 Division I programs, there are five black head coaches, including Ty Willingham at Notre Dame, Karl Dorrell at UCLA and Mississippi State's Sylvester Croom. But a total of five out of 117? Does it bother Jeffries? "I wouldn't use the word 'bother' necessarily," he said. "But I think the number should be greater, much greater. When it comes to football, you've just got that handful.
"For the life of me, I can't explain it."