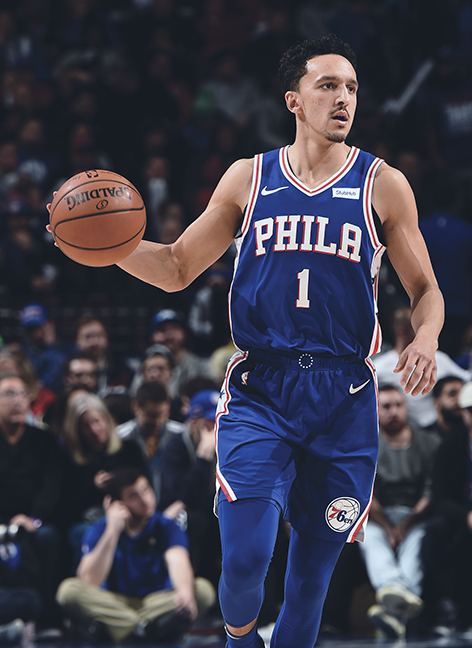 Things move fast in the pros. Selected in the first round of the 2018 NBA draft, WSU's Landry Shamet has already played for two organizations: the Philadelphia 76ers and the Los Angeles Clippers.
The trash-talking, authority-challenging, hell-raising Jimmy Butler was traded to the Philadelphia 76ers on Nov. 12, and, less than two weeks later, you could lay a wager with actual U.S. currency on which new teammate he would eventually make cry. Sensitive first-round pick Markelle Fultz was the favorite, according to a popular gambling site. Wichita State fans will be relieved to know that former Shocker star Landry Shamet, then a rookie for the Sixers, did not make the list of likely targets. In fact, Butler, who was shipped from the Minnesota Timberwolves after a highly publicized tirade in practice, seems to dig Shamet. During a post-game interview in December, after both players enjoyed big games, reporters ignored Shamet, firing question after question at Butler. So Butler took over for the media and playfully interviewed Shamet.
"Don't worry, Landry, I got you. Yo, so how you feel on your career high tonight?" After a few more questions, Butler, with a camo hoodie pulled over his head, leaned back in his chair with a grin, patted Shamet on the shoulder and said, "I told you, I got you!"
If Butler's "got you," you're doing something right.
Such has been the theme of Shamet's surprisingly successful debut season in the NBA: Everybody loves Landry.
Shamet was a late first-round draft selection to the Sixers in June 2018, and Philly fans are notoriously hard to please (obligatory booing-of-Santa reference here), but, thanks to his ability to consistently knock down long-range jumpers and a quiet but confident demeanor, the KC-area native became a popular role player. (His only misstep was favoring QuikTrip over the East Coast convenience store Wawa in an Instagram Q&A, creating mock outrage in the City of Brotherly Love.)
In an unexpected trade, Shamet was sent to the retooling Los Angeles Clippers, and he quickly became well-liked there, too, earning class-pet status from the team's best blog.
And what's not to like? There's the aforementioned attitude, naturally, but fans mostly favor production, and Shamet has been among the best rookie three-point shooters in the NBA this season. Many league observers consider him the steal of the 2018 draft at pick No. 26. "It's cool to hear and to get some recognition, but there's still a lot of basketball to be played," Shamet says in an interview with The Shocker on Jan. 31. "My whole mindset coming in as a rookie was to find my role as quickly as possible and be solid defensively and knock down open looks. I just want to continue to grow and continue to find ways to help my team."
SHAMET'S VERY FIRST NBA PRACTICE was over, and, not surprisingly, he wanted to get up a few extra shots. He spied an open court that looked inviting in the southwest corner of the Philadelphia 76ers practice facility and started firing away. Rookie mistake.
"Hey, what are you doing, man?" someone shouted. "That's my basket!" It was Sixers guard JJ Redick, giving the new kid the business before guiding Shamet through his post-practice routine.
A Philadelphia reporter Tweeted a short video of Shamet following Redick in a shooting drill, and the ball never touches the rim as both players produce swish after swish. Redick, one of the top off-ball three-point shooters in NBA history, quickly became a mentor to Shamet – a relationship that has been invaluable. "I got lucky he was willing to take me under his wing," Shamet says.
The Redick influence is similar to the impact that Ron Baker and Fred VanVleet had on Shamet during his career at Wichita State. On numerous occasions, Shamet has stated that the desire to learn from Baker and VanVleet, perhaps the best backcourt combo in school history, was one of the primary reasons he chose WSU as a highly regarded recruit from Park Hill.
Shamet only saw action in three Shocker games as a freshman in 2015-2016 because of injury, but he still learned plenty from the future NBA players. "I picked up so much just from watching them – how they carried themselves and went about their business every day in terms of doing the right thing and making the right decisions on and off the court."
Shamet learned well, clearly, as he became a star at Wichita State, shooting 43.9 percent from three-point range as a freshman and 44.2 as a sophomore, earning first-team all-American Conference honors. However, some were surprised by his decision to leave Wichita State with two seasons of eligibility remaining.
"A lot of fans, just based on social media and posts on my stories, thought he needed another year at Wichita State," says Taylor Eldridge, who covers the team for the Wichita Eagle. "I actually thought that he was ready. I remember thinking, 'This is a guy who's locked in and ready to be a pro.' I thought he could be successful if he could land in a spot that used his talents and let him do what he does best, which is shoot."
Philadelphia was that spot, and Shamet quickly found a role as a backup to Redick. The Sixers coach Brett Brown says, "He just quietly jumped into this league. There is a consistency that he has shown where he has been steady, sometimes he'll miss a play call and I'll bark at him and he lets me coach him. In the capacity that we've been using him, like a mini-JJ, and I'm running stuff for a rookie, and putting him in situations, and he's responded, I'm extremely happy with Landry Shamet."
After Shamet hit a clutch three-pointer from the corner to help the 76ers to a victory, Redick raved to reporters: "He's not your typical rookie. He's got a man's demeanor, a man's poise. He's got a quiet confidence in himself. It's fun to see a guy who's 21 years old and is already basically a pro. He acts like a pro, he plays like a pro. He's been fantastic."
In early January, the 6-foot-5 Shamet enjoyed a breakout game, connecting on a record eight three-pointers on his way to a career-high 29 points in the Sixers' victory over the Washington Wizards. The eight threes were a rookie record for Philadelphia, bettering Allen Iverson's mark. On the record long-range make, Shamet broke from the corner, worked off a screen and dropped in a slightly off-balance shot from just to the left of the top of the key. The Sixers' television analyst loved the show:
"How big does the bucket look for young Landry Shamet right now?"
"Clearly a bust-out game for him! These are big boy numbers now."
Shamet says, "The ball was just dropping. My teammates were finding me. The coaches were calling good sets to get me those looks. I just continued to be aggressive, but I didn't want to force anything. It helps that I play with the best passing point guard in the league (Ben Simmons.) ... Honestly, I really, like, I'm in the perfect situation here. I don't know how I got so lucky."
THAT PARTICULAR LUCK wouldn't last, as Shamet was traded from the win-now Sixers to the Los Angeles Clippers on Feb. 6.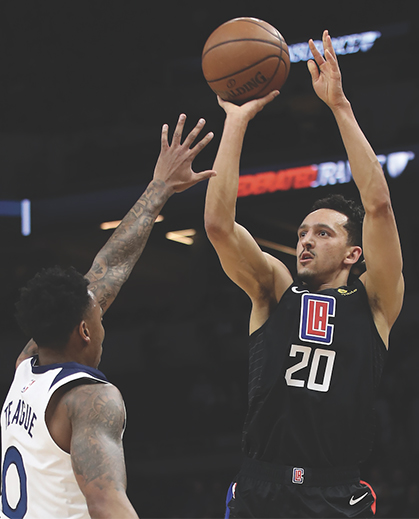 Many Sixers fans reacted with sadness and exaggerated broken hearts – one posting a meme of a crying Michael Scott from "The Office" on his Twitter feed. Shamet responded in kind, posting on his Instagram: "I want to say thank you for welcoming a kid from Kansas City into your city. It's been a short lived pleasure, but a pleasure nonetheless, getting to play in front of you. You'll hold a special place in my heart forever."
Even so, Shamet's luck has seemingly continued. The Clippers, as of early March, were fighting for a playoff spot and are in position to make a huge free-agent splash during the off-season. And it didn't take long for Shamet to properly introduce himself to his new team: In his Clippers debut, he scored 17 points, including 13 in the fourth quarter, to lead LA to a 28-point comeback on the road against the Boston Celtics. In his first nine games, he averaged 12.4 points, connecting on 47 percent of his three-point tries.
For good measure, Shamet set a Clippers rookie record with seven threes in a March 3 victory over the New York Knicks. "He was fantastic," Clippers coach Doc Rivers told the Los Angeles Times. "When he gets it going, what I like about our team is they see it and they try to give him the ball. I thought that was really neat."
As in Philly, Shamet is proving popular in Los Angeles. The Clippers' blog, appropriately named "Clipperholics," has been swooning, evidenced by these headlines and comments: "All Aboard the Landry Shamet Bandwagon" and "Is it too early for the 'Landry Shamet is the greatest Clipper ever' club?"
Prior to the trade, Eagle reporter Eldridge covered a Sixers game and spent 15-20 minutes in the locker room with Shamet during media availability before the game and for a few minutes after. Except for fancier clothes – "It seems like that's the one way he's spent some of his money," Eldridge reports – Shamet still seemed like a "humble, hardworking kid. Same ol' Landry." Eldridge, a proponent of advanced stats and analysis, says he believes Shamet will have a long, successful career, especially if teams continue to use his strengths as a catch-and-shoot specialist. Rivers, who made Shamet a fixture in his starting five since the rookie's third game with the team, is also optimistic. "I think the impact of his ability to shoot and move without the ball gives us a different offense in itself," Rivers told The Shocker. "I think in the long run that will be very good for us."
And that's a bet Shocker fans will gladly take.